Pence Scraps Plans to Vote Early, Says Decision Not Related to COVID
Republican Vice President Mike Pence and his wife, Karen, have canceled their planned trip to cast an early ballot in Pence's home state of Indiana. Pence's spokesperson said the change in plans has nothing to do with COVID-19.
Pence was set to appear in Indianapolis, the state capitol, and had planned to vote at the Indianapolis City-County Building, according to the Indianapolis Star. Pence's office said he will reschedule the trip for sometime soon.
"Nobody's sick," Pence spokesman Devin O'Malley said, according to Olivia Nuzzi, Washington correspondent for New York magazine. "There's no positive tests. The VP is planning on traveling on Saturday and Monday. We'll have more information on the vice president's schedule next week soon."
While the Indiana trip had reportedly been on Pence's schedule for nine days at least, Nuzzi said, it was canceled Wednesday evening with no explanation from the White House.
Both Pence and the Second Lady are said to have tested negative for COVID-19 as of Thursday. Pence spoke at a Trump re-election rally in Nevada on Thursday afternoon and is scheduled to speak at a suburban event on Thursday evening.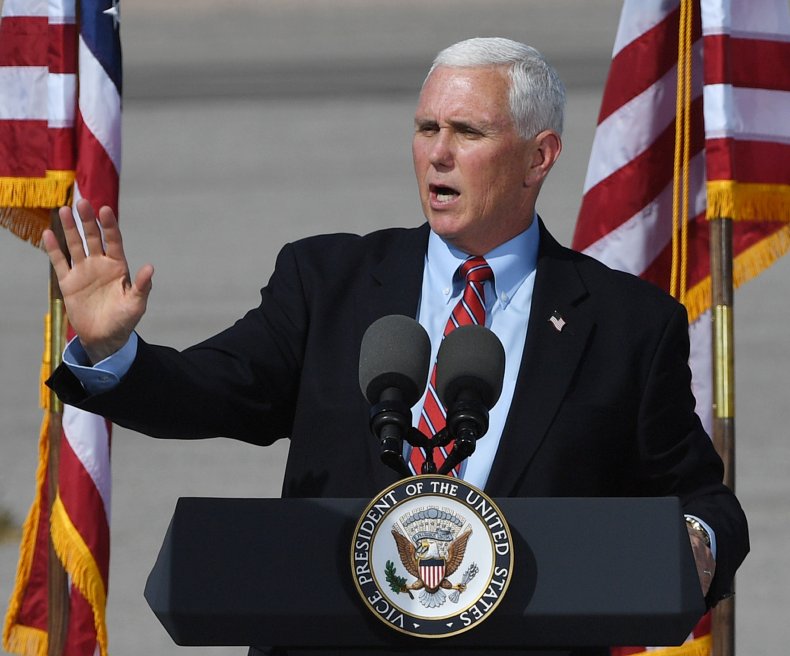 Pence is also scheduled for two campaign stops in Central Florida on Saturday, according to a memo from his campaign. His first stop will be at 1 p.m. at Central Christian University for a "Latinos for Trump" event, and at 3:30 p.m. he will go to The Villages, an adult retirement community, to speak at a Make America Great Again rally.
He is also set to make appearances in Ohio on Monday and in Wisconsin on Tuesday.
His public appearances will be his first, outside of the Wednesday night vice presidential debate, following last Friday's announcement of Republican President Donald Trump's COVID-19 diagnosis. Since the diagnosis, 34 people close to Trump have also tested positive for the virus.
Earlier this month, senior Trump campaign advisor Jason Miller told NBC's Meet the Press that Pence would maintain an "a very full agressive schedule," campaigning in swing states while Trump continues to be treated for COVID-19.
Miller added that Pence's team would take precautions to keep himself, his staff and accompanying journalists safe from possible coronavirus exposure.
"The vice president takes very serious all these measures," Miller said, according to Fox News. "Anyone around the vice president are tested. People are kept very safe. And again, we can't hide from this virus forever... We have to take it head-on."
Newsweek contacted Pence's office for comment.