Mike Pence Has Said Nothing About Trump's 'Shithole' or Racist Comments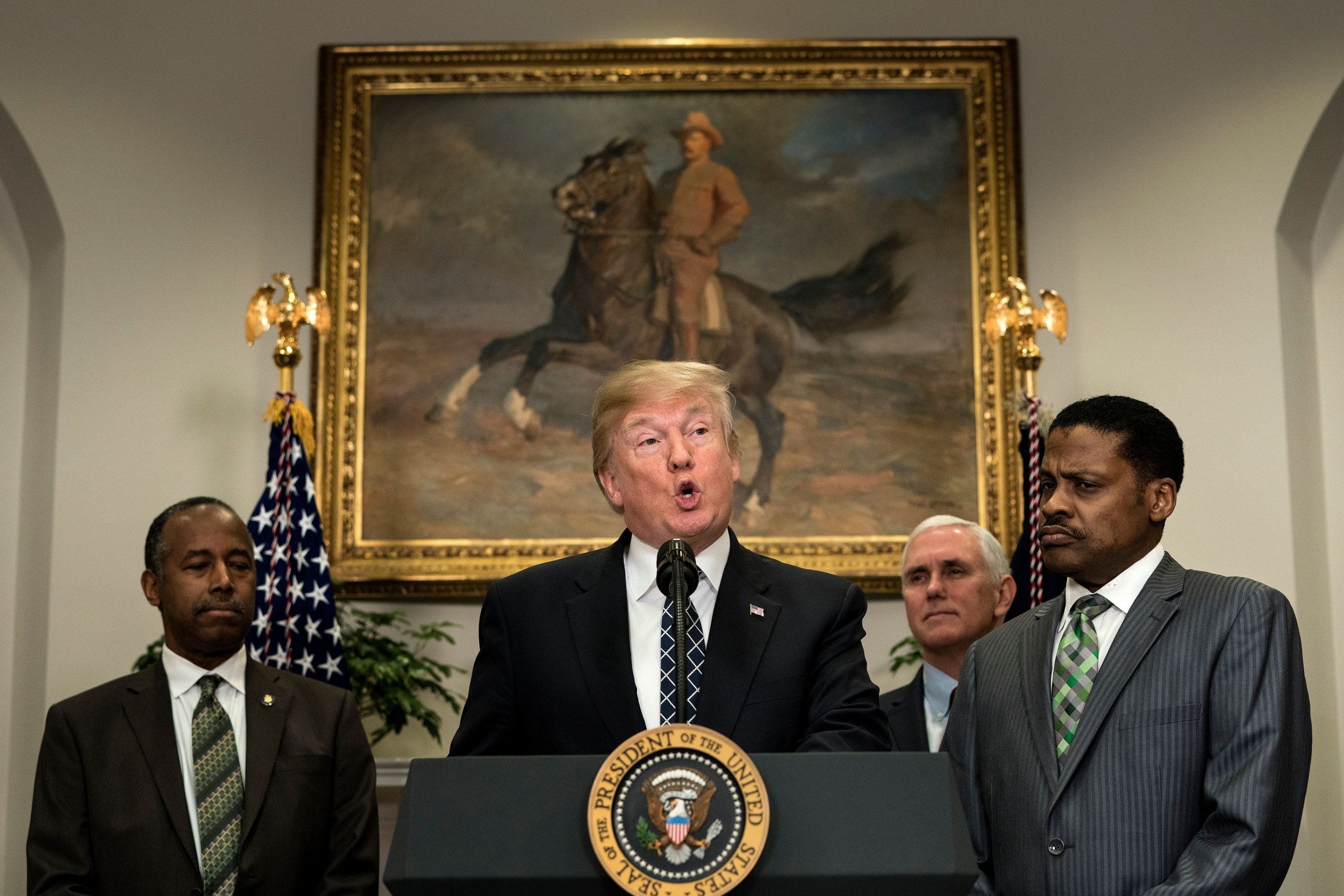 Vice President Mike Pence has yet to make a statement, of any kind, following the wave of reports of President Donald Trump's "shithole countries" and other perceived racist comments.
Trump reportedly described Haiti and African nations as "shitholes" and asked why more people from countries like Norway cannot immigrate to the U.S. during a meeting on immigration reform Thursday,
Other reports quoted Trump as implying that most welfare recipients are black and also asking why a "pretty Korean" woman was not negotiating with North Korean despot Kim Jong Un.
Pence, who has stuck by Trump through numerous scandals in their roughly 18-month long political alliance, did not attend Thursday's meeting but has been curiously silent ever since, Politico noted.
Pence had previously defended Trump's "both sides" response after the melee in Charlottesville, Virginia in August left one woman dead and racial tensions high around the country.
"The president has been clear on this tragedy, and so have I," Pence said while he was on a trip in Chile after Trump blundered through a press conference and blamed the "alt-left" and "alt-right" for the violence.
Pence added: "I spoke at length about this heartbreaking situation, on Sunday night.
"And I stand with the President, and I stand by those words."
The vice president did, however, appear with Trump at Friday's Martin Luther King Jr. proclamation signing. He stood behind Trump during his remarks and those of Secretary of Housing and Urban Development Ben Carson and King Jr.'s nephew, Issac Newton Farris.
Other leaders from both parties have responded by either chastising Trump or denying he even described the countries in such a way. Republican and Speaker of the House of Representatives Paul Ryan reacted by calling Trump's comment on immigrants "unhelpful" and "unfortunate."
U.S Senator Richard Durbin (D-Illinois) publicly accused Trump of speaking so harshly Friday after The Washington Post first reported the comments the day before.
"I cannot imagine that in the history of [the Oval Office], that hallowed room, where the president of the United States goes to work every day, there has ever been a conversation quite like that. It was vile, it was hateful, it was racist," Durbin told reporters prior to a breakfast in King Jr.'s honor.
Durbin, along with Republican Sen. Lindsay Graham, attended the meeting and Graham reportedly chastised Trump for his comments.
However, Sens. Tom Cotton (R-Arkansas) and David Perdue, said in a joint statement that they could not "recall" Trump making the disparaging comment.
"We do not recall the President saying these comments specifically but what he did call out was the imbalance in our current immigration system, which does not protect American workers and our national interest," they said in a statement.
Trump stated he used "tough" language during the meeting but did not say anything "derogatory" about Haitians other than it is a "very poor and troubled country."