Vice President Pence Asks Central American Leaders to Stop Migrants, Adds 'Exodus Must End'
Vice President Mike Pence told the presidents of Guatemala, El Salvador and Honduras to respect U.S. borders and prevent their citizens from attempting to enter America on Thursday night.
"This exodus must end. Just as we respect your borders and your sovereignty, we insist that you respect ours. Our nation needs your nations to do more," Pence said while meeting with the leaders in Guatemala City, Guatemala.
During the meeting, Pence cast doubt on the claims that those seeking to come to the U.S. are legitimately fleeing violence in their home countries. "While many claim asylum, few are fleeing prosecution," he said. The vice president also asked the leaders to "take down public advertisements for human traffickers," as well as to "renew the fight against corruption, criminal groups and gang violence" and "strengthen" their own borders, according to NBC News.
Pence's meeting with the Central American leaders comes as the Trump administration is facing harsh backlash for its "zero tolerance" immigration practice. More than 2,000 children have been separated from their parents at the U.S.-Mexico border under the practice, which has generated global criticism.
In response to Pence, who did not mention the U.S. administration's family separations, Salvadoran President Sanchez Ceren and Honduran President Juan Orlando Hernandez said they hoped to see families reunited.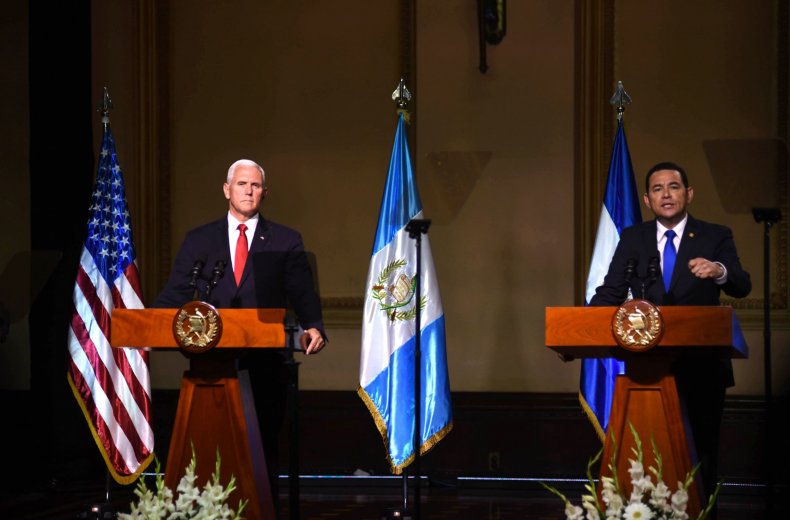 "I want to reiterate my government's resolve to overcome the issue with the separated families at the border. [We're] working with U.S. authorities for a quick solution. It is vital for their psychological health to reunite them with their parents," Ceren said.
President Donald Trump signed an executive order last week ending the administration's practice of separating families, but the departments of Homeland Security and Health and Human Services have said the family reunification process will take time and only occur after parental proceedings have finished.
More than 150,000 people from Guatemala, Honduras and El Salvador have sought to enter the U.S. without permission in 2018 alone, according to NBC News. Michelle Mittelstadt, director of communications at the Migration Policy Institute, said these figures were likely an estimate.
"I don't know that anybody, including any of the governments, could tell you with complete specificity what the numbers are," Mittelstadt told Newsweek. "Trying to estimate flows is a particularly difficult exercise. I think the only hard numbers on that would be the people who were apprehended by U.S. or Mexican authorities."
From fiscal year 2013 to fiscal year 2017, between 415,191 and 569,237 migrants were apprehended at the southwest border, according to data from the U.S. Customs and Border Protection. Apprehensions at the southwest border decreased from recent trends in 2017, but have rebounded in 2018 to more typical levels.
Central American immigrants comprise the majority of people trying to enter the U.S. illegally, according to Reuters. Los Angeles Times reported that U.S. officials have denied the asylum applications of most Central Americans seeking to enter the country, claiming these individuals are economic migrants.
Statements and publications by human rights advocacy nonprofit Washington Office on Latin America (WOLA) challenge these claims. An article published on the organization's website on Wednesday notes that gang violence, crime, governmental corruption and a lack of economic opportunity fuel migration from Central America.
"The administration has been concentrating too long on how to stop people from entering rather than why they're coming," WOLA Director for Mexico and Migrant Rights Maureen Meyer told Los Angeles Times.
The Trump administration, however, has said the causes of migration don't matter as much as the method. "I have a message for the people of Guatemala, Honduras and El Salvador. If you want to come to the United States, come legally, or don't come at all," Pence said.