Pence Advocated Immigration Compromise in Congress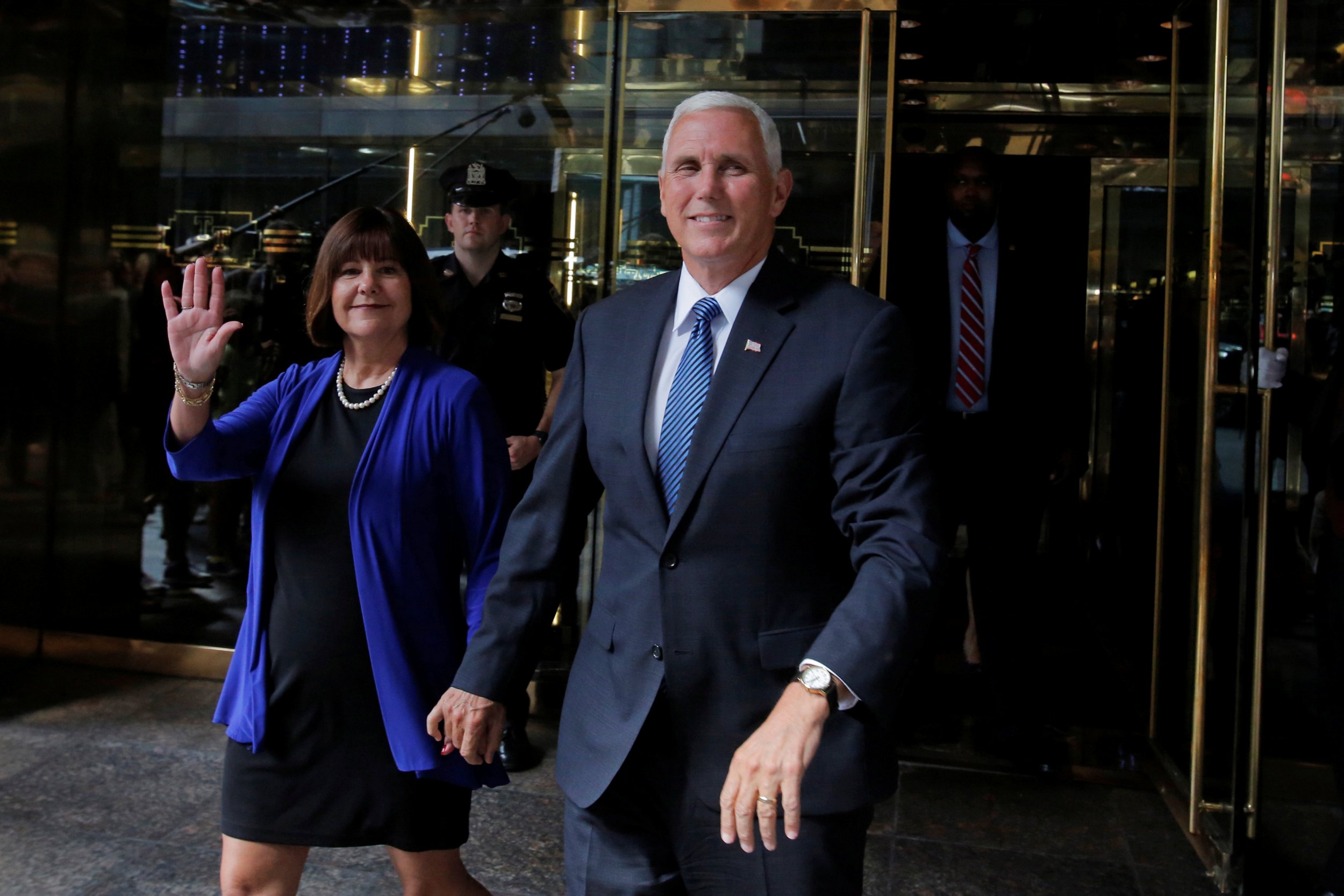 As Donald Trump's running mate, Indiana Governor Mike Pence is joining a Republican presidential campaign that has been fueled, more than anything, by a hardline stance against illegal immigration. Almost exactly a decade ago, however, then-Congressman Pence, standing amid Mexican workers in a tomato field in rural Indiana, made a high-profile, but ultimately unsuccessful, call for an immigration reform compromise.
While it is out of step with Trump's stance, Pence's 2006 proposal wasn't exactly liberal. His Border Integrity and Immigration Reform Act, unveiled in a speech at the Heritage Foundation, would have created a guest worker program that required undocumented immigrants to "self-deport" and then come back into the U.S. legally if they had a job. "An employer faced with a looming require­ment to verify the legality of his employees and stiff fines for employing illegal aliens will be willing to use a quick system to obtain legal employees," Pence explained. "And an illegal alien currently employed in America will be willing to take a quick trip across the border to come back outside of the shadows and in a job where he or she does not fear a raid by Immigration and Customs Enforcement officers." His plan did not offer citizenship to undocumented immigrants, as did another immigration reform bill that passed the Senate in May 2006, but it also did not propose deporting millions of people in the country illegally, an idea that Trump has advocated, although he's walked it back some in the past month.
"It is not logistically possible to round up 12 million illegal aliens," Pence said at the Heritage Foundation in June 2006, when he was midway through his 12 years in the House. He added: "We know that this idea of putting everybody on buses and conducting a mass depor­tation is a non-starter." Instead, he argued that his approach would create an incentive for the undocumented to leave and come back on their own. Trump has also entertained the idea of allowing the "really good people" to come back to the country to work, though he hasn't fleshed out how that would work.
The congressman from rural eastern Indiana, a state with powerful agricultural interests, also sided with employers who argued that the U.S economy needs these foreign workers. "It also is not realistic to think that some American businesses can operate with­out the workers who have made their way into our economy," Pence said. His approach represented a compromise that angered some right-wing groups that up until then had been staunch Pence allies.
"Our view is that these guest workers programs have been abused, there's really no labor shortage in the United States," says Ira Mehlman, media director at the Federation of American Immigration Reform, which wants strict immigration controls. "If the end result is that people who violated the law get to stay here…that's essentially amnesty," he tells Newsweek, calling Pence's 2006 proposal "amnesty with a road trip."
Pence adamantly dismissed similar critiques at the time. "Amnesty in this context is allowing people whose first act in America was an illegal act to get right with the law without leav­ing the country," he said in his speech at the Heritage Foundation. "The only way to deal with these 12 million people is to insist that they leave the country and come back legally if there's a willing employer waiting in this country to put them to work."
Pence also took a softer tone in an immigration debate that even then was high in vitriol. "We renew the American Dream by reaffirming our commitment to legal immigra­tion. We renew the American Dream by giving those who have made their way into our country illegally an opportunity to come out of the shad­ows," Pence said in his Heritage speech. "We renew the American Dream by creating a system that recognizes the dignity and worth of every person in this shining city on a hill."
Even as late as 2014, when Pence was interviewed for a profile on Ozy.com, he did not express regret for his immigration reform gambit. He recounted a meeting he had in the Oval Office with President George W. Bush, one of immigration reform's biggest proponents at the time, who asked why the conservative congressman chose to wade into the debate. "Maybe a young Irishman who stepped ashore [on Ellis Island] named Richard Michael Cawley has something to do with it," Pence said he told the president. Cawley was Pence's grandfather, and he "came to this country when the system was working," he said then.
Critics of Pence's 2006 proposal, however, believe his position on immigration has evolved since then, and particularly since he was elected governor in 2012. "There's a big difference when you're a governor or a state official because most of the costs of immigration are borne at the state level," says Jessica Vaughan, director of policy studies for the Center for Immigration Studies, which wants to lower immigration rates, legal and illegal. Mehlman points out that Pence "was party to the lawsuit against President Obama's executive amnesty programs," a case the Supreme Court deadlocked on last month, leaving the stay of the program in place. He also "opposed the resettlement of large numbers of Syrians in Indiana," and "essentially blamed the president's policies for the rush of unaccompanied minors" from Central America, Mehlman says.
In the end, Mehlman says, "any vice presidential candidate…has to follow the line laid down by the presidential candidate." And Vaughan, for one, doesn't think Pence and Trump are that far apart. Trump, she says, "is not talking about immediate roundups of 11-and-a-half-million people or a forced trail of tears across the border." What Trump is proposing, Vaughan says, "is an increase in enforcement both at the border and in the interior," which "will result in more deportations, but also more compliance with the law," gradually reducing the population of undocumented immigrants. Pence, however, never advocated for ramping up forced deportations at all, instead emphasizing his plan would create incentives for undocumented immigrants, themselves, to leave. And he may find it awkward to explain how an idea that he once called a "non-starter" is now a top priority.