Will Mueller Charge Mike Pence or Donald Trump Jr. In Russia Investigation in 2018?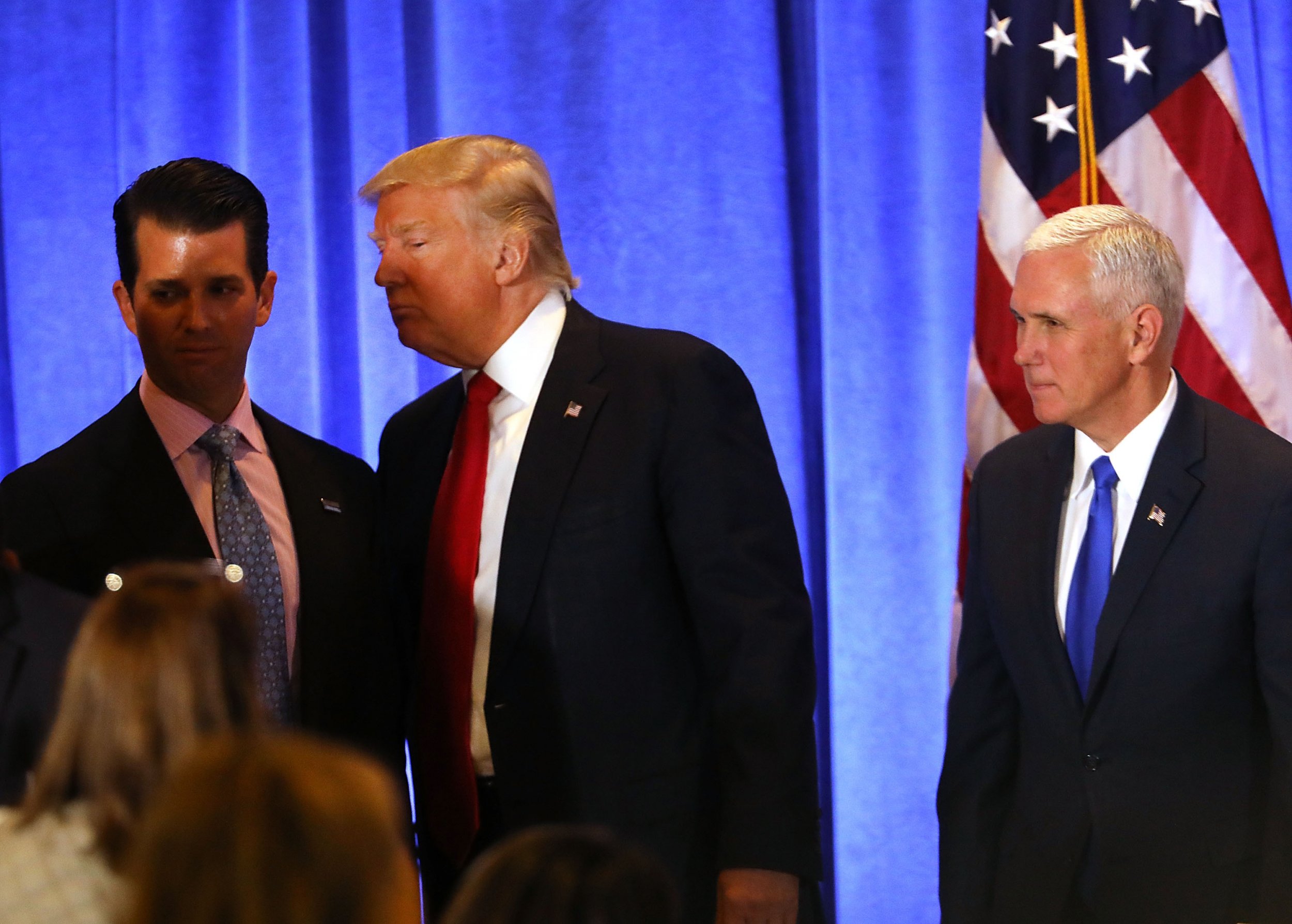 Amid Republican cries for his job, the main question surrounding Special Counsel Robert Mueller's investigation into Russian meddling in last year's election as the country turns to 2018 is: Who or what's next?
Related: Mueller Should Be Fired And Is Biased, GOP Congressman Says
Based on reports, it's possible the president's eldest son, Donald Trump Jr., and Vice President Mike Pence could be engulfed in Mueller's investigation in the New Year.
To date, four former members of President Donald Trump's campaign have already been claimed by Mueller's probe. Former campaign manager Paul Manafort and campaign official Rick Gates were handed a 12-count indictment and a potential trial looms next year, while ex-campaign foreign policy adviser George Papadopoulos and former National Security Adviser Michael Flynn each pleaded guilty to lying to the FBI about contact with Russians.
Flynn is now cooperating with Mueller's team. That means what Trump administration officials, including Pence, knew about his lies and misdeeds could be the special counsel's next step.
The former Indiana governor recently gave a far different statement about whether he knew Flynn had lied to him about meetings with former Russian ambassador Sergey Kislyak. "What I can tell you is I knew that he lied to me," Pence told CBS News during a trip to Afghanistan earlier this month, "and I know the president made the right decision with regard to him."
During the transition last year, Flynn reportedly spoke to Kislyak about sanctions put in place by former President Barack Obama as punishment for Russia's meddling in the election. Senior U.S. officials believed Flynn could have made it appear as if the incoming Trump administration would lift those sanctions, according to The Washington Post. The sanctions included kicking out Russian diplomats and closing two diplomatic compounds, one in New York and one in Maryland, believed to be headquarters for espionage.
Pence's admission of knowing Flynn lied to him appeared to contradict what he said on national television in January just five days before Trump was inaugurated. Pence stated Flynn had not discussed removing the sanctions with Kislyak and instead offered best holiday wishes and condolences after a Russian military plane crashed, killing all 92 people aboard.
"He had sent a text to the Russian ambassador to express not only Christmas wishes but sympathy for the loss of life in the airplane crash that took place," Pence said during a January 15 interview on Face The Nation. "It was strictly coincidental that they had a conversation. They did not discuss anything having to do with the UnitedStates' decision to expel diplomats or impose censure against Russia."
Pence added then: "What I can confirm, having spoken to him about it, is that those conversations that happened to occur around the time that the United States took action to expel diplomats had nothing whatsoever to do with those sanctions."
When asked if other conversations had occurred between Flynn and the Russian ambassador, Pence responded: "I don't believe there were more conversations."
It remains unclear when Pence learned Flynn had lied to him. Trump entered office on January 20 and Flynn tendered his resignation on February 13.
Pence ran the transition team leading to the White House a year ago and his potential involvement in the Trump-Russia saga has been a topic before, even if much of the heat has been on Trump and his family.
"It is equally plausible that Pence is complicit in the lies propagated by the Trump administration and perhaps even involved in a cover-up of potentially impeachable transgressions," Allan Lichtman, a history professor at American University in Washington, D.C., wrote in June. "That's why he must be investigated thoroughly by the Congress and the FBI along with the president and other members of the Trump campaign team and administration."
Trump's dismissal of former FBI Director James Comey in May has also faced scrutiny. Comey claimed in testimony this year that Trump had asked him, in private, to see if he could let the investigation into Flynn "go." Trump later stated in a television interview that he decided to fire Comey while he was thinking of "this Russia thing."
Pence's knowledge, if any, of Comey's firing, could be an avenue Mueller can explore. Comey's dismissal has reportedly been a focus of the special counsel's probe, and CNN reported earlier this month that Mueller could interview Pence.
With Flynn's cooperation, Trump Jr. may be a target of Mueller's, as well. He was heavily involved in the campaign, the transition and an infamous June 2016 meeting at the family's New York tower involving a Russian lawyer with links to the Kremlin in an effort to gain political opposition research on his father's former political foe, Democrat Hillary Clinton. Manafort and current White House senior adviser and Trump Jr.'s brother-in-law, Jared Kushner, also attended the meeting.
Trump Jr. has already sat down with congressional investigators this year, and if what he said conflicts with Flynn's story he could be in danger. He also admitted to exchanging messages with WikiLeaks, the government leaks site many have linked to Russia, during a behind closed doors session with the Senate Judiciary Committee in September.
"Because of Mr. Flynn's role on the campaign as a trusted member of the inner circle, he may also have a great deal to say about topics like Mr. Trump Jr.'s June 2016 meeting with several Russians, Mr. Manafort and Mr. Kushner, or about the Trump scion's contacts with WikiLeaks," University of Minnesota law professor Richard Painter and Citizens for Responsibility and Ethics chairman Norman Eisen wrote in an op-ed forThe New York Times published this month. Both were former White House ethics lawyers.
They added: "If Mr. Flynn's recollection is not the same as what Trump the Younger told Congress, Don Jr. is in serious trouble."