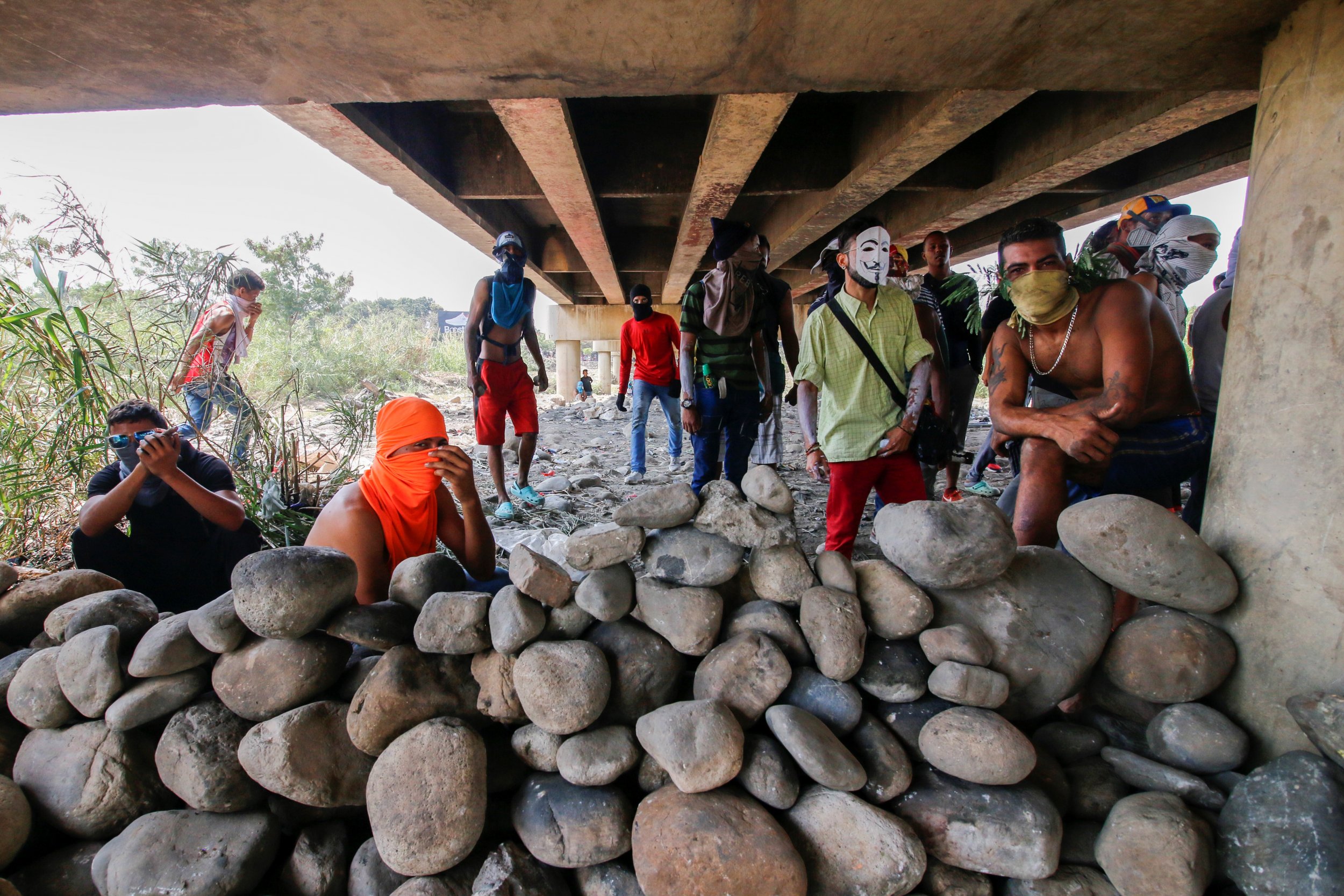 Vice President Mike Pence will announce "concrete steps" to tackle the Venezuelan crisis on Monday after he meets with opposition leader Juan Guaidó, a senior U.S. administration official told Reuters.
Pence is expected to deliver his speech at a summit of the Lima Group at 10.30 a.m. (ET), following his meeting with regional leaders in Bogota, Colombia. The meeting comes days after U.S. aid convoys were blocked by troops loyal to embattled Venezuelan President Nicolas Maduro, who is no longer recognized as the country's leader by the U.S. and other Western nations, at the border on Saturday.
"What happened yesterday is not going to deter us from getting humanitarian aid into Venezuela," the Trump administration official told reporters on Sunday. "The vice president will announce concrete steps. You should expect him to announce clear actions tomorrow as he speaks to the Lima Group."
At least two people died on Saturday after the opposition-led aid deliveries resulted in violent clashes between forces loyal to Maduro and civilians. Witnesses told CNN that two trucks were set on fire as they tried to cross from Colombia to Venezuela.
Guaidó, recognized by more than 50 countries as Venezuela's interim leader, called on Maduro to resign and encouraged foreign nations to explore "all measures" to oust him.
That same day, Maduro vowed to defend Venezuela's independence during a speech given to crowds of supporters in Caracas, where he labeled the opposition a "small group of dummies" who "can't think for themselves." Maduro also told his followers that the U.S. is interfering because they want to colonize Venezuela in a bid to claim the country's oil.
"It's time for our people to tell Donald Trump, 'Donald Trump, Yankee, go home, Donald Trump,'" he declared to thousands of people wearing red apparel in a show of support for Venezuela's socialist party.
Amid a period of political unrest, food shortages and hyperinflation, Guaidó promised citizens over a month ago that he would topple Maduro and restore Venezuela's democracy. On Saturday, Maduro called Guaidó a "puppet" of the U.S. and asked why he hasn't already called for an election.
Secretary of State Mike Pompeo condemned Maduro's government and the decision to block aid in a series of tweets on Saturday. "The U.S. condemns the attacks on civilians in #Venezuela perpetrated by Maduro's thugs," he tweeted. "These attacks have resulted in deaths and injuries. Our deepest sympathies to the families of those who have died due to these criminal acts. We join their demand for justice.
"We denounce Maduro's refusal to let humanitarian assistance reach #Venezuela. What kind of a sick tyrant stops food from getting to hungry people? The images of burning trucks filled with aid are sickening."