Pence Will Preemptively Pardon Trump Before Biden's Inauguration, NY AG Predicts
New York Attorney General Letitia James predicted on Tuesday that President Donald Trump will resign and allow Vice President Mike Pence, once he is sworn in as president, to pardon him before leaving office on January 20.
James, who is currently conducting a civil investigation into Trump's activities in New York, made the remarks during a Tuesday appearance on The View. Although some have speculated that the president could issue himself a preemptive pardon before leaving office, the Democratic attorney general said that the option would not be legally feasible before indicating that she believes Trump will ensure he is pardoned by enacting a scenario that would see Pence briefly serve as president.
"The vast majority of legal scholars have indicated that he cannot pardon himself," James said. "What he could do is step down and allow the vice president, Vice President Pence, to pardon him. In all likelihood, I suspect that he will pardon his family members, his children, his son-in-law and individuals in his administration. As well as some of his close associates."
"And then I suspect, at some point in time, he will step down and allow the vice president to pardon him," she added. "It's important to understand that he's pardoned from federal crimes, but he's not pardoned from state crimes."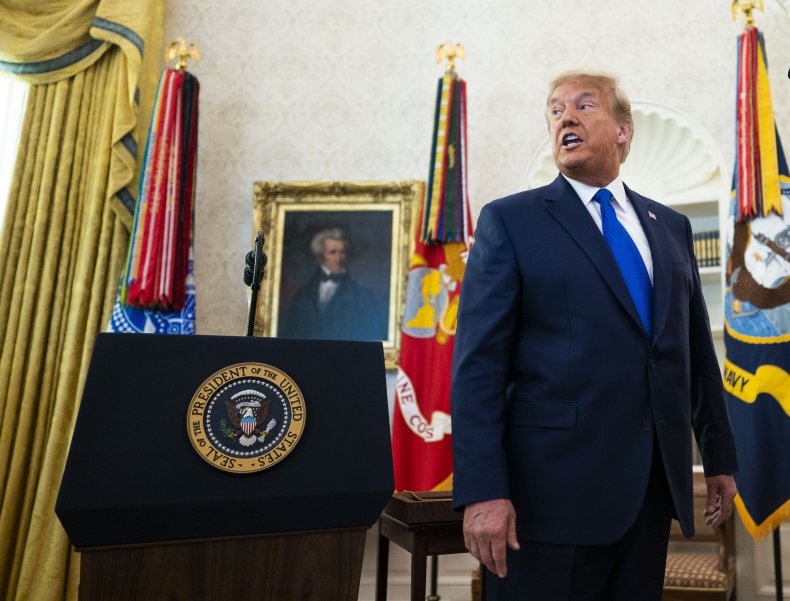 A presidential pardon would shield Trump from federal prosecution, but James said that a bill she had introduced, which was later passed by the New York state legislature, had closed loopholes surrounding pardons and would ensure that "individuals such as the president of the United States would not evade justice" at the state level.
The attorney general is continuing to investigate Trump's legal dealings in New York. Last year, a lawsuit James had filed against the Trump Foundation, alleging that the president and his children had broken charity laws during the 2016 presidential campaign, was settled for $2 million.
Trump could face other legal issues in New York once he leaves office, including some that could potentially result in criminal charges. Manhattan District Attorney Cyrus Vance, Jr. is investigating Trump for alleged "extensive and protracted criminal conduct at the Trump Organization."
Although James said the "vast majority" of legal experts agree that presidents cannot pardon themselves, it is not clear how such an action would be viewed by courts if it were ever taken. Some experts do argue that presidents do have the ability to self-pardon. Trump has previously insisted that he has "the absolute right' to pardon himself.
Not long before former President Richard Nixon resigned in 1974, the Department of Justice issued a memorandum stating that "under the fundamental rule that no one may be a judge in his own case, the President cannot pardon himself."
The memo went on to outline a scenario where the president would declare himself "temporarily unable to perform the duties of the office" under the 25th Amendment while the vice president, serving as temporary acting president, would issue him a pardon.
Newsweek reached out to the White House for comment.