President Donald Trump's re-election campaign hit a bump in the road with Vice President Mike Pence's planned bus tour through rural Pennsylvania on Thursday.
Then it hit another.
Mere minutes into the bus trip, the bus—wrapped in bright blue with Trump and Pence's names and likenesses on the side—had a minor collision with a dump truck that rendered the bus immobile, forcing the vice president into a less flashy, unmarked black Chevy Suburban.
Then, a couple of miles down the road, two motorcycles in the motorcade had a minor accident, again pausing what was supposed to be a grand procession through the winding hills of southwestern Pennsylvania.
No one was injured in either of the road accidents but in all, Pence spent nearly three times as much time on the road in an unassuming black sport utility vehicle than at his two events Thursday—one a Cops for Trump campaign event and the other an official event promoting the Trump administration's economic policies at a chemical company.
Pence didn't speak to reporters traveling with him during the trip and didn't publicly address the hiccups his plans faced.
With fewer than 100 days left until the election, Trump and Pence have been trying to pull out all the stops in what the campaign views as key battleground states, including Pennsylvania.
Trump on Thursday tweeted that he had seen battleground polling that made him confident he's on track to win November 3.
Along the route through rural Pennsylvania, Pence was occasionally greeted with short bursts of supporters along the roadside decked out in red, white and blue, waving campaign flags and videoing the passing motorcade.
But there were also occasional protestors. Near the Cops for Trump rally, a woman held a sign that said 150,000 DEAD in giant black letters—referencing the number of people who have died fighting COVID-19 in the United States since the pandemic broke out earlier this year. A man beside her hoisted a fake coffin in the air.
At both stops, Pence reiterated Trump's commitment to the "people of Pennsylvania."
"This is a place that believes in hard work, sacrifice and loving your neighbor," Pence told the Guy Chemical crowd.
And he acknowledged the coronavirus pandemic has set back efforts the administration had begun but stressed that growth is starting to resume.
"The great American comeback is underway," Pence said. "It's because of that foundation that was poured, but mostly it's because of hardworking people like all of you who have labored through this challenging time, looked after your neighbors and loved ones and friends, and gone right back to work."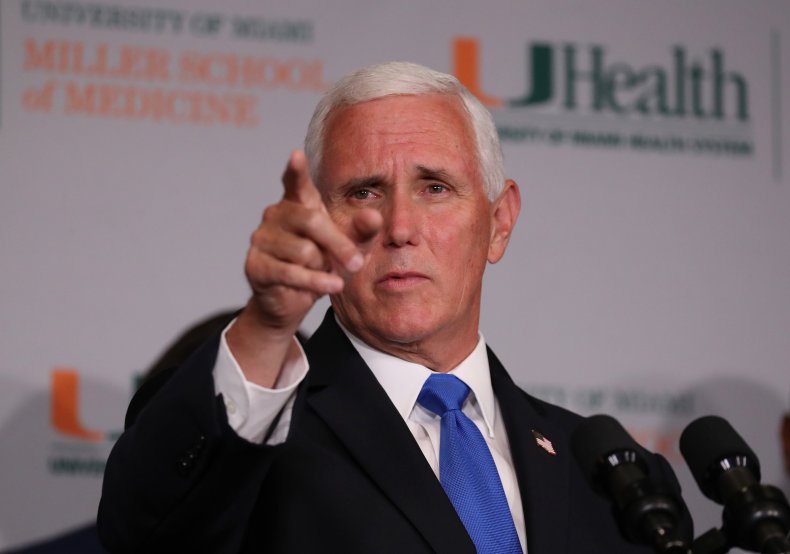 Trump increasingly has pointed to rallies by groups of law enforcement, boaters and other niche groups as proof of his support. He's repeatedly said he believes there is a "silent majority" that will help him win a second term in office.
According to FiveThirtyEight's tracking of recent polls, Democratic rival Joe Biden is currently leading Trump, 49.5 percent to 42.9 percent among Pennsylvania voters.
Biden has led in polling of the state since at least March.
Trump narrowly won Pennsylvania in 2016 48 percent to Hillary Clinton's 47 percent.
Trump's close allies dismiss the polling and note that in the first week of August in 2016, polls had Trump averaging around 42 percent to Clinton's 49 percent. As Election Day neared, the divide even grew, with Clinton projected to take the state.
But, much like the bus tour that was derailed minutes into its start, Pennsylvania still presents its challenges for Trump's campaign.
Pennsylvania's entire slate of statewide offices—governor, lieutenant governor, attorney general, auditor general and state treasurer—is Democratic, as well as one of the state's two U.S. senators.
When Pence arrived in Pennsylvania, he was greeted by was greeted by Allegheny County GOP chair Sam DeMarco, a county commissioner. The opportunity for such facetime with the administration is typically reserved for top state leaders.
One of the most critical issues facing Pennsylvania has been the state's manufacturing jobs, which Trump vowed to protect and grow during the 2016 campaign.
The president's trade wars and tariffs, though, have challenged that growth.
A 2009 study from the Federal Reserve concluded that Trump's "2018 tariffs are associated with relative reductions in manufacturing employment and relative increases in producer prices."
Pence said other policies like the Tax Cuts and Jobs Act, have encouraged growth of manufacturers and more jobs.
"President Trump literally kept every promise that he made to the people of Pennsylvania and then some and the results were extraordinary," Pence told the Guy Chemical crowd.
Though the Somerset speech was billed as an official White House event, Pence took aim at his Democratic rivals throughout his speech.
"Whereas Joe Biden and the Democrats propose policies that'll stifle jobs and wages and energy, President Donald Trump and I are going to fight for a growing America," he said.
Biden's campaign didn't immediately respond to Newsweek's request for comment.