Peng Shuai Missing Update As Concerns Grow Over Chinese Tennis Star's Disappearance
The disappearance of Chinese tennis star Peng Shuai—at the center of her country's most high-profile "me too" case to date—has left her peers asking for her whereabouts, while the head of the Women's Tennis Association (WTA) has hinted at a possible sporting boycott of China.
"Where is Peng Shuai?" That's the question tennis fans and professionals, both present and former, are asking on social media. The 35-year-old former doubles no. 1 has not been seen or heard from since accusing a former high-ranking government official of sexual misconduct two weeks ago.
In a lengthy post on China's main social media service Weibo on November 2, Peng named former Chinese Vice Premier Zhang Gaoli. She said they had an affair a decade earlier, and that he allegedly forced her to have sex in his Beijing apartment in 2018. Peng said she wouldn't be able to substantiate her claims, but the accusations drew a flurry of attention to the country's sports star.
Zhang, who served in the post from 2013 to 2018, was a member of the Chinese Communist Party's Politburo Standing Committee, the group that makes up China's top leadership around Xi Jinping. The nature of the charge and the status of the accused meant that government-led mitigation efforts appeared inevitable.
Peng's post was scrubbed from Weibo, and research results including her or Zhang's names were restricted, Beijing's modus operandi when handling sensitive topics that could damage the country's—and the party's—image. Two weeks of silence have followed, with no follow-up from Peng and no response from Zhang, but the tennis world is speaking out.
In a press conference on Tuesday, men's no. 1 player Novak Djokovic expressed shock at developments involving Peng, whose honors include two singles and 23 doubles titles.
"Honestly, it's shocking that she's missing, more so that it's someone that I have seen on the tour in the previous years quite a few times," said Djokovic. "It's not much more to say than hope that she will be found, that she's OK. It's just terrible. I can imagine just how her family feels that she's missing."
In a Twitter post on Wednesday, four-time Grand Slam winner Naomi Osaka wrote: "Censorship is never ok at any cost, I hope Peng Shuai and her family are safe and ok. I'm in shock of the current situation and I'm sending love and light her way. #whereispengshuai"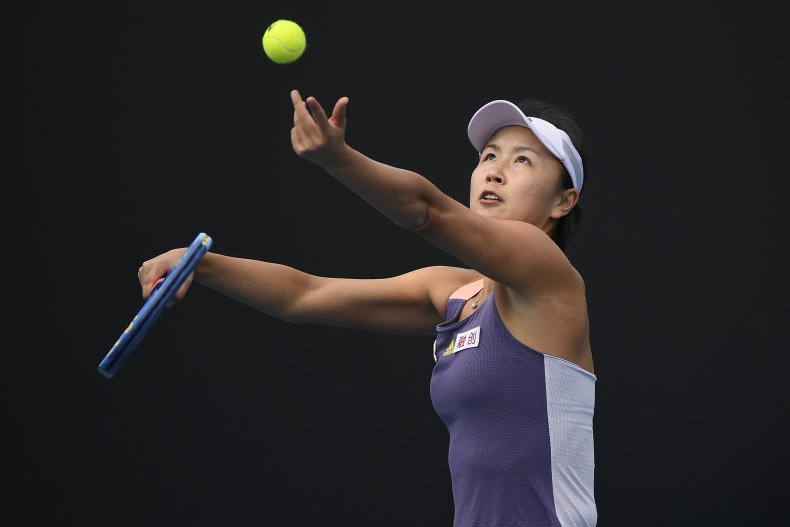 On Sunday, the WTA said Peng's case was "of deep concern" to the association, which called for her accusations of sexual assault to "be treated with the utmost seriousness."
"In all societies, the behavior she alleges that took place needs to be investigated, not condoned or ignored. We commend Peng Shuai for her remarkable courage and strength in coming forward. Women around the world are finding their voices so injustices can be corrected," it said.
The association added: "We expect this issue to be handled properly, meaning the allegations must be investigated fully, fairly, transparently and without censorship. Our absolute and unwavering priority is the health and safety of our players. We are speaking out so justice can be done."
In an interview with the New York Times on the same day, WTA Chairman Steve Simon said the Chinese Tennis Association had assured him that Peng was in Beijing, "safe and not under any physical threat." However, he had not made direct contact with her.
"If at the end of the day, we don't see the appropriate results from this, we would be prepared to take that step and not operate our business in China if that's what it came to," Simon said of the WTA's calls for a full investigation.
He added: "I think everybody fully understands what's at stake here on many different fronts as we're going through it, I think we're certainly, from players to board to council, fully united that the only acceptable approach is that of doing what is right."
The WTA's expansion into China has been large and rapid. The association has plans to host finals in Shenzhen from 2022 to 2030, but they may be in jeopardy depending on the outcome of Peng's case.
In the meantime, the WTA's stance has won praise from a number of high-profile former professionals, including Martina Navratilova, who called its statement "very strong" and "correct."
In a tweet on Sunday, Chris Evert called Peng's accusations "very disturbing," adding: "I've known Peng since she was 14; we should all be concerned; this is serious; where is she? Is she safe? Any information would be appreciated."
Billie Jean King weighed in on Monday, writing on Twitter: "Hoping that Peng Shuai is found safe and that her accusations are fully investigated."