Penguin Found Dead With Whole Face Mask in Its Stomach
A penguin has been found dead on a popular Brazilian beach, with a post-mortem revealing that a face mask was wrapped up in its stomach.
According to the Instituto Argonauta—a local marine conservation non-profit—the dead animal was discovered on Juquei beach, in São Paulo state, on September 9, two days after a public holiday which often brings more people to the area.
A team from the institute collected the body, reporting that it was very thin and covered in sand. The body was then sent to a lab for testing.
The necropsy showed that the animal—a Magellanic penguin—had consumed a whole N95 face mask after possibly mistaking it for food.
"The consequences of the large number of people who frequented the beaches of the North Coast of São Paulo on the extended holiday of September 7 may have cost the life of a Magellan penguin, whose cause of death is linked to a mask that was found inside his stomach," a statement from the institute read.
According to the non-profit, improperly discarded face masks are frequently being found on the beaches of São Paulo state—located in the south east of the country—as well as other parts of Brazil.
The institute said it had found a total of 113 "incorrectly discarded" face masks on the beaches of São Paulo's north coast between April 16 and September 13.
Data shows that 10 of these masks were found on September 8—more than any other day—just after the public holiday weekend.
The consumption of this human waste by animals can lead to blockages in their digestive tracts, causing them to starve to death.
"This case is unequivocal proof that this type of waste causes harm and mortality in marine fauna, in addition to the irresponsibility of the person who discarded a mask in an inappropriate place," President of the Argonauta Institute, Hugo Gallo Neto, said in the statement.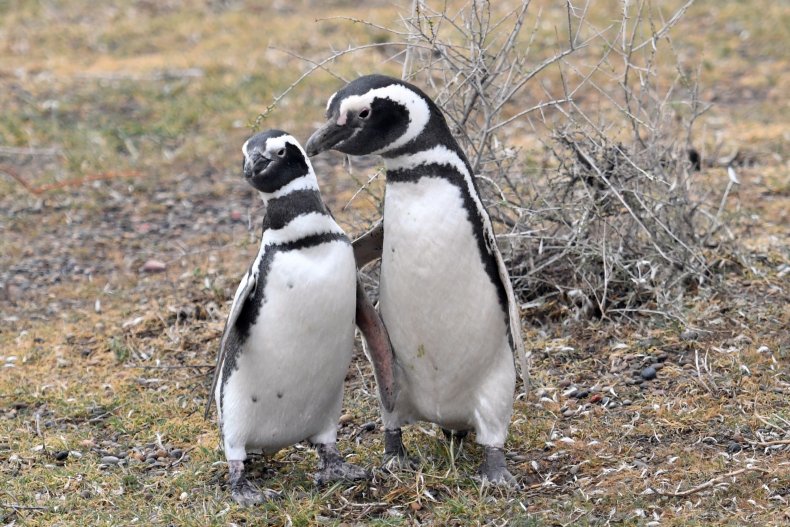 He added: "We feel that the lack of education of the population that frequents the north coast regarding the issue of waste needs to be addressed efficiently at all levels to prevent people from throwing trash anywhere.
"The impact is not only on the fauna, but also on health and the economy, because someone has to clean up the waste that people leave."
The Magellanic penguin is a species native to South America, that is mostly found along the coasts of Argentina, Chile and the Falkland Islands, according to the Encyclopædia Britannica.
Named after the 16th-century Portuguese explorer Ferdinand Magellan, populations of these penguins migrate from Patagonia in the south of the continent in search of food, but some individuals get lost and are found on beaches in the southeast of Brazil, often "weak, debilitated and in need of care," the non-profit said.