Penguin Famine: Thousands of Chicks Starve to Death in Antarctica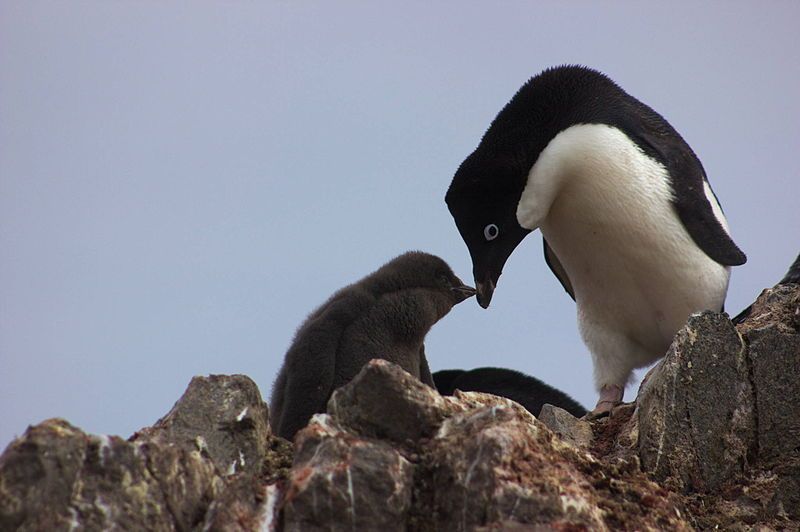 Animal campaigners have raised the alarm over a "catastrophic breeding failure" among 18,000 pairs of Adélie penguins in Terre Adélie, Antarctica at the start of 2017 that left just two of the colonies chicks alive—in scenes described as "Tarantino does Happy Feet."
The penguin species, which lives in large colonies that can comprise thousands of members and eats small crustacea called krill, is "generally faring well in East Antarctica," according to a statement from the World Wide Fund for Nature (WWF).
However, the WWF warned that Adélie numbers are falling in the Antarctic peninsula, where the effects of climate change are felt more profoundly. Similarly four years ago, higher temperatures and rain followed by a rapid drop in temperature meant that many chicks froze to death.
The WWF added, the catastrophic breeding event may have occurred thanks to "unusually extensive sea ice late in the summer," which forced the adult penguins to go further to fetch food for their chicks. Many of the chicks starved as a consequence.
Rod Downie, Head of Polar Programs at WWF said that "Adélie penguins are one of the hardiest and most amazing animals on our planet.
"This devastating event contrasts with the image that many people might have of penguins. It's more like 'Tarantino does Happy Feet,' with dead penguin chicks strewn across a beach in Adélie Land."
A supranational body called the Commission for the Conservation of Antarctic Marine Living Resources (CCAMLR), made up of 25 member states and the European Union, will consider a proposal for "a new Marine Protected Area (MPA) for the waters off East Antarctica" at an October 16 meeting.
An MPA would restrict human activity in the area in order to conserve its wildlife.
"The risk of opening up this area to exploratory krill fisheries, which would compete with the Adélie penguins for food as they recover from two catastrophic breeding failures in four years, is unthinkable," Downie said. "So CCAMLR needs to act now by adopting a new Marine Protected Area for the waters off East Antarctica, to protect the home of the penguins.'"
Yan Ropert-Coudert, senior penguin scientist at the CNRS who leads the Adélie penguin programme at Dumont D'Urville research station, adjacent to the colony, said:
"The region is impacted by environmental changes that are linked to the breakup of the Mertz glacier since 2010. An MPA will not remedy these changes but it could prevent further impacts that direct anthropogenic pressures, such as tourism and proposed fisheries, could bring".