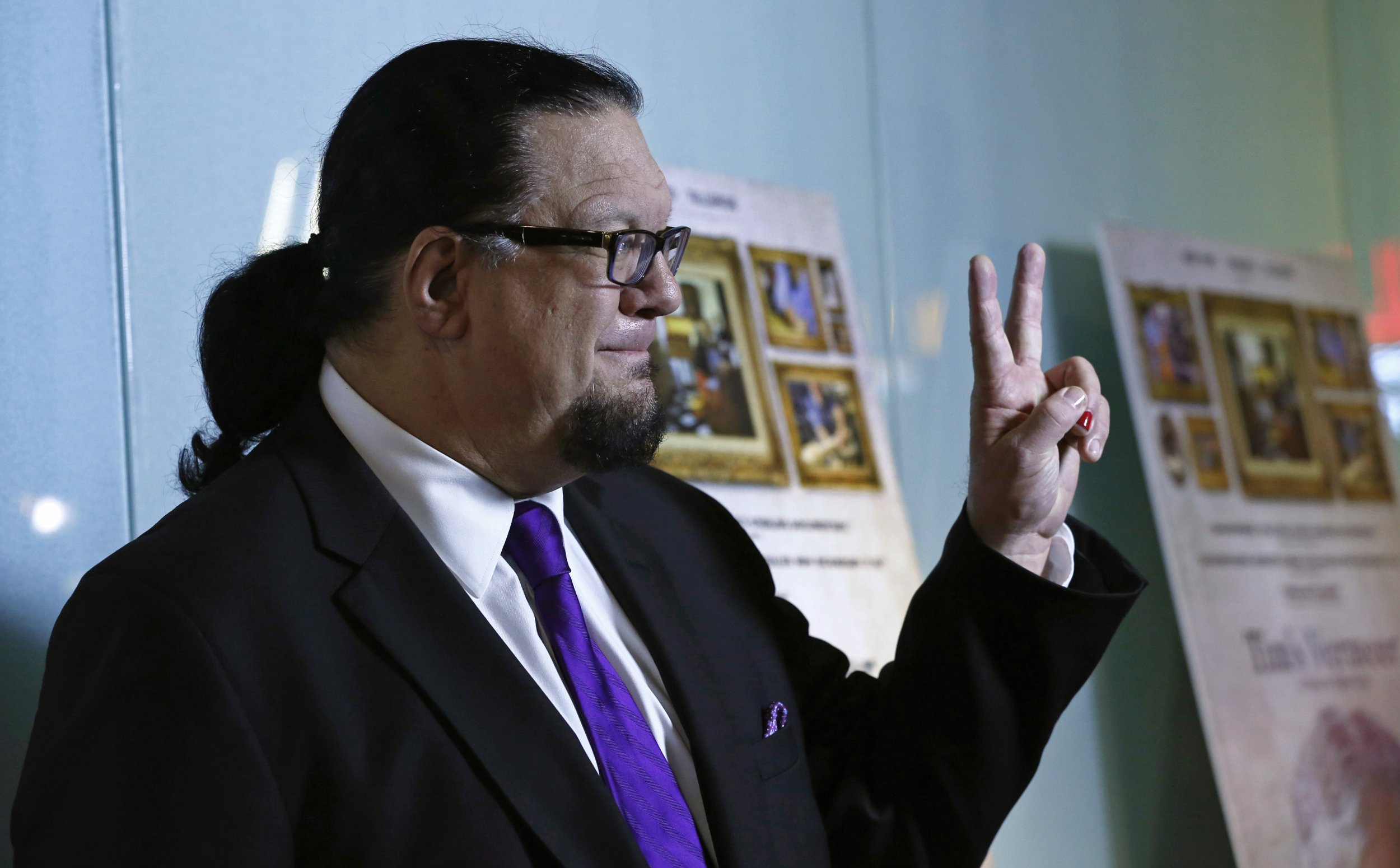 If his reaction to Donald Trump has been any guide, comedian Penn Jillette puts a lot of effort into trying to see people's good side. Perhaps that's why the staunch libertarian—who appeared on Celebrity Apprentice, the GOP front-runner's reality TV series—counts himself friends with a diverse group that includes Glenn Beck and MSNBC's Lawrence O'Donnell.
It's not that the comic and magician can't be caustic, or even brutal. He once made an on-air joke calling Hillary Clinton a bitch in 2008. And you definitely wouldn't want to be on his wrong side during an episode of his former series Bullshit! on Showtime. However, Jillette's tendency to try to find some common ground with people in power—though the Clintons seem to be an exception—is probably why he had nice things to say about Trump, albeit with some straining, when he joined Celebrity Apprentice in 2011. But not anymore.
"The problem is, I know Trump, so my optimism has been squashed like a baby bird," he tells Newsweek.
Even now, Jillette says he's pretty sure he liked Trump more than anyone else who has been on the show. Several of his co-stars "absolutely loathed him," he says.
Jillette appeared on two seasons on Celebrity Apprentice, including one in which Trump fired him because "he didn't like me," Jillette says, "and I thought that was completely fair, because he decides." The two were frank, Jillette says. "Everything bad I had to say about him, I said to his face." And Jillette kept on saying what nice things he could think of about the host. "I think he's very good, very compelling on that show," he says.
The mostly decent rapport changed—publicly, anyway—when Trump the TV star became Trump the candidate. Jillette says he went on TV and said that while he liked Trump as a reality TV host and as a person, he disagreed with him profoundly on political issues. (And there was also the business of Jillette's joke that Trump's hair looked like "cotton candy made of piss." That comment seemed to sour the relationship permanently.)
Soon Trump was tweeting that he thought Jillette's Broadway show was terrible (or so he'd heard). It could have been just another celebrity Twitter beef, with the added weight of one participant being in the running to become the leader of the free world, but even then Jillette didn't respond in kind.
It's also probably why he started this interview by saying everything nice he could about Trump. "I really like him because of his absence of filters. I really like the glimpse we get into the human heart we get when someone loses their filters," he says approvingly. He quotes one of his longtime heroes, Thelonious Monk, who said, "A genius is the one most like himself." "In a really weird way, Donald Trump has achieved that," Jillette says, adding that the outspokenness is a trait held by Bob Dylan, another of Jillette's heroes.
"If he weren't running for president, you'd be seeing essays from me about how much I learned from Donald Trump and how much I loved being on the show," Jillette says.
But that's where the niceness stops.
Like most of the country, Jillette says he's now coming to terms with the fact that despite the pundit predictions and popular wisdom, there is a real possibility that Trump could be president. "It's beyond my imagination," he says.
"I'm feeling so, so, so guilty, because I feel like, along with millions of other people, I played right into this. The cynicism of the Clintons, the careful, tightrope walk of all politicians, forced me, as an atheist, to get down on my knees and pray that someone would come along with some kind of authenticity," Jillette says. "Well, someone called my bluff, goddamn it."
Jillette claims that Trump, Richard Nixon and Hillary Clinton are the only three politicians he's heard of who people like less after meeting.
"The stuff [Trump] is saying on immigration, the stuff he saying on torture, the stuff he is saying on war, is absolutely unforgivable," Jillette says. "He is coming out directly against the Statue of Liberty."
There's also the issue of nuclear weapons. He notes that another presidential candidate, Ted Cruz, has joined Trump in promising to use them. "I'm a pure and utter peacenik. I want a president who sings the praises of people, sings the praises of peace and sings the praises of working together for a great country," Jillette says.
"Abraham Lincoln wouldn't have laughed about waterboarding," he adds.
Jillette's libertarian politics appeared occasionally on the topics he debunked for his skeptical show Bullshit! that appeared on Showtime from 2003 to 2010. He's also occasionally been a commentator on cable networks, sometimes appearing on Beck's program to blast Obama.
And he's never been shy about what he doesn't like about the current president, which includes Obama's use of drones, his perceived expansion of the federal government and his continued stance against legal marijuana. Which is why it's such a shock to hear him say, "If you told me right now I could have another eight years of Obama, I would not hesitate to grab at it."
"He is unquestionably good and unquestionably smarter than I am, which is putting the bar pretty low. I want a president that is kinder, smarter and more measured than me," he says.
"My friend Christopher Hitchens wrote a book called No One Left to Lie To about the Clintons," Jillette says. "I have written and spoken and joked with friends the meanest, cruelest, most hateful things that could ever been said by me, have been said about the Clintons. I loathe them. I disagree with Hillary Clinton on just about everything there is to disagree with a person about. If it comes down to Trump and Hillary, I will put a Hillary Clinton sticker on my fucking car."
But he says he hopes the race will turn out well enough that he feels safe casting his vote for Gary Johnson, who is running on the libertarian ticket, and who he believes is the best choice.
He's also taking what positives he can find from the 2016 campaign. He says that Jeb Bush's belly flop as a presidential candidate shows that Citizen's United, the Supreme Court case that opened the door to well-funded super PACs, didn't decide the outcome of elections. Bush was a candidate with huge money backing who couldn't buy his way into office.
Jillette also says Trump has proved that the American people appreciate someone speaking openly. "Someone who is paying attention can do the same thing that Trump is doing with hate, and do it with love, and become president," he says. "That's kind of beautiful. There's nothing more optimistic than that."
And as for Trump, Jillette says there's still a chance that tides could turn for the seemingly unstoppable real estate scion turned reality TV star.
"Donald Trump does, when it comes right down to it, fuck up everything," he says. "He fucks up his casinos. He fucks up his buildings.... Maybe he'll fuck up his campaign before he fucks up the country."