Penn State to Stop Using 'Freshman,' 'Sophomore' Titles Due to 'Male-Centric Academic History'
Penn State University will stop using the titles "freshman," "sophomore," "junior" and "senior" in efforts to move away from "male-centric academic history" and closer to a more inclusive educational environment.
Penn State's Faculty Senate approved a proposition seeking to remove gendered and binary terms from the school's course and program descriptions, according to the university's student-run paper The Daily Collegian.
The group, which represents all faculty at the university, voted 125-13 to enact the proposal.
A spokesperson for the Senate office told The Daily Collegian that proposition was approved on April 27. The recommendations will be implemented following comments from the office of the president, but it is unclear exactly when those changes will go into effect.
The Removal of Gendered & Binary Terms from Course and Program Descriptions recommends changing the terms "freshman," "sophomore," "junior," "senior," to first-year, second-year, third-year, fourth-year and beyond.
"The University, as with most all academic institutions world-wide, has grown out of a typically male-centered world," the proposition states. "As such, many terms in our lexicon carry a strong, male-centric, binary character to them.
"Terms such as 'freshmen' are decidedly male-specific, while terms such as 'upperclassmen' can be interpreted as both sexist and classist. Terms such as 'junior' and 'senior' are parallel to western male father-son naming conventions, and much of our written documentation uses he/she pronouns," it continues.
It suggests that students who are beyond their fourth year of schooling be referred to as "advanced-standing" students as opposed to "super-seniors," which the proposition argues carries a slightly negative connotation for those taking longer than is typical to complete their programs.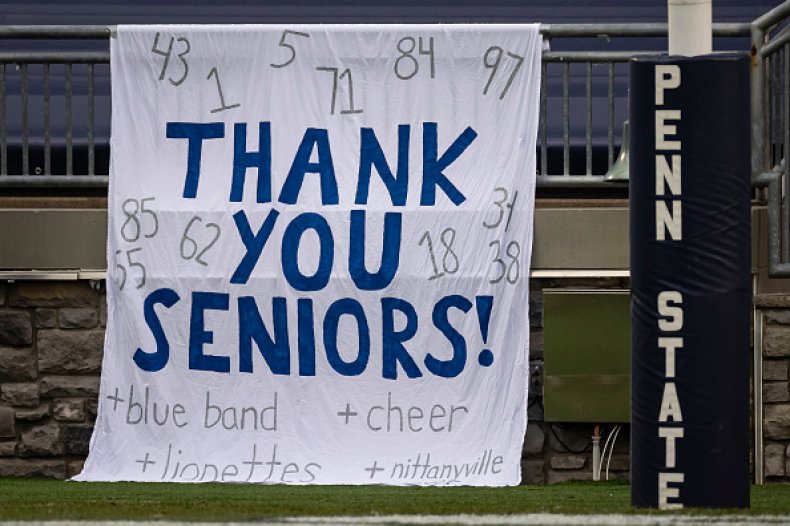 The proposition asks the university to apply the changes to all written materials, including those related to recruiting, admissions, scholarships, housing and other internal documents.
It also recommends that the school move away from using gendered pronouns when referring to students, faculty, staff and guests. Instead of using he/him/his and she/her/hers, the proposition recommends using they/them/theirs or non-gendered terms such as student, faculty member or staff member.
"This is hopefully the first step of many to assure our words throughout the university are inclusive and welcoming," William Kenyon, a member of the senate committee on curricular affairs, told Centre Daily Times.
Not all terms will be replaced, however. The proposition notes that in classes that focus on women's studies, gendered words would remain unchanged.
The Penn State's Faculty Senate approval comes a few months after the U.S. House of Representatives made similar changes to reword the House rules to include gender-neutral language in a 217-206 vote.
Although some Republicans, like House Minority Leader Kevin McCarthy, have called the change "stupid," several studies show that gender-neutral language can increase the acceptance of non-binary LGBTQ individuals.
Newsweek reached out to Penn State's Faculty Senate for comment but did not hear back before publication.