Penn State Students Must Sign COVID Waiver Discharging Liability for 'Illness, Permanent Disability Or Death'
All students at Pennsylvania State University must sign a waiver acknowledging the risk of returning to campus amid the coronavirus pandemic, absolving the school of responsibility for "personal injury, illness, permanent disability, or death."
"I assume any and all risk of exposure to COVID-19 that may result from attending Penn State, or participating in Penn State activities," according to the waiver, "and I acknowledge that exposure or infection may result in personal injury, illness, permanent disability, or death."
The document, titled "The Penn State COVID-19 Compact," first appeared August 5 when students tried signing into their university accounts, requiring their agreement before being allowed to continue to the site. The compact also includes a list of requirements and guidelines set out by the university in preparation for the fall semester, which is slated to begin August 24.
Maggie Hernandez, a PhD student in Penn State's anthropology department, told Newsweek that the university deliberately structured the agreement to bar students from accessing important information including finances, course registration and medical insurance.
The only way to see any of those resources is to click "I agree." To her knowledge, Penn State has not offered any sort of alternative for students who didn't want to sign the waiver, Hernandez said.
Tammy Peery, a parent of a Penn State student, wrote on Twitter August 6 that her child had been barred from accessing their student account until signing the waiver.
"This is 100% inappropriate. If PSU is concerned about liability, they should not bring students back," Peery wrote.
Hernandez said that the waiver is a sign of Penn State administrators releasing themselves from responsibility of people getting sick, even though they are most likely aware that bringing back students is "incredibly irresponsible."
"What Penn State is doing is grabbing all of the blame from the people potentially getting infected by COVID-19 and everything of what that means, including permanent health problems moving forward or even death, and placing it directly on the students," she said.
While all students have the choice of taking their classes either in-person or remotely, reopening the university in any capacity is "putting the lives of the local community members in danger," Hernandez said.
State College, the town where the massive public universityis located, is small and close-knit. It has only one hospital and limited medical infrastructure to accommodate a surge of coronavirus cases—something Hernandez said is "inevitable."
Hernandez said she and many other students hope that Penn State administrators will elect to go entirely online before they are forced to because of rising case numbers.
"Ideally the university would switch to completely online instruction. And instead of spending the millions of dollars that they're spending on all of this contact tracing and testing everybody, they could invest that money into resources to guarantee that students are able to successfully complete their education online," she said.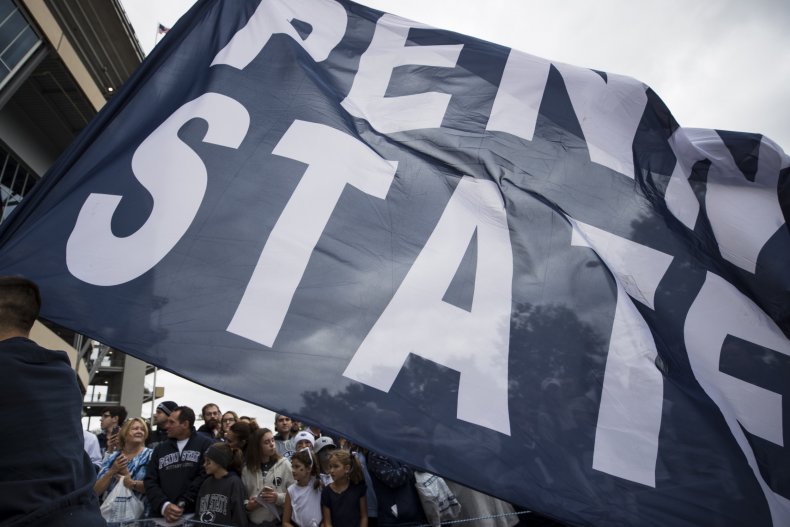 In addition to signing the liability acknowledgment, the university's nearly 100,000 students must also agree to follow certain protocols outlined in the document, including self-quarantining for at least seven days prior to arriving to campus and submit to COVID testing as directed by Penn State.
Failure to abide by such requirements could result in a student being suspended or expelled from the university, the waiver stated.
The compact also admitted the precariousness of in-person learning amid the ongoing pandemic, a debate schools and universities across the U.S. are continuing to parse even as classes begin.
"As we return to in-person experiences in our campus communities during the ongoing pandemic, we must acknowledge the responsibility we all share," according to the waiver. "Our return is tenuous and could be brief. Its success depends on each of us doing our part."
Newsweek contacted Penn State for comment, but did not hear back in time for publication. Wyatt DuBois, a university spokesman, told Spotlight PA that Penn State is aware of the "anxieties and uncertainties" members of the community are expressing about the compact.
"We feel it is important that students and families understand there is COVID-19 risk, everywhere in our daily lives," DuBois said, adding that the university has exceeded the guidance provided by health experts.
Penn State is not the only U.S. institution to make its student body acknowledge and accept liability for risk brought on by the pandemic.
Bates College, a small liberal arts school in Maine, asked its students to sign an "Acknowledgement of Shared Responsibility and Risk" before returning to campus. The agreement echoed Penn State's, requiring that signees acknowledge "exposure and illness may result in personal injury, illness, temporary or permanent disability, or even death."
Returning University of New Hampshire students must sign an "Informed Consent Agreement," forcing them to acknowledge that "coronavirus is a general public risk and the university system cannot guarantee they will not contract the coronavirus." A group of law students at the university are opposing the agreement, calling it confusing and bringing attention to its legal implications, Inside Higher Ed reported.