Penn State Suspends More Than 100 Students for Going Weeks Without COVID-19 Testing
Pennsylvania State University announced Tuesday it had suspended 117 students who missed at least three weeks of mandatory COVID-19 tests.
The university said in a statement posted on its website that the interim suspensions have resulted in the students not being able to participate in either in-person or virtual classes. Additionally, any suspended students living on the school's main campus of University Park in Centre County have been temporarily removed from their residence halls and may not attend any Penn State-sponsored events, programs and activities, such as football games.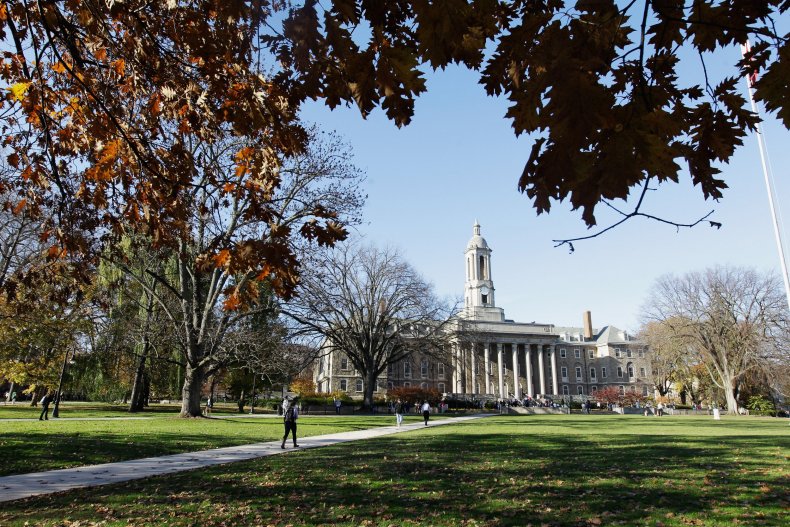 "It's important that both students and employees comply with our testing requirement, and we have done everything we reasonably can to ensure that these students are aware of their obligation and do what they must to honor it," Damon Sims, vice president for student affairs, said in the statement. "The last thing we want is to suspend them."
Before the fall semester began, Penn State announced that students at University Park would be required to take weekly COVID-19 tests if they did not provide proof of full vaccination. Any student who misses at least three weeks of testing would be out of compliance with the university's health and safety policies.
The students who were suspended had been given multiple warnings, according to the school. First, non-vaccinated students were sent weekly emails instructing them to complete the required testing. Next, those who missed two weeks of tests had a hold placed on their records that prohibited them from registering for future courses.
Last week—in a final effort to avoid handing out interim suspensions—Penn State staff called every student who had three missed tests to help them comply with the COVID testing rules. The university said such efforts helped several hundred students from being penalized.
Suspended students can be reinstated when they show they have been tested for the virus or have been vaccinated.
"I'm sorry these students did not follow our repeated admonitions and warnings, and I hope they will make the correction necessary," Sims added in the statement. "Others should not repeat their mistake, and everyone who can be should be vaccinated and should upload their data to us as soon as possible."
The statement also noted that Penn State's Human Resources department is examining employee testing data to determine the number of faculty and staff who are not in compliance with its health and safety policies.
Penn State had previously encouraged students on campus to get vaccinated for COVID-19 by offering incentives as well as by hosting vaccination clinics.