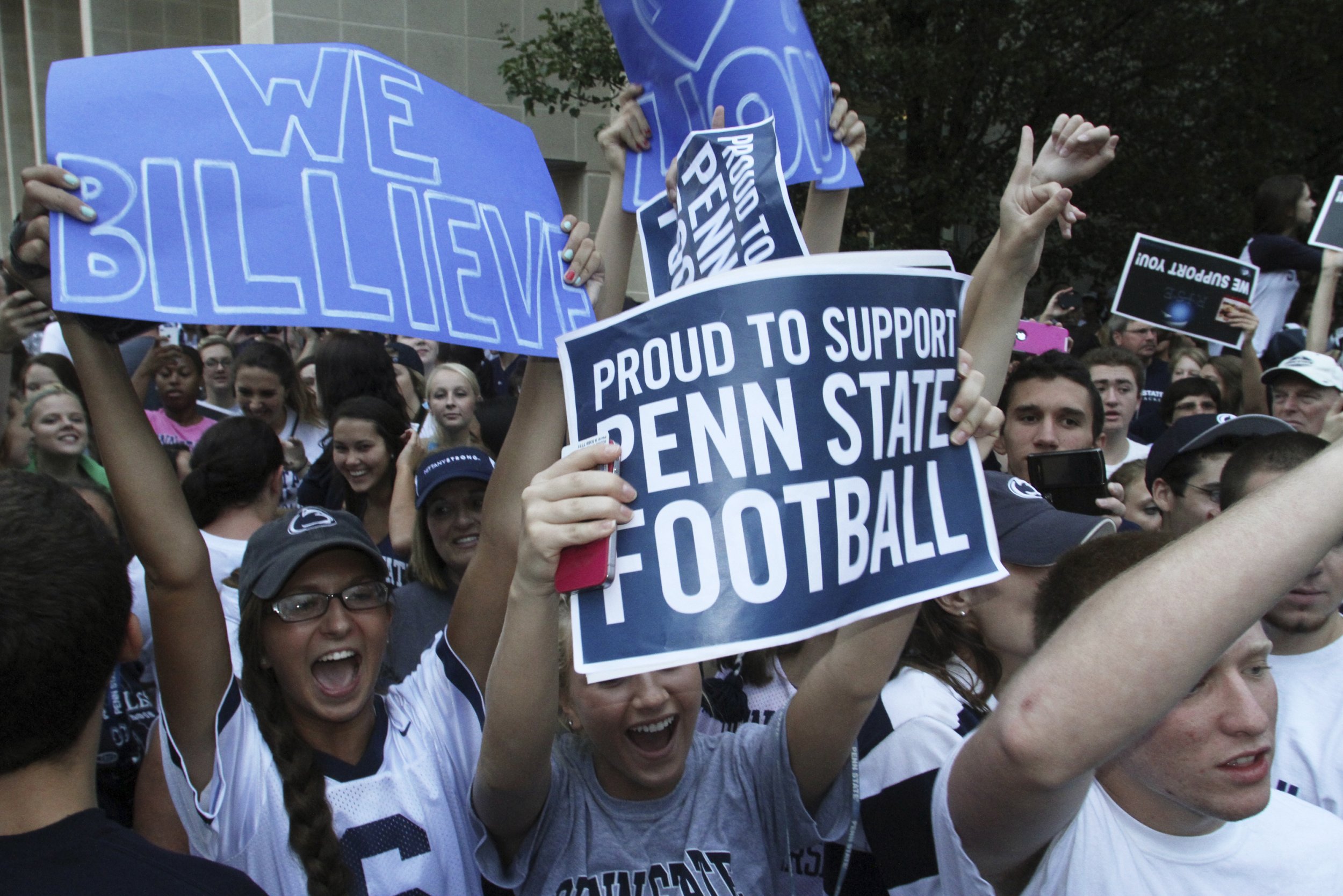 Updated | Pennsylvania State University has reached a tentative settlement with the National Collegiate Athletic Association (NCAA) to restore 112 football wins that were vacated following a child abuse scandal involving former assistant coach Jerry Sandusky, The Associated Press reported Friday.
The proposed settlement would resolve an ongoing fight between the NCAA and state officials over the legality of the NCAA's sanctions against the university as a result of the scandal.
In 2012, the NCAA vacated all the team's wins from 1998, the year police first investigated a complaint about Sandusky, to 2011, the year Sandusky was charged. The organization also imposed punishments against Penn State's athletics program due to the scandal, including a $60 million fine, a reduction of the school's scholarship money and lengthy bans.
Postseason access and scholarships were restored by the NCAA in 2014. As part of the settlement, Penn State would commit the fine money to child abuse prevention and treatment organizations in Pennsylvania, the NCAA said.
"Continuing this litigation would further delay the distribution of funds to child sexual-abuse survivors for years, undermining the very intent of the fine," said Harris Pastides, University of South Carolina president and a member of the NCAA Board of Governors, in a statement.
Sandusky, who maintains his innocence, served as assistant football coach at Penn State for 32 years. Now 70, he was charged with 48 counts of abuse, convicted in 2012 of 45 counts and sentenced to between 30 and 60 years in prison. Debate has since ensued over whether the university's athletic department covered up years of abuse to protect the legacy of its successful sports teams.
If the settlement is finalized, Joe Paterno will regain his title as coach with the most wins at a college level, with 409 victories in total. Paterno was fired as a result of the scandal, after over three decades coaching the team. He died in January 2012.
About the writer
Polly Mosendz is a breaking news reporter for Newsweek. She was previously a staff writer for The Wire and associate editor for The Atlantic. Her reporting on the Islamic State has been recognized by a variety of organizations, including the Middle East Institute. Her writing has appeared in The New York Observer, The Commercial Observer, Cosmopolitan, Business Insider, Yahoo News and a variety of other publications. Born in Kiev, Ukraine, she is fluent in both Ukrainian and Russian. Mosendz attended the New School University where she studied media writing and American history. She lives in Greenwich Village with many books.