Penn State's New Villain: Pennsylvania Gov. Tom Corbett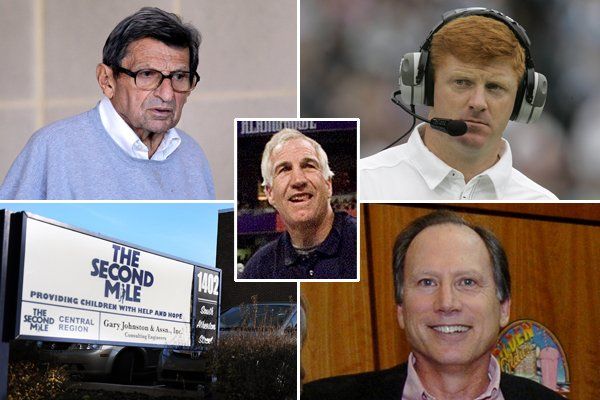 Like an unchecked oil spill with no effective cleanup plan in sight, the black ooze flowing from the tragedy and travesty of the Penn State scandal keeps spreading, covering even those who—because of mad-dash coverage, in particular by The New York Times—were originally hailed as instant heroes.
A week after a state grand jury reported dozens of horrific acts of sexual abuse against minors by former Penn State assistant football coach Jerry Sandusky, the only man who stood tall was Pennsylvania Gov. Tom Corbett.
The investigation started in 2009 on Corbett's watch, when he was state attorney general, and the release of the 40-count indictment against Sandusky occurred with Corbett in the governor's mansion.
It was hard not to admire him, although Jo Becker went a little far in her shameless puff piece in the Times on Nov. 10. He had taken on a case of such enormous ramifications, ripping open the state's most sacrosanct institution and its most powerful man, football coach Joe Paterno. The great JoePa, who did nothing to stop Sandusky's alleged depravity but kick it upstairs to superiors when everyone knew Paterno had no superiors, was fired. Graham Spanier, the president of Penn State, was out as well.
That made Corbett appear even taller.
Except for the fact that the way his office handled the investigation raises inevitable and legitimate questions about why an alleged sexual predator was allowed to remain at large for nearly three years while the grand jury investigated. The question of political considerations cannot be avoided.
Not only that, but Corbett's gubernatorial staff approved—yes, approved—a $3 million grant to Second Mile, the foundation for kids that, according to the grand jury, served as a repository for potential sex-abuse victims. Corbett knew about the grant and let it through last July for reasons that seem absurd.
Kathleen Kane, who is running for attorney general, is a Democrat, while Corbett is a Republican. But Kane was also an assistant district attorney in Lackawanna County who specialized in cases of sexual abuse for 12 years. She told me that in any case where authorities know of an alleged sexual predator believed to have committed a crime, the first obligation is to make an arrest. The risk of Sandusky committing another act against a minor child was too great to wait three years for a report, she said emphatically.
Corbett brushed off any criticism last week as being misinformed. "The investigation moved as quickly as it could," he told The Philadelphia Inquirer. "If, during the time that I was in office, we could have been in a position to make an arrest, we would have made an arrest."
I am not a lawyer, but I have spoken to former prosecutors who have dealt with sexual abuse, including rape, and they don't buy Corbett's line for a second. "You don't need a grand-jury report," said one. "If there is an alleged sexual predator on the streets known to you, you get him off the streets." After an arrest, the former prosecutor said, there is nothing to preclude investigators from finding more alleged victims. In fact, victims might have been more comfortable coming forward knowing that the alleged perpetrator had been arrested. And the actions of Penn State officials still could have been probed.
The strongest case allegedly occurred in 2008, and, according to the grand jury, involved Sandusky performing oral sex on the alleged victim more than 20 times when he was 13 or 14—when Sandusky was in his early 60s. The case is what led Corbett when he was attorney general to commence an investigation into Sandusky in 2009.
Authorities in this case know the victim. His mother reported it to his high school's assistant principal, Steven Turchetta, who knew Sandusky as a volunteer coach at the school and found his behavior suspicious. The matter was reported to authorities as mandated by law. In addition, wrestling coach Joseph Miller told the grand jury that upon returning to the Clinton County high school one evening in 2005 or 2006 to get something, he noticed a light on in the weight room that should have been turned off. When he went into the weight room, according to the grand-jury report, he saw Sandusky and the alleged victim lying side by side, face to face in physical contact. He also testified that Sandusky seemed surprised to see him, jumping up from the mat and saying, "Hey, Coach, we're just working on wrestling moves."
So in this case you had the identity of the alleged victim. You had two adults who were eyewitnesses to actions by Sandusky that they say were strange and suspicious. You had the mother reporting an incident. You had that incident reported to the proper authorities. You had horrific allegations of repeated acts of oral sex.
An arrest based on these facts shouldn't have taken very long. Coupled with the now-infamous 1998 case in which, again according to the grand jury, Sandusky admitted at the time to the victim's mother—with two Penn State police officers eavesdropping—that he may have touched her son's genitals, it would seem impossible for the attorney general not to be concerned that Sandusky might be engaging in a pattern. All the more reason to get him off the streets. But in the high-school case, officials there were not interviewed until earlier this year, according to The Harrisburg Patriot-News. Sandusky's house was not searched until the summer.
Corbett's office was too passive. Assuming the litany of accusations against Sandusky is true, Corbett's inaction ran the terrible risk of the coach committing another awful act of sexual abuse. And maybe he did.
Corbett maintains that it was worth the risk, but it should also be noted that he was running for governor in 2009 and 2010. Was he inclined to go the route of a lengthy grand-jury probe, rather than an arrest in the high-school case, because he didn't want to alienate potential donors with Penn State ties?
Corbett has a reputation as an upstanding individual, but according to Deadspin.com, some two dozen present and former Penn State trustees donated $201,783.64 to his gubernatorial campaign. Unfair corollary? Maybe.
But politics in Pennsylvania? I have lived in the state for 35 years. Everything in Pennsylvania is politics. As for the $3 million grant to Sandusky's foundation, a Corbett spokesman noted it was originally approved by outgoing governor Ed Rendell but the funds were never committed.
Corbett detested what he viewed as Rendell's liberal spending policies and eviscerated much of the Democrat's funding for education. So would he approve a $3 million grant because Rendell wanted it? You decide.
The spokesman also maintains that Corbett approved the grant (now on hold) to avoid a possible leak of the investigation. But it seems hard to believe that denying the grant would have aroused any suspicion because Sandusky informed Second Mile in 2008 that he was being investigated.
Perhaps Governor Corbett did the right thing in the route he took: the grand jury did establish eight alleged victims. But he may well have been able to accomplish the same thing with Sandusky already arrested.
Given the enormous extent of this scandal, with all its obfuscation and lack of action and conflict of interest and just plain stupidity, it's no wonder that the ooze would eventually touch Corbett. Add him to the lengthening list of those who'll have to scrub awfully hard to cleanse themselves of the stain.