Pennsylvania High School Punishes More Than 200 Students for Participating in National Walkout Against Gun Violence
More than 200 students at Pennridge High School in Pennsylvania received detention after participating in Wednesday's national student walkout calling for an end to gun violence. Superintendent Dr. Jaqueline A. Rattigan announced the students would serve the detentions on Saturday.
In a statement issued Wednesday, Rattigan said that around 225 students, including some who were accompanied by their parents, walked out of school as a part of a national movement orchestrated by students. The students opted to participate in the national walkout instead of attending an in-school assembly to remember the 17 killed at Marjory Stoneman Douglas High School in Florida.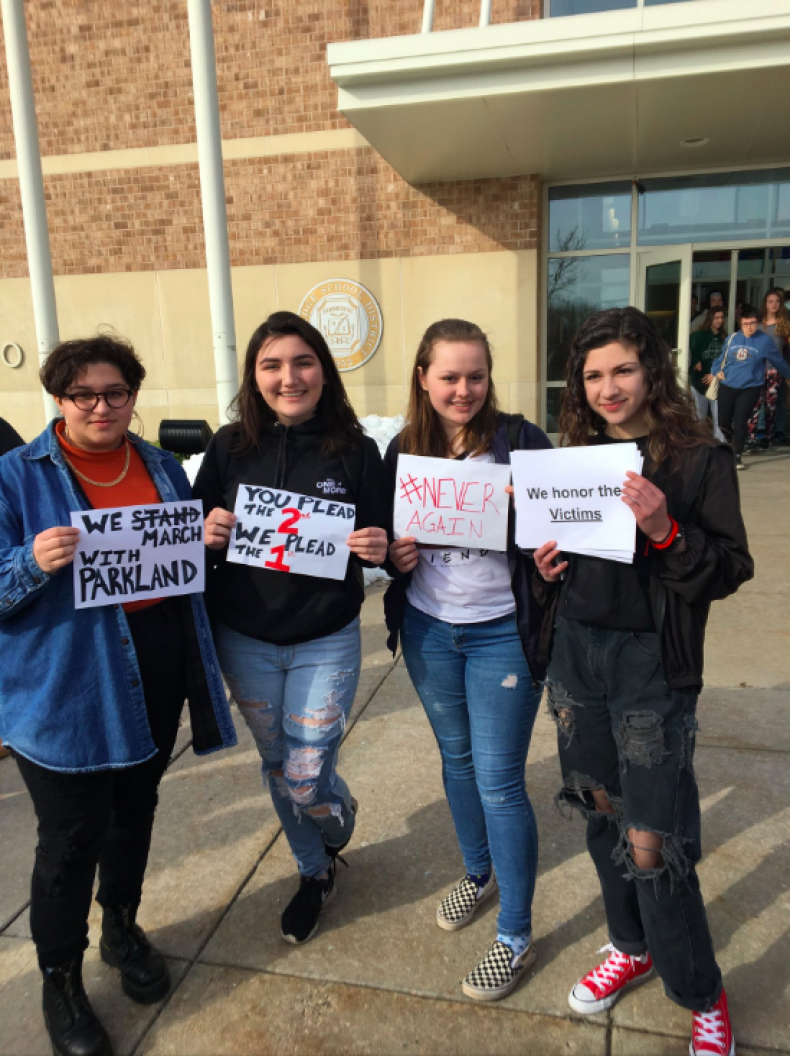 According to The Morning Call, Pennridge had notified parents Tuesday that the high school would be holding the remembrance assembly, which included 17 minutes of silence as well as a power point presentation of the 17 victims killed by alleged gunman Nikolas Cruz.
The letter also warned parents that any students who left school for the walkout would be doing so without permission and would "receive the consequences which would normally apply in such circumstances." Rattigan said students who were accompanied by their parents would be allowed to leave and would not face punishment.
District public relations coordinator Joe Ferry told Newsweek that five students who walked out later went to Dunkin' Donuts and will face additional detention.
Anna Sophie Tinneny, a 17-year-old senior at Pennridge, told Newsweek that students whose parents could not sign them out were given a Saturday morning detention. The school did not accept written notes or emails from parents, she said.
Tinneny said that while her parents are "not completely in agreement with the reasons for the walkout" they are supportive. She said her mother went with her to the school board meeting in an attempt to convince the school board to allow students to walk out.
"I felt that it's my responsibility to show my school community and Congress that gun control is an issue that I care about and that I'm willing to sacrifice for it," she told Newsweek. "I also wanted to show support to the Parkland students who have publicized the walkout."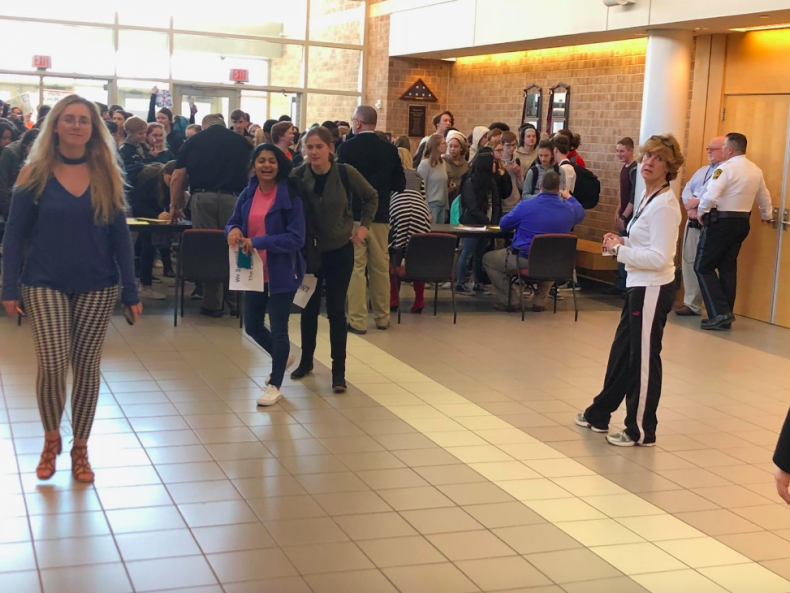 She said students returning to the school building were met with "barricades" manned by police and administrators who had them sign up for detention before being allowed back into class. Ferry, however, told Newsweek the set up was in place to allow students to quickly return to class.
"There were still police in the building when students returned as they had been during the assembly to ensure safety of all students and staff," he added.
Tinneny called the detentions an "inconvenience" but said she knew it was the consequence of walking out.
"Since the detention is going to be full dozens of students from the walkout, we're planning on another show of support for the movement by wearing signs with the names of the victims on it," she said.
Tinneny told Newsweek that she and some friends who planned the Pennridge walkout are going to D.C. to take part in the March For Our Lives later this month.
In a statement, Rattigan said approximately 800 students attended the assemblies at the high school to honor the victims of the February 14 shooting.
"It was a moving experience for those who participated," she said. "About 225 students, including a few who were accompanied by their parents, chose to walk out of school to hold their own activity."
"Just to be clear, no student will be disciplined because they expressed any particular viewpoint or opinion," Rattigan added. "Rather, the disciplinary consequence will be given for willfully breaking a school rule about leaving the building without permission."