Pennsylvania AG and Lt. Gov Blast Trump, 'Fake' GOP Election Hearing: 'Devoid of Reality'
Pennsylvania's attorney general and lieutenant governor blasted President Donald Trump's GOP election hearing on Wednesday, saying that it was "sad and tragic" as well as "devoid of reality."
In a tweet, Pennsylvania's Attorney General Josh Shapiro wrote, "The sitting president's remarks today were devoid of reality. The election is over. Pennsylvania has certified results & declared Joe Biden the winner of our Commonwealth."
Shapiro added, "Lying through a cell phone at a fake hearing changes nothing."
Newsweek reached out to Shapiro for comment but did not receive a response in time for publication.
Lieutenant Governor John Fetterman echoed Shapiro's remarks while appearing on SiriusXM's The Dean Obeidallah Show.
"This is an Amway convention in a holiday ballroom, that's all it is. They're going to sell the same kind of products that no one really believes is legitimate," Fetterman said. "And that's the problem here, with all of this. I just put this out on social media, the Pennsylvania GOP is saying that there is voter fraud in Pennsylvania, but not our races, you know there wasn't any fraud in our races that elected us."
He continued, "There's nothing about this that isn't said in tragic, and that's why I do think it's like an Amway convention in a hotel ballroom."
While speaking with Newsweek, Fetterman made similar remarks and said, "it was just such a bizarre scene."
"It was an odd mix of snake handling and Amway in a hotel ballroom," Fetterman told Newsweek. "It wasn't a Senate hearing, there was nothing official about it. It was just some weird revival centered around lies about Pennsylvania's election."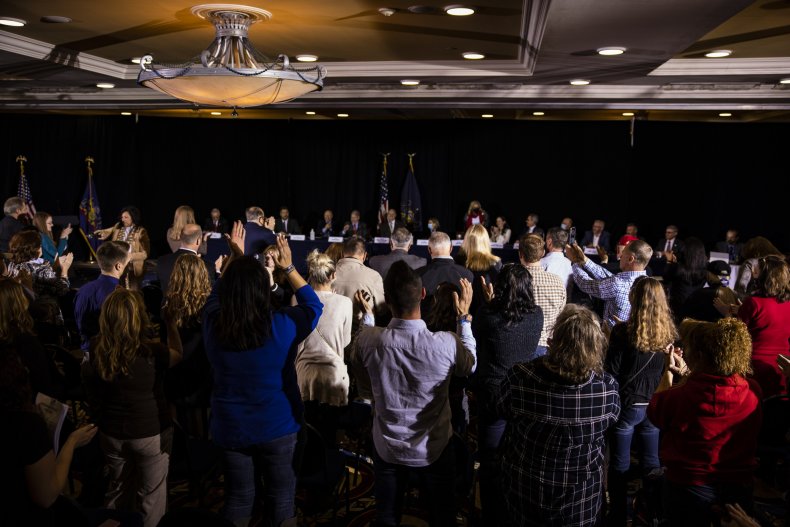 Criticism from both Shapiro and Fetterman comes shortly after Trump's personal attorney Rudy Giuliani appeared at a public hearing in Gettysburg to discuss seemingly baseless claims of widespread voter fraud in the state, despite election officials certifying President-elect Joe Biden's victory.
While Trump did not attend the meeting in person, he called in to make claims that he won the election in Pennsylvania.
"We have to turn the election over," Trump said on the call, which was played on speakerphone during the hearing. "This election was rigged and we can't let that happen. We can't let it happen to our country. And this election has to be turned around because we won Pennsylvania by a lot and we won all these swing states by a lot."
Despite Trump's claims, state and local election officials have stated that there was no evidence of widespread voter fraud in the state's election, and several lawsuits, seeking to prevent the state from certifying election results.
On Saturday, Judge Matthew Brann of the U.S. District Court in the Middle District of Pennsylvania wrote in a decision that, "In the United States of America, this cannot justify the disenfranchisement of a single voter, let alone all the voters of its sixth most populated state. Our people, laws, and institutions demand more."
"At bottom, Plaintiffs have failed to meet their burden to state a claim upon which relief may be granted," Brann added in the decision.
Newsweek reached out to Trump's campaign for comment but did not receive a response in time for publication.