Pennsylvania Billboard Claims Joe Biden Has Dementia, Spells It Wildly Wrong
A billboard alleging Democratic presidential nominee Joe Biden is not mentally fit to be president is not as persuasive as it hoped to be due to a glaring spelling error.
The billboard in Biden's native Pennsylvania—a key battleground state—echoes President Donald Trump's repeated attacks on his opponent's mental capacity and makes the unsubstantiated claim that Biden has dementia that "is worsening."
But those who know how to spell the word "dementia" will find it hard to look past the billboard's shocking misspelling.
"Biden's dimensia [sic] is worsening, he is not fit," it reads.
Evan Ludy took a picture of the billboard, located on Route 21 at the intersection of Matthew Drive and the Route 119 bypass in Fayette County, and posted it to Twitter last week.
"Fayette County Billboards... absolutely obliterated the word 'dementia'," Ludy, a 22-year-old resident of nearby Uniontown, captioned the tweet, which soon went viral.
"The irony is just hilarious," Ludy told Newsweek.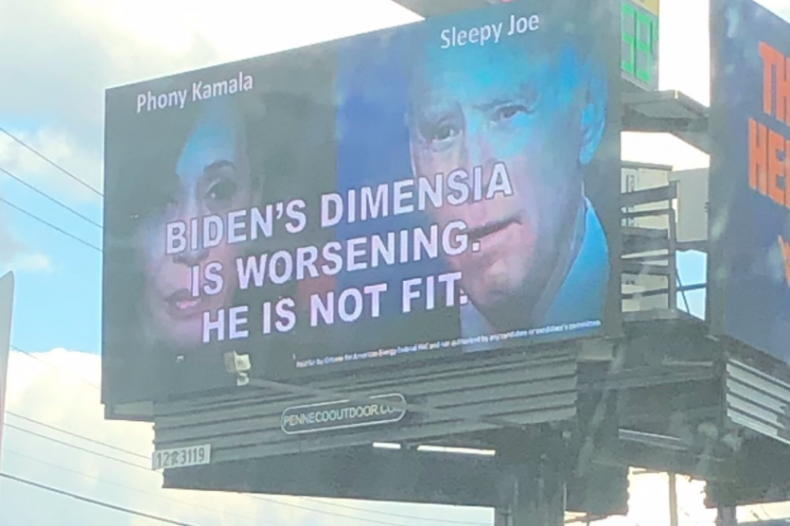 The billboard also uses the president's disparaging nicknames for Biden and his running mate, California Sen. Kamala Harris.
According to The Pittsburgh City Paper, the billboard is owned by Penneco Outdoor Advertising. The company has been contacted for comment.
Penneco Outdoor Advertising, based in Delmont, Pennsylvania, was left with a one-star rating on Google after people left a series of negative reviews over the past few days.
"Seriously sad spelling. Stupid," one person wrote.
"They can't master basic spelling," another one-star review said.
Another person blasted the company for using dementia as a "political weapon."
"I have a beloved aunt suffering with dementia. It is a horrible disease that should not be used as a political weapon," the user wrote.
It's not the first time the company has put up a billboard attacking Democrats, according to the Pittsburgh City Paper.
A Penneco billboard, paid for by the Citizens for American Energy super PAC in North Huntington, two years ago called the women who made allegations of sexual assault against Justice Brett Kavanaugh, before his confirmation to the Supreme Court, "Democrat accusers" and alleged they were "paid liars."
"Judge Kavanaugh is a good man. Democrat accusers; Paid LIARS," it said.
That year, the same electronic billboard also ran ads supporting Republican politicians, according to the newspaper.
Despite the president's attacks on Biden's mental capacity over the past few months, a recent poll found more Americans believe Biden is capable of leading the country than Trump.
The Morning Consult poll found 54 percent of Americans believe Biden is capable of leading the country, while 52 percent said he is mentally fit. In comparison, 43 percent said that Trump is capable of leading the country and 49 percent said he is mentally fit.
The Trump and Biden campaigns have also been contacted for comment.