5-year-old Cancer Survivor Celebrates Latest Birthday by Donating Thousands of Toys to Hospital That Treated Him
A boy who has been cancer-free for two years chose to mark his fifth birthday by donating thousands of presents to a Pennsylvania children's hospital.
Amy Newswanger, the child's mother, posted images to Facebook on Tuesday showing her son Weston in a car packed full with gifts. She wrote the massive haul of presents had included 1,263 tubs of Play-Doh, 1,249 dinosaurs and dozens of superhero action figures.
The vast collection was organized alongside an aid program called Child Life which sources toys for the young patients of Penn State Children's Hospital, local media outlet WHP reported.
The family appealed for help using social media and also created an Amazon wish list for donors to choose from. Weston, who was diagnosed with cancer in November 2016, turned five on September 26.
On social media, Newswanger described September as a "big month" because it marked two years since her son finished treatment for Rhabdomyosarcoma, which the National Cancer Institute says is a disease in which malignant cells form in muscle tissue.
This year, the mother said her son came up with the thoughtful plan all on his own. "I asked him what he wanted for his birthday and his response was 'I don't need anything. I want Play-Doh and dinosaurs to give to the children at the hospital," she wrote.
"When we started collecting items we set a big goal to fill up our Yukon. I wasn't sure that was going to be possible since there is a lot of room in it," Newswanger told Newsweek.
"As packages keep coming in I wasn't sure we would fit them all in. Thankfully they all fit in with little room to spare. We were pleasantly surprised by the generosity of our family and friends for helping to put a smile on the children's faces at the hospital. We know all to well how a simple container of Play-Doh can change a child's mood while in the hospital."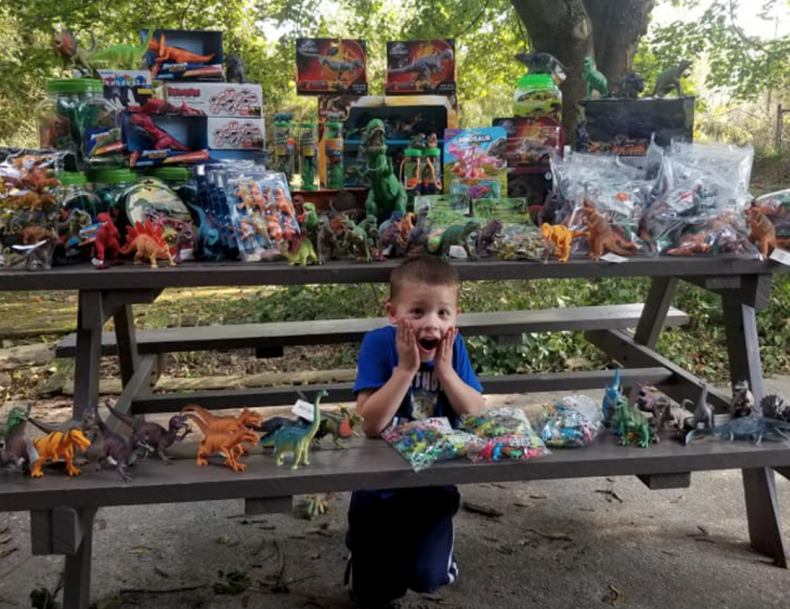 Michelle Erno, the mother's cousin, said the child's birthday wish had been to "give to other kids in need." She wrote in her own Facebook post: "During his year of treatment at Hershey Children's Hospital, it was the little things he got each and every time that helped the hospital be a fun place for him even when getting chemo that would make him sick."
Erno said the child had a tumor that was growing through his bladder wall.
Alongside the dinosaurs and action figures, the gifts amassed by the 5-year-old also included a selection of Barbies, books and games. "We dropped everything off this morning and Child Life said this year they have already given out over 3,000 containers of Play-Doh. Thank you so much for making Weston's birthday donation such a huge success!" Newswanger wrote.
According to the American Society of Clinical Oncology, 400 to 500 people are diagnosed with rhabdomyosarcoma every year, with the majority being children and teenagers.
It explains: "More than half of childhood rhabdomyosarcomas are diagnosed in those under age 10. Rhabdomyosarcoma accounts for 3% of all new childhood cancers each year in the United States. It is the most common soft tissue sarcoma in children.
"The 5-year survival rate for children younger than 15 is 70% overall... if the cancer becomes high risk, spreading widely in the body, the 5-year survival rate ranges from 20% to 30%."
The website for the Child Life program says staff are trained to "help children and families prepare for and cope with the stress that can come with health problems and hospital stays." It seeks donations for patients of a variety of ages, including infants, preschoolers and teens.