5 Arrested in Armed Carjacking of Pennsylvania Congresswoman Mary Gay Scanlon
Update: Wednesday, December 22, 2021: Five suspects are in custody after Pennsylvania Representative Mary Gay Scanlon's hijacked car was discovered in Newark, Delaware, according to the Delaware State Police (DSP).
The 2017 blue Acura was discovered in the parking lot of a local shopping center about 9 p.m., DSP officials said. The car was found with five occupants inside, all of whom were arrested following "a brief foot pursuit," police said.
Local news reports described the suspects as four males and a female.
Charges in the case have not been announced, and officials stated that more information will be released in the ongoing investigation.
Original Story:
Pennsylvania Representative Mary Gay Scanlon was the victim of a carjacking in Philadelphia on Wednesday in which she lost her multiple cell phones, but came out unharmed.
The incident occurred around 2:45 p.m. ET near FDR Park in the southern portion of the city, according to the Philadelphia Police. The Democratic congresswoman, 62, was walking to her parked 2017 blue Acura after taking a tour of the park when she was confronted by two men in a dark SUV.
The men were both armed and ordered Scanlon to give them the keys to her car, police stated. The pair then drove off with the Acura, leaving her behind in the parking lot.
While Scanlon was reportedly unharmed, both her personal and government cell phones, as well as her purse and government ID, were all in the vehicle.
Local news station WPVI-TV's Annie McCormick tweeted out a picture of Scanlon after the carjacking occurred. She can be seen sitting in a car with a man believed to be a Philadelphia Police detective.
The incident is now under investigation by both Philadelphia Police and the Federal Bureau of Investigation (FBI).
In a statement, Representative Scanlon's office confirmed the carjacking, adding: "[Scanlon] thanks the Philadelphia Police Department for their swift response, and appreciates the efforts of both the Sergeant at Arms in D.C. and her local police department for coordinating with Philly PD to ensure her continued safety."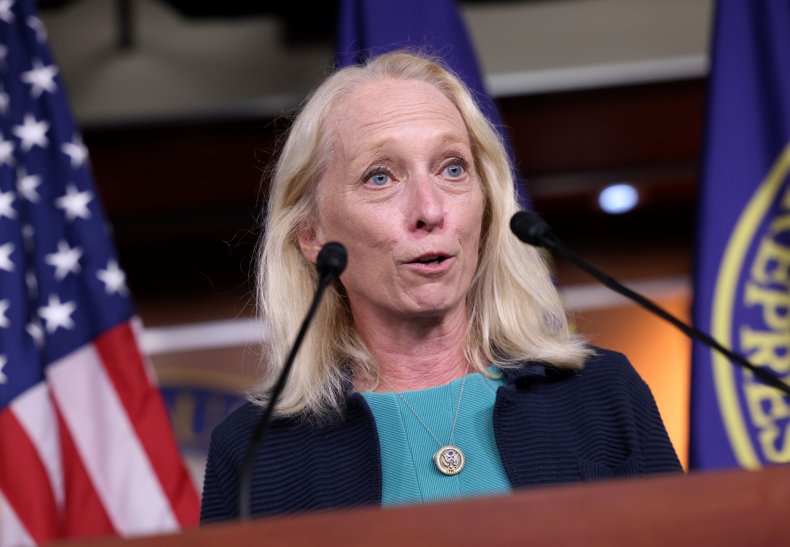 Philadelphia Mayor Jim Kenney, who is reportedly a personal friend of Scanlon's, stated that he was "appalled to learn of this violent crime."
"Everyone deserves to feel safe in our city, and sadly, as we know, that hasn't always been the case this year," Kenney said in his statement. "It's disheartening, and quite frankly infuriating, that criminals feel emboldened to commit such a reckless crime in the middle of the day in...one of Philadelphia's most beautiful parks."
"I'm also thankful that our police officers have been working hard to identify violent criminals and get them off our streets," Kenney continued. "PPD is actively investigating this incident. We simply cannot and will not tolerate any acts of violence."
Scanlon, who has been a U.S. representative for Pennsylvania's 5th Congressional District since 2018, was carjacked in a city that has seen a significant rise in violent crimes, including vehicular thefts.
City officials have stated that the number of carjackings has doubled compared to last year. By this past October, the city had recorded 503 carjackings for the year, double the 227 seen by October 2020, according to WPVI-TV.
Gun violence has led to a significant jump in homicides as well, and by the beginning of November, nearly 500 people had reportedly been murdered in Philadelphia in 2021.
Newsweek has reached out to Representative Scanlon's office for comment.