Pennsylvania County Residents Will Be Required to Wait to Vote If They Don't Wear a Mask at Polling Place
Voters in one Pennsylvania county who don't wear a face mask to the polls may be forced to let those who do vote ahead of them for during the state's primary election on June 2.
Health officials in Bucks County ordered all voters to wear a face mask to the polls on Tuesday. Those who don't have a mask will be offered one, and those who refuse will have to wait outside the polling place to fill out a paper ballot, officials said Thursday in a Philadelphia Inquirer report.
"We'll just kindly ask that individual to wait. We're going to say, 'You know, we have X number of people here already in line, they are masked, and they're ready to vote,' and we're going to ask that our poll workers let those individuals go first," Gail Humphrey, Buck County's chief clerk told the Inquirer.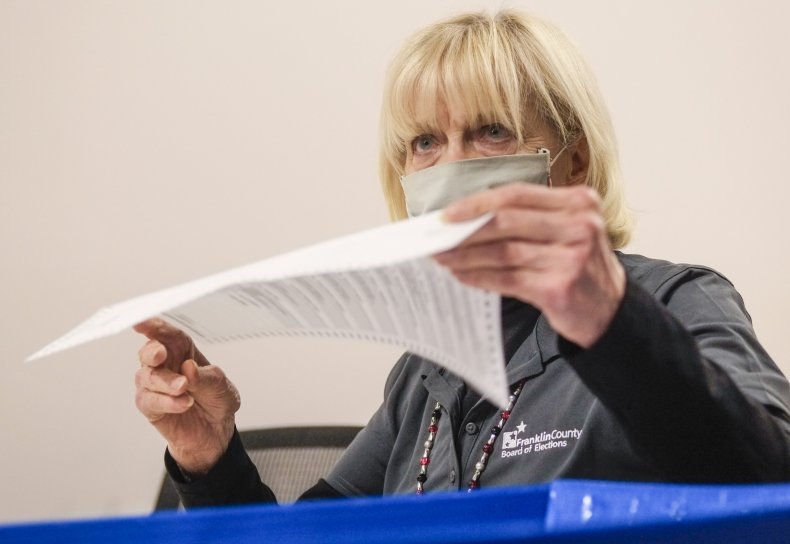 Earlier this month, Bucks County Health Director Dr. David Damsker signed a public health order that required face masks to be worn in public polling locations by poll workers, and anyone in the polling place, to protect against the spread of the new coronavirus.
The public health order received support from members of the Bucks County Elections Board.
Last month, the Pennsylvania Department of State has agreed to provide precinct protection kits for every county in the state. The kits will include items for poll workers to use such as sanitizer, masks, gloves and alcohol wipes.
The spread of the new coronavirus has caused shortages of personnel ahead of the primary, leading Pennsylvania Secretary of State Kathy Boockvar to inform some countries that they may consolidate polling places to address the loss of polling location, such as senior centers closed due to the pandemic.
Boockvar said polling place consolidations may reduce the number of poll workers needed overall.
Mail-in ballots were also an option for voters in this primary election.
Last year, Governor Tom Wolf signed an election reform bill, that allows voters to cast mail-in or absentee ballots without having to explain why they can't go to the polls, PennLive reported.
On May 4, Wolf and Boockvar discussed the options of mail-in ballots, and urged those who didn't want to risk exposure to COVID-19 to request their ballot early.
However, Boockvar said every effort would be made to ensure that all voters feel safe going to the polls.
"You should feel free to go ahead and exercise your right to vote," she said.