In Pennsylvania County Trump Flipped in 2016, Board Member Condemns 'Egregious Mishandling of Military Ballots'
Luzerne County, Pennsylvania, elections board member Keith Gould condemned the county elections bureau's "egregious mishandling of military ballots" during a Monday meeting.
The meeting was the Board of Elections' first since federal investigators found that nine military mail-in ballots, which were cast for President Donald Trump, were discarded.
Gould said he was "outraged" at the news and assured board members that "this will not happen again under our watch." He went on to criticize the county Bureau of Elections' administration for failing to notify the five board members when the ballot problem first arose, saying the lack of action is "not how the board expects the bureau to operate."
The FBI investigation found that a temporary independent contractor was responsible for the nine ballots discarded during the three-day period the contractor was employed. The temporary worker was immediately terminated when the county's elections director, Shelby Watchilla, discovered and reported problems with the ballots, according to County Manager David Pedri.
Pedri said that all workers will undergo increased training to "ensure that these ballots are counted."
Gould proposed his own list of new protocols, which the board will vote on at its next meeting, on October 14, including the monitoring of the bureau office by elections board members. He also suggested the members would review security procedures, as well as review policies and procedures, with all bureau workers, among other measures.
He also said that the bureau must be fully staffed and that contractors, like the one found to be responsible for the mishandled ballots, should be hired only as "a last resort."
"The board is tasked with providing free and fair elections, and we take this seriously," Gould said. "We are an all-volunteer board and commit to whatever time it takes to provide the citizens with a free and fair election above reproach."
Pedri cautioned that while Gould's comments may reflect his personal opinion, they are not entirely reflective of the county government or elections board.
"Although Mr. Gould serves as a volunteer member of the Elections Board, per the Luzerne County Home Rule Charter he is not involved in day to day operations of the Elections Bureau, was not on site during the 3 days in question and has not been part of the investigation in any way," Pedri said in a statement sent to Newsweek.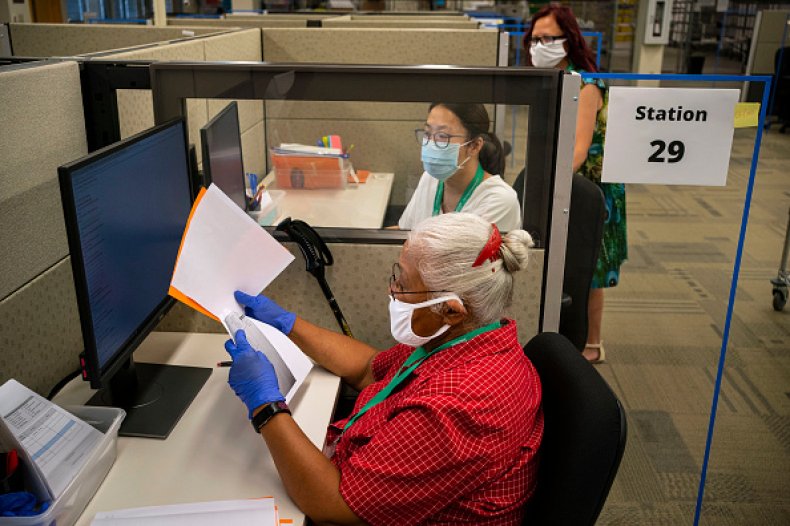 Luzerne County voted for Barack Obama twice before flipping to Trump in 2016.
During the last presidential election, the county had a voter turnout of more than 67 percent of registered voters, compared with the national voter turnout of 55.5 percent—a difference of nearly 12 percentage points.
Dino Ninotti, deputy director of the elections bureau, told the board on Monday that the county has processed 60,964 applications for mail-in ballots in November's election and that the bureau expects ballots to be mailed out later this week to voters.
The nine discarded ballots were part of a small number of ballots sent to civilians and military personnel overseas ahead of November 3's election.
Update 10/06/20 2:44 p.m. ET. This story was updated with comments from Pedri.