Pennsylvania Democrats and Republicans Battle Over Virus Restrictions in Crucial Swing State
A clash over coronavirus restrictions between Democratic and Republican lawmakers continues in Pennsylvania, a crucial swing state in the 2020 election.
The state's governor Tom Wolf, a Democrat, has pushed to continue measures in place amid the pandemic—though these actions have faced challenges, with critics seeking they be lifted at least to some extent.
Last week, a move to loosen the restrictions on restaurants and bars passed the state's House—with all Republicans supporting the bill and a split of Democrats also doing so. However, Wolf said he will veto this, as he did previously with a bill which would have altered the rules around crowd sizes at high school sports events.
Wolf has defended his stance on measures in the state, after a judge ruled some of those in place to be unconstitutional earlier in September, suggesting those lawmakers opposing them were playing "political games."
In a statement last week, he said: "The driving force of the mitigation efforts in Pennsylvania and other states is to save lives.
"Everything that my administration has done is based on the most up-to-date research on COVID-19, and it is working. We must not allow these Harrisburg political games to distract us from fighting this virus, wearing masks, avoiding crowds and social distancing.
"My door is always open to serious people who want to engage in serious conversation. But I refuse to take seriously any proposals that will endanger the lives of Pennsylvanians."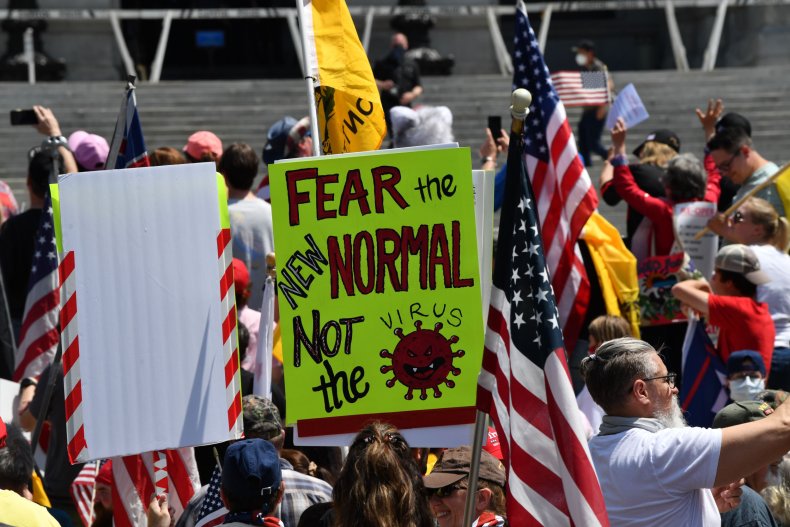 As well as clashing with Republican lawmakers in his state, Wolf also criticized President Donald Trump over holding rallies within Pennsylvania.
"It is dangerous and disappointing that the president continues to ignore science and his own health advisors while putting the lives of those who support him at risk," he said.
"Instead of spending his time on rallies, the president should return to Washington and deal with things that matter to Pennsylvanians, like unemployment assistance, state and local aid, hazard pay and a cohesive strategy for pulling the country out of this pandemic as quickly as possible."
COVID-19 restrictions across the nation have long proved controversial, with criticism over the economic impact of businesses being unable to function, and Pennsylvania has previously seen protests held over the restrictions in the state.
Polling from Franklin & Marshall College, conducted among 625 respondents September 14 to 20, found 25 percent of respondents think COVID-19 is the most important issue facing Pennsylvania at the moment.
A poll of 416 likely voters in Pennsylvania from Muhlenberg College, conducted August 11 to 17, found that 31 percent felt Wolf had done a poor job handling the pandemic. A quarter, 25 percent, said fair, 32 percent good and 10 percent excellent.
More said Trump had handled it poorly, with 51 percent saying so. On the other end, 17 percent said he has been excellent, 21 percent good and then 9 percent fair.
For those asked, the economy was rated the top issue in the run up to the election over COVID-19. A fifth, 20 percent, said the economy was their top issue, over 9 percent who said COVID-19.
The debate comes as both Trump and Democratic presidential candidate Joe Biden aim to win Pennsylvania, with Biden leading in polling in the state.
Newsweek has contacted Wolf's office and the Pennsylvania GOP for comment.
According to the Pennsylvania Department of Health, there have been 155,232 confirmed COVID-19 cases in the state.
The graphic below, from Statista, shows details of the number of confirmed cases across different states.