Pennsylvania Election Latest: Democrat Conor Lamb and Republican Rick Saccone Too Close to Call
Democrat Conor Lamb has claimed victory in Pennsylvania's special election, but his rival Republican Rick Saccone says he's not giving up yet. And no matter who is announced the victor, analysts are at odds over what the race means for the rest of the country in the midterm elections.
The latest polling shows Lamb at 49.8 percent with 113,111 votes and Saccone with 49.6 percent and 112,532 votes—putting just 579 votes between them. A count of absentee ballots still hasn't been completed. Such a narrow margin could see Saccone push for a recount.
"It's not over yet, we're going to fight all the way, all the way to the end, we'll never give up," Saccone told his supporters Tuesday, without conceding the race.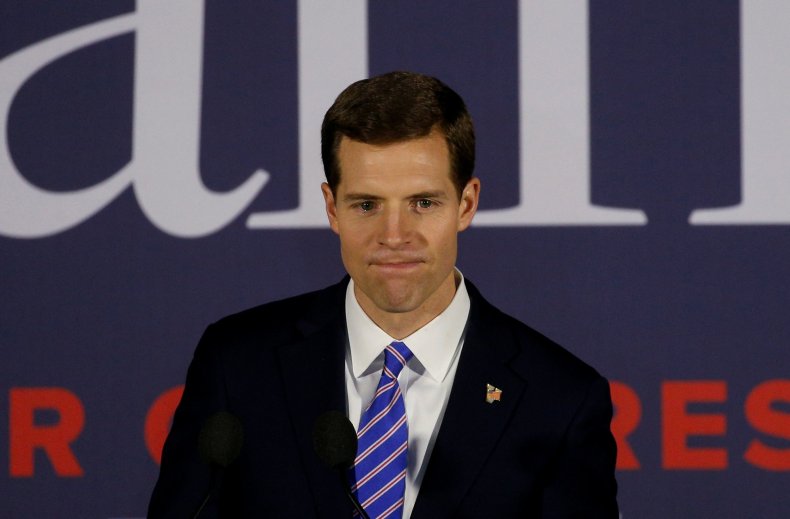 Lamb, however, gave a victory speech. "It took a little longer than we thought, but we did it," he told a crowd of supporters. "You did it."
Some observers were surprised by the fact a Democrat was able to run such a close race with a Republican who is endorsed by President Donald Trump. In 2016, Trump won Pennsylvania's 18th congressional district by 20 percentage points more than Hillary Clinton.
"It's going to be hard for Democrats to replicate him come November," tweeted Garrett Ventry, a Republican communications and digital strategist, of Lamb. A Marine veteran and former prosecutor, Lamb ran a conservative campaign, appearing in ads with an AR-15 assault rifle. Many senior Democrats support a ban on the weapons.
Ventry noted that Lamb distanced himself from the Democratic leadership in the House to attract voters. House Minority Leader Nancy Pelosi "is a liability to Democratic candidates," wrote Ventry, who worked on Sen. Marco Rubio's presidential run. "Lamb had to distance himself from Pelosi and reject her. Ads that were ran tying Lamb to Pelosi made voters more skeptical of him."
Read more: Trump's Rick Saccone has really upset steel workers in Pennsylvania
On Monday, the United Steelworkers union told Newsweek that while many steelworkers support Trump, they couldn't vote for Saccone because he has vigorously opposed organized labor while serving in the state legislature.
The Progressive Turnout Project, a Democratic Political Action Committee (PAC), chalked Lamb's edge against Saccone up to digital campaigning. "Tonight's results show that our data-driven turnout program made a huge difference in this razor-thin race," said Executive Director Alex Morgan in a statement.
"While many groups decided to ignore this election, we invested in a comprehensive effort because it's clear that we can't leave a single seat on the table in 2018," she said. The group spent $100,000 in the race and put out 50,000 text messages to voters. "Texting was an integral part of our program in Pennsylvania and we plan to bring it to all of our programs this year," Morgan added.
Whoever wins the seat will serve in congress for less than a year. In eight months the district will disappear as district lines are redrawn. Neither Lamb of Saccone will live within the new districts lines. Yet the special election is being seen as another bellwether of November's midterm elections.
Some Democrats see Lamb's win as representing a coming "blue wave" which could sweep Republican majorities out of the House and Senate.
"At this moment, Conor Lamb is within a whisker of beating Rick Saccone in a Pennsylvania congressional district Trump won by double digits," tweeted Robert Reich, a Newsweek columnist and former Secretary of Labor in the Clinton administration.
"Regardless of the outcome," Reich wrote, "R's in Congress should know their days are numbered. Some call it a blue wave. I call it a sane wave."