Pennsylvania Gym Reopens Despite Lockdown Order: 'Someone Had To Take A Stand'
A Pennsylvania fitness facility has reopened for business, disregarding restrictions included in Governor Tom Wolf's economic restart plan for the state. The company, Gorilla House Gym, started accepting patrons at its location in Altoona—a central Pennsylvania city with a population of about 43,000—on Friday, according to a report from local newspaper Altoona Mirror.
Speaking to the publication about the gym's reopening, its co-owner, Ray Ross, said "someone had to take a stand" amid ongoing regulations imposed to combat further spread of the new coronavirus. He also confirmed that the decision to resume operations was made without formal permission in comments to the outlet.
"No one allowed us to do this," the owner told Altoona Mirror. "We just did it, and we're going to keep doing it. Someone had to take a stand. Enough is enough."
Gorilla House Gym closed its doors on March 19, alongside all Pennsylvania business establishments that were not designated "life-sustaining" under Wolf's statewide mandate. The facility has not advertised its recent reopening on social media, but notified roughly 800 clients in a private email ahead of May 1, Altoona Mirror reported. One member can be seen using the gym's workout equipment in a video posted to Instagram over the weekend. The member tagged Gorilla House Gym's Altoona location in his post, captioned, "FIRST TIME BACK IN THE GYM."
During Ross' conversation with Mirror, he said the company has implemented additional sanitation procedures in light of the pandemic and amended its usual roster of classes. Gorilla House Gym did not reply to Newsweek's request for comment regarding this story by the time of publication.
Owners of Tame Your Mane Hair and Styling Salon, another recently reopened business located in the same county as Gorilla House and mentioned in the Mirror's report, did not reply to requests for comment by time of publication, either. However, the salon has written about its reopening plans on Facebook, telling customers to call for reservations and encouraging interested parties to apply for open positions in posts shared since the start of May.
Both businesses fall within Pennsylvania's Blair County, which was not included in Wolf's list of 24 counties permitted to reopen on May 8. During an announcement on Friday, Wolf explained that those regions were determined based on their reported cases of the new coronavirus per capita, population densities and capacities for diagnostic testing and contact tracing.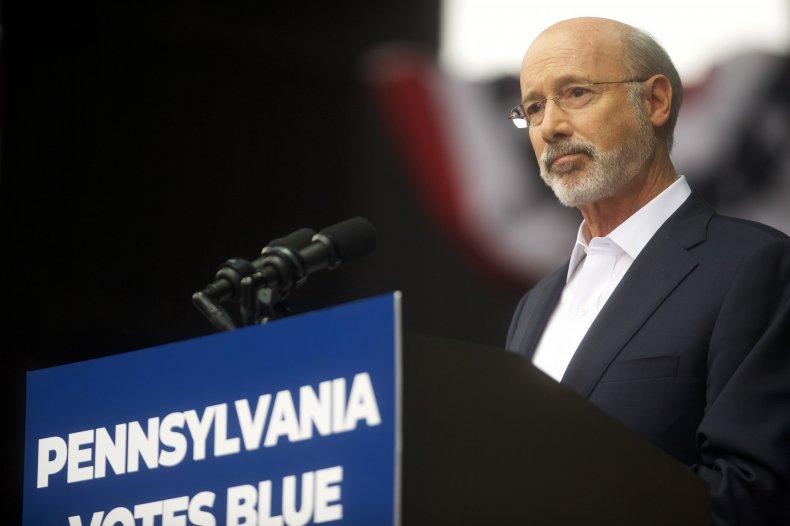 Pennsylvania's first wave of economic restoration is part of Wolf's tiered strategy to reopen the state, which has confirmed some of the highest outbreak statistics in the country. According to the latest figures shared by Johns Hopkins University, close to 53,000 cases of the new coronavirus have been diagnosed across Pennsylvania as of Tuesday afternoon, and 2,838 of them have been fatal.
Counties permitted to reopen on May 8 will enter what Wolf's plan refers to as the "yellow phase," or phase two, which stipulates that companies must continue to carry out remote work where possible and requires those that cannot to abide by designated safety procedures. Recreational sites, health and wellness facilities, personal care services and schools will remain closed.
Wolf's initial order closing nonessential businesses noted that those who did not comply with its terms would be subject to enforcement actions, including citations, fines, license suspensions and revocation of government funding. Wolf's office did not reply to Newsweek's request for comment on this story by publication time.