Pennsylvania Health Secretary Moved Mother Out Of Nursing Home As Coronavirus Death Toll Increased In State
Pennsylvania's Health Secretary Dr. Rachel Levine confirmed on Tuesday that she recently moved her 95-year-old mother out of a personal care home.
Outbreaks in Pennsylvania long-term care facilities make up nearly 70 percent of the state's coronavirus-related deaths and 21 percent of the state's positive cases of the virus.
In a Wednesday press conference, Levine announced that of the 58,698 confirmed cases statewide, 12,408 cases are among residents of long-term facilities, including nursing homes and personal care homes. Of the total 3,943 deaths in Pennsylvania, 2,705 have occurred in residents in long-term facilities.
"My mother requested and my sister and I, as her children, complied to move her to another location during the COVID-19 outbreak," Levine said.
She defended her mother's relocation, describing her mother as "more than competent to make her own decisions."
Levine said the Department of Health will continue the outreach made in these facilities and begin introducing mass testing to the state. She emphasized plans to test all staff and residents at these facilities so that they can be congregated and treated.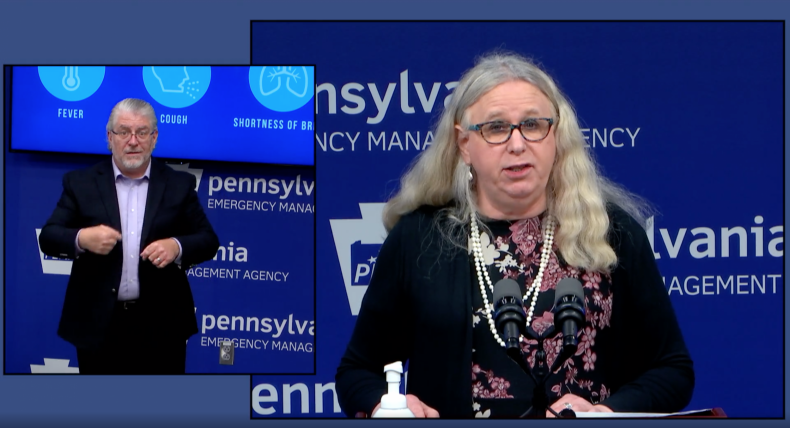 Levine's response to the pandemic was the target of protests in Harrisburg, Pennsylvania on Tuesday.
State Senator Doug Mastriano, who organized the rally, called for Levine's resignation. Mastriano said Levine has not been aggressive enough in protecting the state's older population and her actions have resulted in the large number of cases among the state's elderly care homes.
However, Pennsylvania Governor Tom Wolf defended Levine. "Dr. Levine has done a phenomenal job in making sure we do what we need to do to keep Pennsylvanians safe," Wolf said.
Wolf announced on Tuesday the state would be using a three-phase matrix to ease lockdown restrictions. Strict social distancing will be enforced in counties that fall under the red phase.
"I cannot allow residents in a red county to get sick because their local officials can't see the invisible risk of the virus in their community," Wolf said in a press release. "So, I must, and I will impose consequences if a county locally lifts restrictions when it has not yet been given the go-ahead by the state."
Levine also announced on Wednesday that the state of Pennsylvania received its first shipment of remdesivir from the federal government. Although she noted that the antiviral drug is not a cure to COVID-19, it has proven to be an effective treatment in shortening recovery time in patients. The 1,200 doses received were distributed to 51 hospitals across the state.