Pennsylvania Man Shot His Dog, Set It and $100 Bills on Fire in His Front Yard, Cops Say
A man in Bucks County, Pennsylvania, shot his dog and burned the small animal on a grill in his front yard on Friday morning, while also setting fire to a couch and $100 bills, police said.
Nikolay Lukyanchikov, 49, was arrested around 7 a.m. on April 30 outside of his home in Northampton Township after police were called to the scene for reports of an open fire. Upon arrival, police found Lukyanchikov sitting on a bench outside of his home watching the couch and fire pit in flames, with a firearm located next to him.
"Once the fire was under control, patrol observed an unknown animal badly burned and charred on top of a small metal charcoal grill," Northampton Township police said in a statement. "It was later learned the animal was Lukyanchikov's dog."
According to a police affidavit obtained by the Philadelphia Inquirer, Lukyanchikov was "incredibly intoxicated" when the officers arrived. The officers added that he was also setting $100 bills on fire with lighter fluid inside of the metal grill.
One the flames were quelled, authorities determined that the dog had first been shot in the eye. Lukyanchikov's roommate later confirmed to police she had heard gunfire from his room that morning, and said that he had admitted to shooting his dog with a 9mm Beretta handgun before hiding it outside, the Inquirer reported.
The officers found bullet holes in a bedroom, as well as blood in the home's hallway, according to the affidavit. A handgun matching the description of the weapon used to kill the dog was also recovered from the scene.
Lukyanchikov has since been charged with aggravated cruelty to animals, discharging a firearm into an occupied structure, reckless endangerment and possessing instruments of a crime, police said.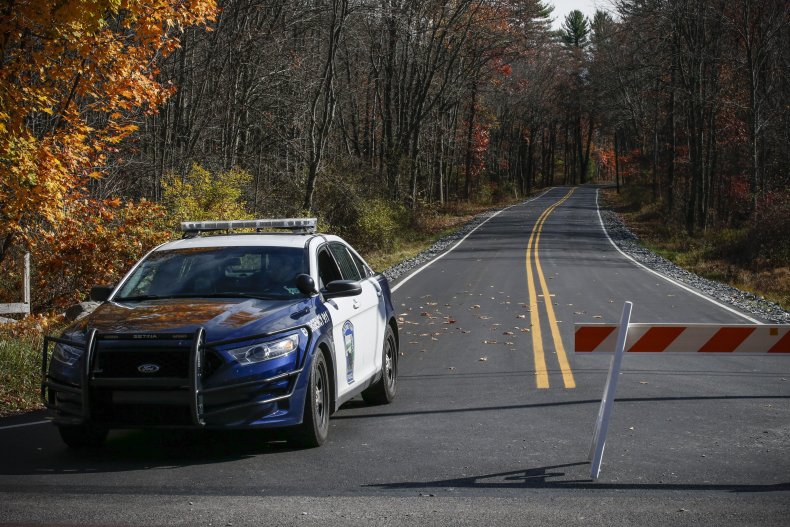 He remained in custody on Monday with a bail set at $1 million. Prosecutors said they believed Lukyanchikov posed a threat to the community and argued for the amount to be that high given the severity of cruelty associated with the crime, the Inquirer reported.
According to posts from his social media accounts, Lukyanchikov previously shared images of his pets.
In spring 2017, Lukyanchikov shared a photo on Facebook of a German shepherd and a Siamese cat that he called "our formidable security forces," the New York Post reported. It was not clear what type of dog was killed during the incident on Friday.
Newsweek contacted the Northampton Police Department for additional comment, but did not hear back in time for publication.