Pennsylvania Woman Bitten by Venomous Snake That 'Jumped Out' at Her While She was Doing Laundry
A Pennsylvania woman was taken to hospital yesterday after being bitten on the arm by a venomous snake while doing laundry.
Judy Reed, of Mount Penn in Berks County, was walking down a set of stairs to her basement when the snake attacked from a stoney ledge, officials said. Medical personnel responded to the home—in the 2400 block of Fairview Avenue—shortly before 8 a.m, The Reading Eagle reported.
The victim was treated at Reading Hospital after the unexpected bite. Wildlife experts from the Pennsylvania Fish & Boat Commission identified the roughly 2-foot-long snake as a Northern Copperhead, which is one of three venomous snakes known to occupy the state.
"She was in a lot of pain, there was a lot of swelling, and she had tingling in her arm," Danelle Reed, the victim's daughter, told the Reading Eagle newspaper in an interview this week.
Newsweek subscription offers >
The reptile was caught, bagged and moved to a safe location. Detective Sgt. Deron Manndel, of the Central Berks Regional Police Department, said the snake had likely entered the home to escape recent wet weather. Such an attack remains rare for the region, experts said.
"The snake was right there on the ledge. [It] jumped out and bit her on the arm," Manndel told local media outlet WFMZ-TV during an on-air news segment. "They said it was definitely a Copperhead, which is common in this area—just not very common in your home."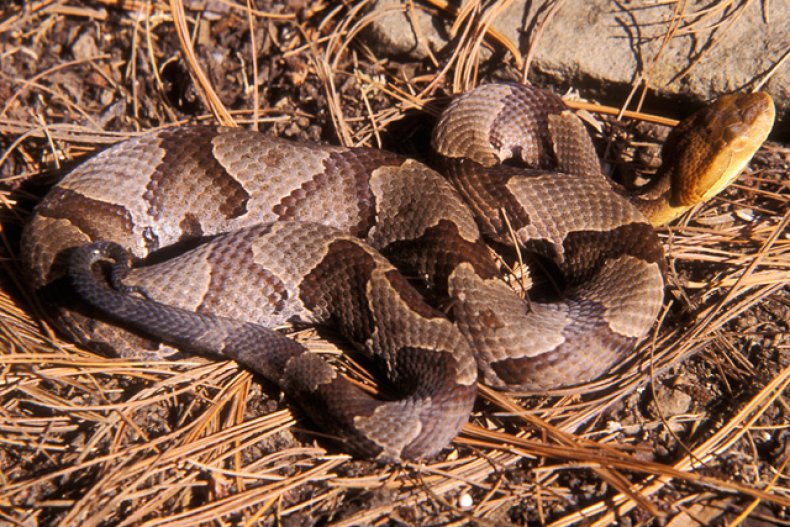 But Harry Sleigel, the victim's boyfriend, told WFMZ-TV that he would now be much more vigilant about searching his home for such slithering serpents in the future.
Newsweek subscription offers >
"I'm gonna be checking now," he said. "I went down right after it happened." He said the victim was in good condition after getting treatment and would be allowed home today.
According to the Pennsylvania Fish and Boat Commission, there are 21 species of snake native to the state. However, only three are venomous and potentially dangerous: the Timber Rattlesnake, Eastern Massasauga and Northern Copperhead. They belong to the pit viper family.
"The copperhead is the most common venomous snake in Pennsylvania," it says, adding it typically lurks in abandoned foundations, rock walls and hillsides. Its venom bite, while clearly dangerous, can be treated if the victim gets quick treatment.
The commission notes: "People should take precautions to prevent snakes from entering dwellings. Sealing openings and cracks... near ground level is an excellent preventive measure."
"Snakes have biological needs such as food and cover that must be met for them to remain in a location. If those needs are not met, they move on. When people choose to locate a home or camp in the woods or wilderness, snakes come with the territory. Increased awareness... usually leads to a new appreciation of them and their part in our world," it adds.
Pennsylvania Woman Bitten by Venomous Snake That 'Jumped Out' at Her While She was Doing Laundry | News