President Donald Trump's campaign is waging legal war in Pennsylvania over alleged corruption in the voting process, but the state's top election official defended the "unparalleled" integrity of the election.
Pennsylvania has proved to be one of the biggest battles among the battleground states, and Trump's team has engaged in legal warfare there. The campaign filed a lawsuit in the Keystone State and charged Philadelphia officials with attempting to "steal" the election from the president.
Asked Thursday about questions concerning Pennsylvania's election integrity, Secretary of State Kathy Boockvar, the state's top election official, said there are "very strong" processes in place to "make sure that voter integrity and security are constantly followed by every county in the state."
While anyone in Pennsylvania can request a mail-in ballot, Boockvar said that voters have their identity checked against the state's Social Security or Department of Transportation systems and that their ballot is checked again when it's received to ensure the person is an eligible voter. She added that the same goes for voting in person and that additional systems and databases are in place to serve as a "hard stop" for anyone trying to cast multiple votes.
"The strength of the integrity of this vote is really unparalleled," Boockvar said.
Newsweek reached out to the Trump campaign for comment but did not receive a response in time for publication.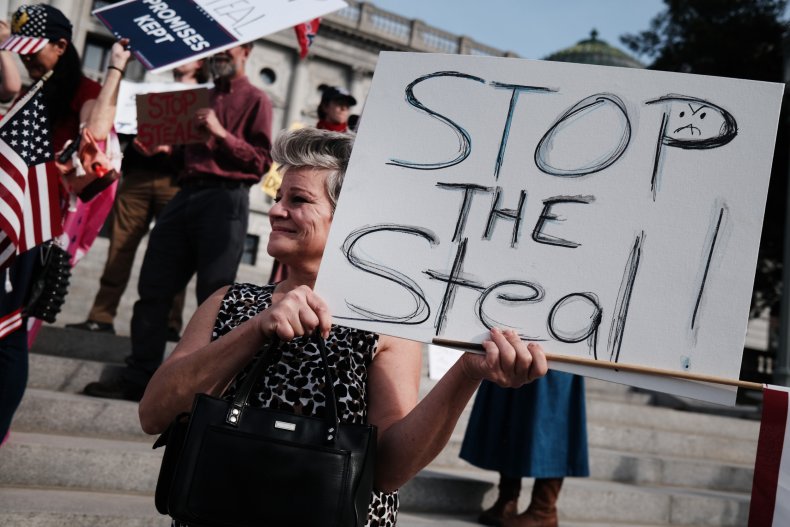 In Pennsylvania, a candidate's poll watchers are able to "observe" the process, but the Trump campaign has complained that keeping them 20 or 30 feet from where ballots were being opened made it impossible to verify that ballots were properly postmarked and signed, two common problems that can invalidate a ballot.
On Thursday, Justin Clark, deputy campaign manager and senior counsel for Trump 2020, announced victory in the Philadelphia suit and said watchers would be allowed within 6 feet of the canvassing process. He called it an "incredible legal victory" and pushed for every other county to follow the "lead of this judge."
"The eyes of the country are on Pennsylvania, but Pennsylvania Democrats, led by their radical-left secretary of state, whose only goal is to steal this election from President Trump, [have] kept eyes off of the absentee ballot counting process. That ends now in Philadelphia," Clark said.
In announcing the campaign's legal action against Philadelphia, Eric Trump, the president's second-eldest son said it was the "last thing" the campaign wanted to do but added that "rampant corruption" can't happen.
On election night, Trump appeared to have a clear victory in Pennsylvania, a key state on his path to a second term. However, Pennsylvania law allows mail-in ballots to be counted for up to three days after the election, and with every passing day his lead over Biden has shrunk.
As of Thursday evening, the president has only about 97,000 more votes than his Democratic challenger, and Biden is expected to gain ground as mail-in ballots continue to be counted. Since poll workers are ahead of schedule with counting ballots, Boockvar told CNN Pennsylvania's winner could be decided on Thursday.
Part of the reason why it's taking so long to determine a winner, Boockvar said, is because it's such a close race. Had the margin been large enough that the remaining votes couldn't change the outcome, the state could have been called for one candidate or the other.
With 20 electoral votes, it's critical that Trump win the state, because if he doesn't, Biden will be over the 270-vote threshold—even if Arizona, which the Associated Press called early for the Democrat, flips to Trump. However, if Trump wins Pennsylvania, it'll put him at 234 electoral votes and keep him in the race.
Assuming the Associated Press' Arizona call stands, Trump will still need to win the remaining four states—Nevada, North Carolina, Georgia and Alaska—to reach 270 electoral votes.
During the press conference, Boockvar didn't give a definitive answer as to whether there would be a result Thursday night but said, "We're coming into the home stretch."