Pennsylvania Prosecutor Censured by Local GOP Chapter for Supporting Black Lives Matter
The Franklin County Republican Committee in Pennsylvania officially censured District Attorney Matthew Fogal over his public support for the Black Lives Matter movement.
"It is clear to us that your positions have removed you from any association with Franklin County Republicans," chapter chairman Allen Coffman wrote. "Therefore, the Franklin County Republican Party is withdrawing support for you and any future office you may seek."
In the August 19 letter, Coffman condemned Fogal for supporting the Black Lives Matter movement, which he called "radical and violent."
In June, shortly after the George Floyd protests began, Fogal wrote a letter in response to the issue of racism in the country supporting the demonstrators in Franklin County.
"Black Lives Matter. Period. Full stop," Fogal wrote. "I confess, when I first heard that phrase, my immediate reaction was that 'All Lives Matter.' I was wrong, and part of the problem. For white Americans, please understand that what you are being asked to meaningfully consider is the unique experience of Black Lives, our fellow Americans."
"I encourage you to continue in this positive spirit of change and equality, and not to abandon this momentum. Demand that our national and local leaders authentically confront institutionalized racism," he added.
The DA went on to encourage protesters to "thoughtfully choose only those leaders that unite us rather than divide us."
Fogal referred to President Donald Trump's appearance at St. John's Episcopal Church, calling the use of law enforcement to clear protesters in Lafayette Park and Trump's photos with the Bible "grossly misappropriated." He urged other Republicans to "never put the party before the country or conscience."
"In November, we must vote," Fogal wrote.
Newsweek reached out to Fogal for comment but did not hear back before publication.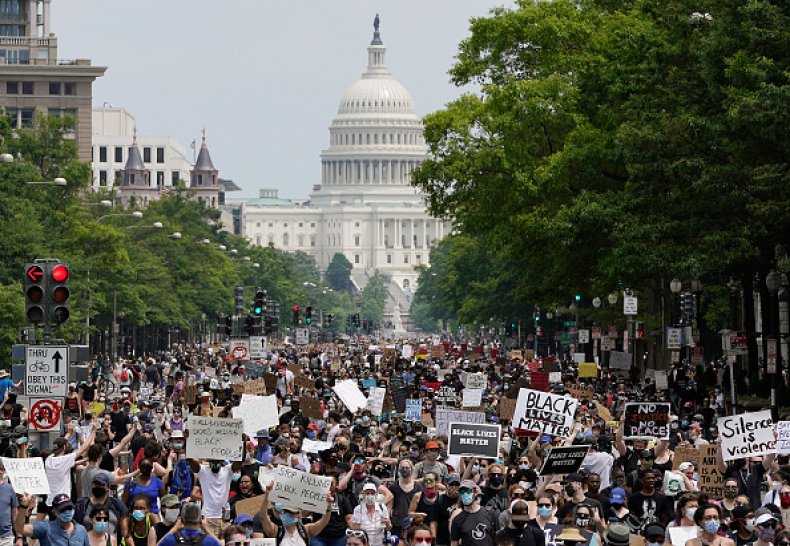 In Coffman's response letter, he cited Fogal's opposition against Trump's re-election as another reason for the party's official censure of the DA.
"Your call for county Republicans to turn against our President is equally misguided," Coffman wrote. "Our opponents in November, Joe Biden and Kamala Harris, stand shoulder to shoulder with the lawless revolutionaries who are burning, looting, and murdering across our nation."
The Republican chapter began supporting Fogal in 2009 when he succeeded District Attorney John Nelson after Nelson's death.
Coffman conflated the movement with the instances of crime committed by a small number of individuals in the wake of Floyd's death, calling it "a self-admitted Marxist revolutionary group dedicated to the dissolution of America, its heritage and its culture, including the nuclear family."
Coffman argued that systemic racism is a "falsehood" and that "there is no more inclusive statement than 'all lives matter'."
Statistics have shown that Black Americans are disproportionately affected by the country's economy, health care system and criminal justice system.
Newsweek reached out to Coffman for comment but did not hear back before publication.