Pennsylvania School Gives Eighth Graders Bulletproof Backpack Plates as Graduation Gift
A group of eighth graders in Pennsylvania have been given bulletproof shields for their backpacks as a graduation gift as they prepare for life in high school.
The students at St. Cornelius in Chadds Ford, Pennsylvania, received the ballistic panels as a donation from the company who created them, Unequal Technologies.
The 10-inch by 12-inch lightweight SafeShields can slide into most bags and backpacks and the company says they offer "personal protection when terror strikes."
The decision to hand 25 of the sheets to the school and another 15 to the eighth graders comes in the wake of recent school shootings in the U.S., including at Marjory Stoneman Douglas High School in Parkland, Florida, where 17 people were killed in February, and at Santa Fe High School in Texas, where 10 people were killed in May.
"When we saw the epidemic happening in the schools, we decided it was time to do something," Rob Vito, president of Unequal, told Chadds Ford Live.
It is believed the be the first time in history that school children have been issued with ballistic panels at their school.
"It's sad that times have called for such a product to be invented, but we have answered the call," Vito, whose daughter also attends St. Cornelius, said during the ceremony.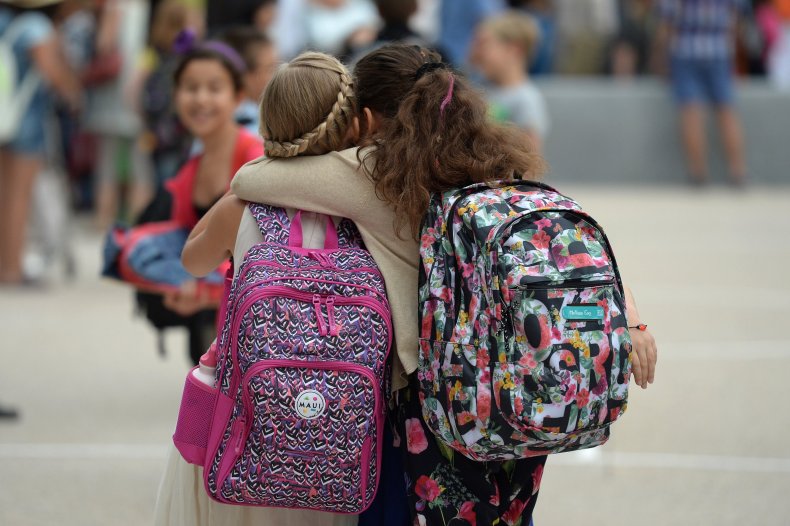 "They'll stop the most powerful handguns in the world, .44 magnums, .357 Sigs. We went to the military testing grounds and said, 'Break this,'" Vito added.
Jake Nicosia, one of the graduating eighth graders who received the SafeShield as a gift, told KVOA: "I think it's a really cool product that can help protect us, but I hope that I'll never have to use it."
Families of the students also seemed to be reluctantly accepting of the idea of their children being gifted bulletproof panels as they enter high school.
"You hear about these school shootings almost weekly, and I can't believe that's where we are in our nation today, but that's the fact," Dolores Vitale, a great-grandparent who was attending the graduation, told WTXF.
Barbara Rosini, the principal at St. Cornelius, said she first made contact with Vito regarding the panels after getting the idea during a school safety conference.
"I worry about our kids. We can only protect them so far," she said. "This product can make our kids safer. I hope you [the students] keep them with you in high school."
The SafeShields are currently on sale via the Unequal website for $149.95, although schools can get a discounted rate for $99.