School Providing Buckets of River Stones To Students To Defend Against Potential Shooters Adds Extra Armed Security
A rural Pennsylvania school district that provided buckets of river stones to classrooms as a last resort option to defend against any intruders has now updated its security after facing backlash.
The superintendent of Blue Mountain School District, Dr. David Helsel, said that due to the media attention, its district is concerned "regarding the possibility that something may happen."
"Starting tomorrow and into the near future, we have arranged for additional armed security for our buildings. We will continue to reevaluate this situation moving forward," Helsel said in a Facebook post on Sunday night.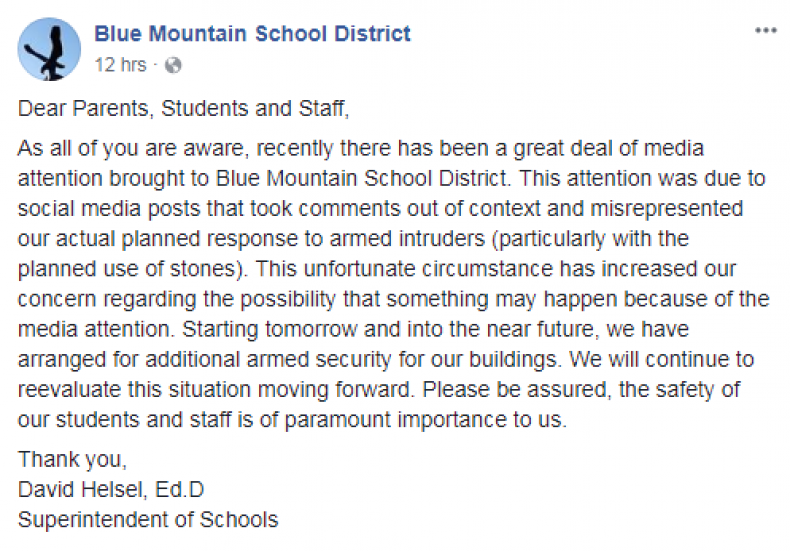 Last week, the school district in Schuylkill County, Pennsylvania, came under fire regarding safety plans for students. Helsel told the House Education Committee at the state's capitol last week about a five-gallon bucket of river rocks in the closet of every district's classroom. He told legislators that it would be used as a last option if other safety procedures did not work, according to WNEP.
"We, as a district, feel like that is a better alternative than sitting and crawling under a desk waiting to be shot," Helsel said.
According to the school's safety address posted up on its district website, emergency procedures were called into question after the media spotlight, It highlighted the school the active shooting training, known as ALICE. It stands for: Alert, Lock Down, Inform, Counter and Evacuate.
The school's safety also responds to the buckets of river stones under its "frequently asked questions."
"When will the river stones actually be used? This is a last resort! Throwing river stones or other items will only be used if all other steps have been taken to avoid contact with an intruder."
Other questions also include information about what to do in cases of an intruder:
"Are classroom equipped with items to throw at an intruder?
Yes, all classrooms have buckets of river stones that students and faculty can throw at an intruder as a last level of defense against intruders."
"Why not have students just hide in classrooms?
ALICE guidelines suggest that students and faculty fight back against an intruder rather than wait passively for an intruder to attack."