Pennsylvania Senate Democrats Sue Republicans to Block 2020 Election 'Investigation'
Democrats in Pennsylvania's state Senate on Friday sued their Republican colleagues to block an effort to subpoena voting records as part of a "forensic investigation" into the results of the 2020 presidential election.
The Republican-led Senate Intergovernmental Operations Committee in Pennsylvania voted Wednesday to approve subpoenas for detailed records on nearly seven million voters, advancing an election probe in a key battleground state that former President Donald Trump has persistently targeted with baseless claims of election fraud.
Led by Democratic Leader Senator Jay Costa, the 54-page lawsuit was filed by all 21 members of the Senate Democratic Caucus against Republican Senate President Pro Tempore Jake Corman; Senator Cris Dush, who was assigned to lead the election probe; and Megan Martin, the secretary parliamentarian of the state Senate.
The lawsuit argues that the Republican-led probe should be determined unconstitutional as it violates the separation of powers doctrine. It also contends that requesting private information about voters, such as names, dates of birth, and last four digits of their social security number, violates state law.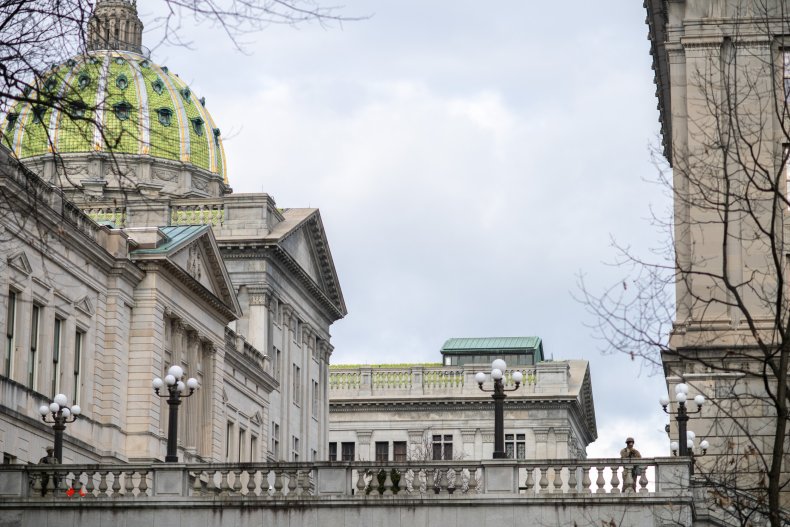 "The latest ploy by the Senate Republicans is unprecedented and completely unwarranted," Pennsylvania Democrats said in a statement. "All aspects of the certified 2020 election have been thoroughly reviewed and adjudicated in the courts with no findings of irregularities or fraud. The timeframe to contest the 2020 certified election results is long overdue."
In a statement to Newsweek, Corman said the lawsuit filed by Senate Democrats "weakens the institution they were elected to serve."
"The authority of the Senate to review our elections could not be more clear; it is a critical check on the powers of the other branches of government," he added.
Meanwhile in Washington D.C., U.S. Representatives Mary Gay Scanlon of Pennsylvania and Zoe Lofgren of California sent a letter to a senior Department of Justice official on Friday asking for a federal investigation into the state GOP's recent authorization of the subpoena.
"We are very concerned that a subpoena for sensitive voter information, and on a massive scale, will lead to noncompliance with federal voting and election laws, which the Department of Justice enforces, especially the federal prohibition on voter intimidation," the Democratic representatives wrote.
Critics call the election probe a partisan effort to overturn the election results, while supporters of the probe say that it's necessary to address constituents' concerns of election fraud.
"Hopefully it will accomplish one of two things," Corman said at a committee meeting this week. "Either it will give us action items to better our laws moving forward for the next election, or we can dispel a lot of concerns about the last election ... I think both of those are good."
As Trump continues to push baseless claims of a stolen election, supporters of the former president in numerous state have pressured lawmakers to probe the allegation. Inspired by the audit in Arizona, a group of pro-Trump protesters reportedly gathered at the Wisconsin Capitol last week calling for a review of the ballots.