Pennsylvania SOS, Who Is Being Sued by Trump Campaign, Says She Will Not Order Recount
Pennsylvania Secretary of State Kathy Boockvar said that based on the unofficial returns from the state's 67 counties, she will not order any recount in any of the statewide November 3 general election races.
Boockvar said in a Friday press release that more than 6.8 million votes have been counted thus far, and Pennsylvania's counties continue to count the approximately 100,000 provisional ballots, as well as more than 28,000 military and overseas ballots.
She said the decision was made based on the fact that no candidate was defeated by one-half of 1 percent or less of the votes cast.
The secretary of state is also the target of one of President Donald Trump campaign's numerous election lawsuits.
On Friday, Boockvar's lawyers asked a federal court to throw out the suit, which seeks to halt Pennsylvania from certifying the results of the presidential election.
Her legal team claimed that the president's claims "constitute mere generalized grievances."
"The voters of Pennsylvania have spoken," Boockvar's lawyers wrote. "The counties are busy finishing the tabulation of those votes and the Secretary is preparing to certify the results. The Court should deny [the Trump campaign's] desperate and unfounded attempt to interfere with that process, and should dismiss the Complaint with prejudice."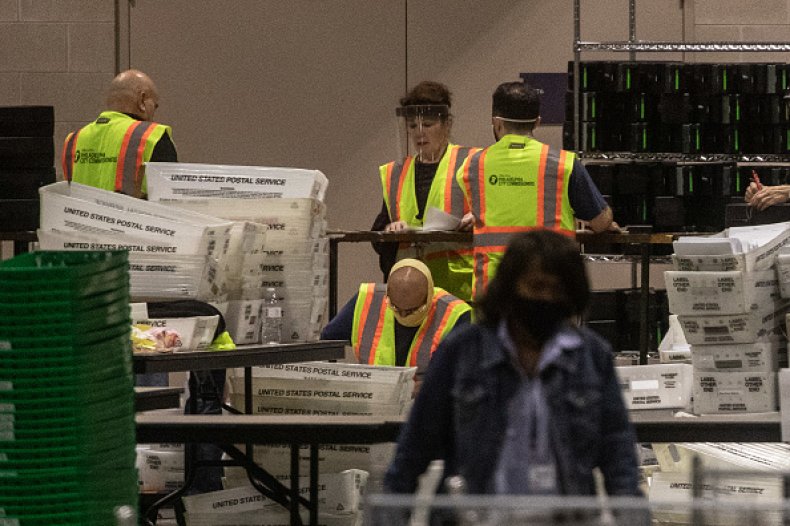 This week, the Trump campaign argued that Pennsylvania should not be allowed to officially certify the election results because its poll workers were restricted when observing vote counts and because some Democratic counties encouraged voters to rectify ballots with mistakes.
The president's campaign argued that their observers in Allegheny and Philadelphia counties were placed "far away from the action" on November 3 and as a result, more than 682,000 mail-in ballots were processed "without review by the political parties and candidates."
Boockvar's team, however, argued that if illegal ballots had been counted, it would not only nullify the votes of Trump's supporters but those of all Pennsylvanians.
"And oddly, the Trump campaign would have this court believe that the alleged vote dilution only impacted the Presidential race and not the races in which numerous local and statewide Republican candidates prevailed (none of whom have joined this lawsuit)," the briefing read.
Trump lost the state to Joe Biden by a margin that currently stands at more than 54,000 votes.
Trump's legal team alleged that Boockvar violated the Constitution by "disseminating her guidance" to officials in Democratic counties, advising them to contact voters with deficient mail-in ballots to rectify their ballots.
The Trump campaign's team has until noon on Sunday to file their response to Boockvar's team's motions for dismissal.
On Thursday, a Commonwealth Court judge ruled in favor of the Trump campaign and said that Pennsylvania election officials cannot count mail-in ballots that were not certified by November 9, voiding a directive Boockvar had issued to election officials.
The secretary of state previously told officials that they had until November 12 to verify the identify of voters who mailed in their ballots.
Newsweek reached out to the Trump campaign for comment but did not hear back before publication.