Pennsylvania State Representative Accuses GOP Lawmaker of Hiding His Coronavirus Infection From Democrats
A Pennsylvania Democratic state lawmaker accused Republican colleagues of keeping Democrats in the dark about one GOP representative's positive COVID-19 diagnosis in a 12-minute video shared to social media.
Brian Sims, a Democrat serving in the Pennsylvania House of Representatives and a kidney donor, blasted Republicans after GOP state Rep. Andrew Lewis revealed on Wednesday that he'd tested positive for the new coronavirus on May 20, and had been in self-isolation since May 14.
"I didn't donate my kidney to save somebody's life so that I could die at the hands of Republicans who are being callous liars," Sims said in the video shared to Facebook.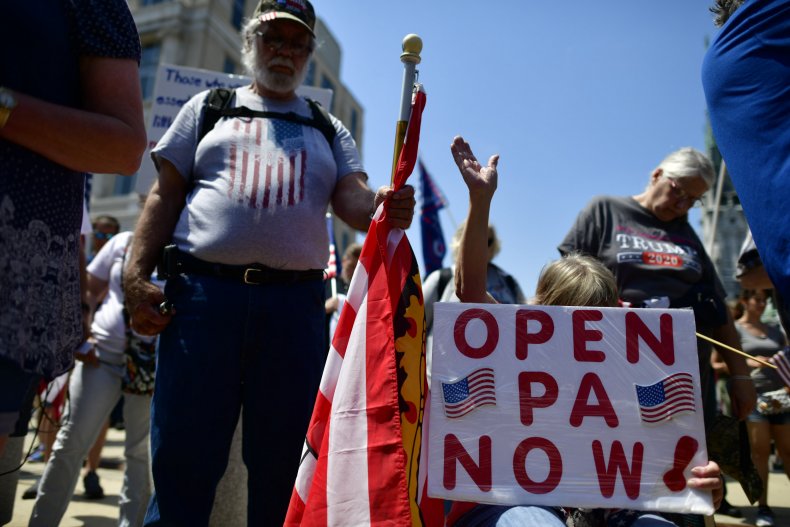 "I never ever, ever knew that the Republican leadership of this state would put so many of us at risk for partisanship to cover up a lie," he said.
Lewis, who has since recovered from COVID-19, said he kept the diagnosis private out of respect for his family and his colleagues that he may have exposed, he said in a statement. Lewis added that his office notified anyone who was in contact with him of possible exposure to the virus and told to self-isolate.
Lewis's announcement came as the death toll from the new coronavirus passed 100,000 in the U.S. and more than 5,200 in Pennsylvania, according to the Johns Hopkins University tracker.
Lewis' announcement angered state Democratic lawmakers, including Sims, who demanded investigations from the Pennsylvania Attorney General's Office, and the state's secretary of health and called for Republican House Speaker Mike Turzai to resign.
"I just spent the better part of 11 weeks sitting across the room from people who would eventually test positive and decided not to tell us," Sims said. "They did do some kind of quarantine. They did do some kind of contact tracing. They, I guess being Republican leadership."
House Democratic Leader Frank Dermody said in a statement that while he was pleased Lewis was recovering, but the lack of communication from House Republicans was galling and put lawmakers and their families at risk.
"This attitude shows a fundamental lack of respect for fellow lawmakers, our staff, and our families back home," he said. "On their behalf, we are demanding more answers about this than we've received thus far."
State lawmakers have been in session over the last several weeks voting on dozens of bills, Dermody said.
"For those members who journeyed to the Capitol in person, each of these meetings raises the risk of possible exposure," he said.
The Centers for Disease Control and Prevention advises anyone who knows they've been exposed to COVID-19 and has exposed others in the workplace to the virus should immediately be separated from other employees, customers and visitors and sent home.
Employees who develop symptoms outside of work should notify their supervisor and stay home. The CDC also advises that employers should not require sick employees to provide a COVID-19 test result or health care provider's note to validate their illness, to qualify for sick leave, or return to work.
Pennsylvania State Representative Accuses GOP Lawmaker of Hiding His Coronavirus Infection From Democrats | News