Pennsylvania Supreme Court Unanimously Rules That Mail-In Ballots Cannot Be Rejected Due to Signature Comparisons
Pennsylvania's Supreme Court issued a unanimous ruling on Friday that prohibits counties from rejecting mail-in ballots in which the voter's signature doesn't match their voter registration.
In a court order filed by Pennsylvania's Secretary of the Commonwealth Kathy Boockvar on October 14, the state's highest court said it would take up the question of whether ballots can be rejected due to signature verification, in which election officials can review whether the signature on the ballot matches that of the person's voter registration record.
According to court documents, Boockvar warned that the process, which has no standards or guidelines under the state's Election Code, "would constitute a denial of equal protection to voters" whose signatures were challenged and rejected. The secretary also noted that it would present an "unjustified risk of disenfranchisement, given that a voter's ballot could be rejected without any opportunity to be heard on the issue."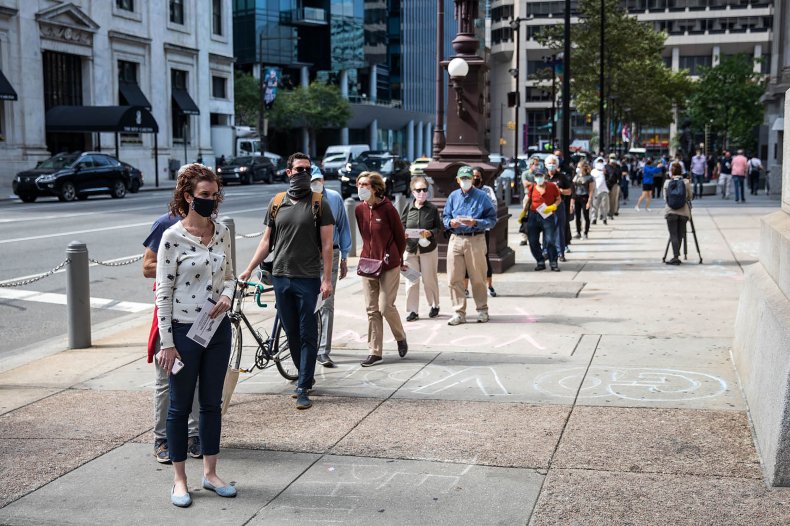 On Friday, the state's highest court granted Boockvar's petition to prohibit rejecting ballots due to the verification.
"[We] hold that county boards of elections are prohibited from rejecting absentee or mail-in ballots based on signature comparison conducted by county election officials or employees, or as the result of third-party challenges based on signature analysis and comparisons," the court ruled.
"We are very pleased that the Pennsylvania Supreme Court has ruled again in favor of voters having access to a free and fair election," said Boockvar in an email to Newsweek. "This ruling provides clarity for the counties as they prepare to canvass millions of mail ballots and ensures that voters in every county will be afforded the same treatment, and that no voter will be unfairly disenfranchised due to signature variations over time."
Boockvar issued written guidance to all Pennsylvania counties on September 11 stating that it is the county board of election's responsibility to approve all ballots during pre-canvassing and that they aren't authorized to set aside ballots based on the analysis of a voter's signature.
President Donald Trump's re-election campaign contested Boockvar's guidance in a federal court case, declaring that the guidance is unconstitutional. The case was dismissed by a judge earlier this month.
Republican lawmakers continued to challenge Boockvar's views and questioned whether it was legal to "rewrite the laws" while "clear and unambiguously crafted procedures for determining and challenging the validity" exist, according to court filings.
On Monday, Pennsylvania's Supreme Court ruled that the state can count absentee ballots as late as the Friday after Election Day as long as they are postmarked by November 3.
The ruling comes as Pennsylvania, one of the most-watched battleground states of the election, sees a surge in vote-by-mail ballots, which can now be requested without a valid reason for the first time, and an uptick in concerns over thousands of these ballots potentially not being counted over technicalities. In the past few months, the state has grappled with a variety of issues, including not counting ballots that did not have a secrecy envelope, rejecting absentee ballot requests without a clear explanation and investigating mistakenly discarded military ballots.