Pennsylvania Turkey Found To Be Over 12 Years Old: 'Should Not Be Alive'
A Pennsylvania turkey found to be over 12 years old has baffled scientists in the state.
Turkeys only live between one and three years, provided they even make it past their first year. But Pennsylvania experts have found one that defied all odds.
"To tell you the truth, this hen should not be alive," turkey biologist at the Pennsylvania Game Commission, Mary Jo Casalena, told hunting brand Mossy Oak. "She's defying all of our longevity records that we've ever had in Pennsylvania."
Scientists at the Pennsylvania Game Commission first trapped this turkey in 2012, and fitted a band to her leg. At the time she was thought to be at least one-and-a-half year old. Wildlife conservation officer at the commission, Chris Ivicic, had caught the turkeys that day, and secured them with transmitters, according to the Mossy Oak blog.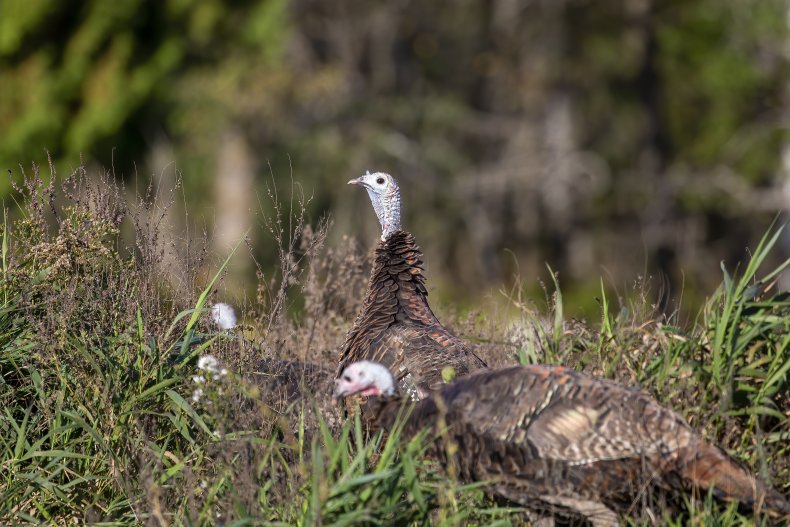 Ten years later in February 2022, researchers captured the hen again during a project assessing the bird populations. However because she was in such good shape, they did not notice straight away they had caught her before.
Wild turkey technician at the Pennsylvania Game Commission Tony Musselman, who was hired to work on the 2022 project, thought the hen looked so healthy that he would have assumed she was much younger than she was.
It was only when the team looked up the number on the hen's band that they realized this was the same one caught 10 years ago. Ivicic said he felt he had been reunited with a "long lost love."
Musselman said catching the hen once again had been "pure luck."
"I noticed that she already had a leg band on her and it was pretty worn. I would have told you she was a 3 or 4-year-old hen. She looked healthy, she looked great," he said.
Researchers determined the bird must be at least 12-and-a-half years old.
According to the National Wild Turkey Federation, it is usually hard to prove whether a turkey has exceeded the average life expectancy unless they are actively being researched, such as this 12-year-old hen.
The habitat is the key factor in determining how long they live, the federation said on its website. If a turkey lives in a habitat abundant with food and resources, it is more likely to live to an exceptional age, whereas turkeys that have to walk long distances, die earlier.
Casalena said this hen, now nicknamed "Grandma," had only traveled a mile from when she was first found in 2012. While she said it is inevitable to sometimes capture the same hen twice during research, it does not usually happen 10 years later.
The Massachusetts Division of Fisheries and Wildlife currently holds the record for the oldest turkey ever found. The carcass was found in 1992 by a fisherman. Records of the turkey showed it had been dubbed 13 years old in 1979. Another 13-year-old turkey was reported to be located in New Jersey in 1992.
The 12-year-old turkey in Pennsylvania is continuing to be tracked by experts. Since February, they have been keeping an eye on her through a transmitter.
"She's still with her flock right now and she's doing great," Musselman said.