Mother of Teen Who Plotted School Shooting Charged After Allowing Son to Keep Weapons in His Room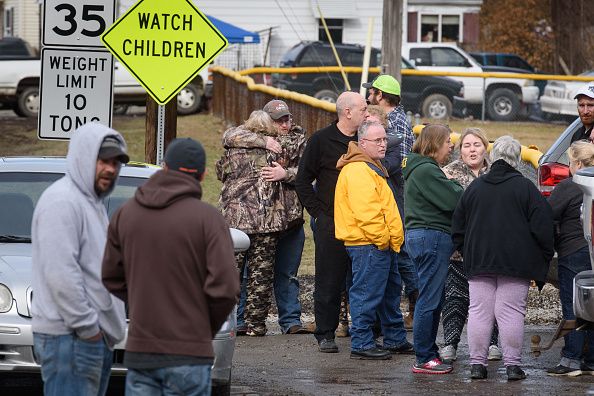 The mother of a teenager who allegedly planned to shoot multiple classmates at a Pennsylvania high school has been charged in connection with the plot for permitting her son to keep the weapons in his room, according to police.
Lenora Ann Hendrix, 45, of Markleysburg, Pennsylvania, was charged with knowingly and intentionally delivering or providing a firearm to a minor after her son threatened to shoot four students at Union Area High School last month, ABC News reported.
The 14-year-old was arrested on January 25 after a witness reportedly heard the student discussing his plot to carry out the mass shooting. The suspect was charged with terroristic threats, possession of a firearm by a minor and criminal attempt to commit catastrophe, according to police.
His arrest comes only a few days after the mass shootings at two high schools in Kentucky and Texas.
"The individual also expressed dislike for these four students and his uncle. He indicated it would be extremely easy to sneak a gun into the school in his backpack. He also indicated that he could use a sniper rifle from a distance or a shotgun for mass casualties," Fayette County District Attorney Richard Bower said. "He didn't like them, he just didn't like them."
Police searched the teen's bedroom after obtaining a warrant and found one shotgun, one semi-automatic rifle, one revolver, one crossbow, two lever-action rifles and bulk ammunition for all of the weapons. Throwing knives and two machetes were also found by authorities in the teen's room.
Hendrix told police that she allowed her son to keep the firearms in his room in an effort to teach him responsibility and to "let him grow up," according to a criminal complaint. Bower also said the teen "indicated that it would be extremely easy to sneak a gun into the school in his backpack."
A few days after the teenager was arrested, four people were killed and two others were injured in a shooting rampage at a car wash in Pennsylvania. The suspected gunman, Timothy Smith, 28, died of self-inflicted gun wounds at a nearby hospital.