Pennsylvania Residents Outraged Over Swastika Flag Hanging From Home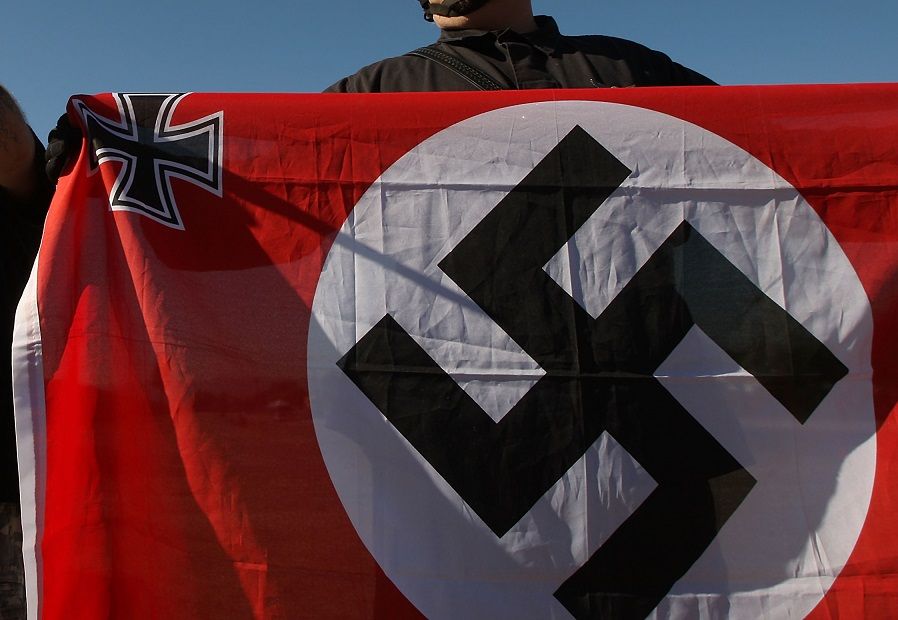 Residents in a Pennsylvania borough have described their outrage after a man decided to hang a Swastika flag on his front porch, with police confirming they can't do anything about it.
The black and red swastika flag is being displayed outside a home in West Mifflin, with the owner also recently setting up surveillance cameras, reports the Pittsburgh Post Gazette.
One local resident believes the owner of the house hung up the flag in order to intimidate him and his girlfriend.
Corey Hawkins, who is black, lives next door to where the flag is being hung with his white girlfriend. "Flag went up two days ago," Hawkins told WPXI. "I believe he's racist.
"She's upset. I guess she thought I would be upset, but I don't feed into stuff like that." Hawkins added the man has also pointed his surveillance cameras towards him and his girlfriend's house.
The man at the property already had a Confederate flag before he added the Swastika.
"Right away I think of the neo-Nazis," neighbor Barbara McClain said. "The Confederate flag didn't bother me, but that does."
The man has refused to give his name when asked by the media. The Pittsburgh Post Gazette reports that county real estate records show the property is owned by Scott D. Harley, who purchased it in 2001.
"I am not a racist; I'm trying to annoy them," he told WPXI. "They are a nuisance. They have damaged part of my property and I've seen lewd behavior. It's only racist if you perceive it that way."
West Mifflin Mayor Chris Kelly said he is concerned about the flag and hope the residents take a stand against it. He told the Pittsburgh Post Gazette: "As far as the borough goes, we can't regulate stupidity and hatred.
"It is what it is. I'm hoping the rest of the neighborhood comes out and shows this guy some love.
"There is no room for this in this country or in our community. We have to tolerate it because of our liberal freedoms we have here; it's nothing but pure hatred."
According to KDKA -TV, West Mifflin Police did receive a complaint about the flag, but no report was filed. Officers say he is free to hang the flag on his porch and point his cameras where he chooses as they are also on his property.