What Do 'Schlemiel' and 'Schlimazel' Mean? 'Laverne & Shirley' Song Explained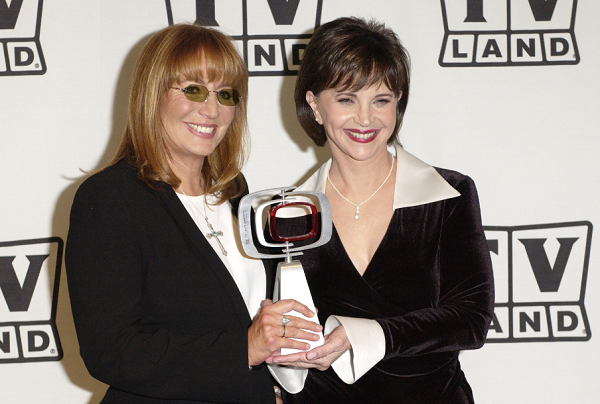 "Schlemiel! Schlimazel! Hasenpfeffer Incorporated!"
It was the silly little chant coined by actors Penny Marshall and Cindy Williams, which marked the start of the star's long-running ABC sitcom, Laverne & Shirley.
The series followed the lives of two best friends and roommates, Laverne DeFazio and Shirley Feeny, played by Marshall and Williams respectively, as they worked at Milwaukee bar Shotz Brewery before eventually moving to California to break into the movie industry. The series ran on the network for eight seasons, from 1976 to 1983.
Every episode of the series opened with the women, arm-in-arm, belting out the little jingle while walking down the street. As popular as the phrase became, many fans of the show, never actually knew what the terms "schlemiel" and "schlimazel" meant.
Following Marshall's death on Monday, Merriam-Webster tweeted the definitions of the words, including a gif of Laverne & Shirley, in honor of Marshall's memory.
According to the dictionary, "schlemiel" refers to "an unlucky bungler" while "schlimazel" is a "consistently unlucky person." The terms are Yiddish in origin and are often used in a humorous manner. As for the word used in the second half of the phrase, "Hasenpfeffer," it is actually the name of a German stew, according to Huff Po.
Marshall died "peacefully" in her California home on Monday. She was 75 years old.
Marshall's family confirmed her death in a statement to E! Online on Tuesday. "Our family is heartbroken over the passing of Penny Marshall," the statement read. "Penny was a girl from the Bronx, who came out West, put a cursive 'L' on her sweater and transformed herself into a Hollywood success story… We hope her life continues to inspire others to spend time with family, work hard and make all of their dreams come true."
Before her death, Marshall battled complications from diabetes. She was also diagnosed with lung and brain cancer in 2009.
Upon Laverne & Shirley's final end in 1983, Marshall went on to direct a number of Hollywood blockbusters, including Big, Awakenings and A League of Their Own.