Penny Marshall's Favorite Mistake: Getting Pregnant at 19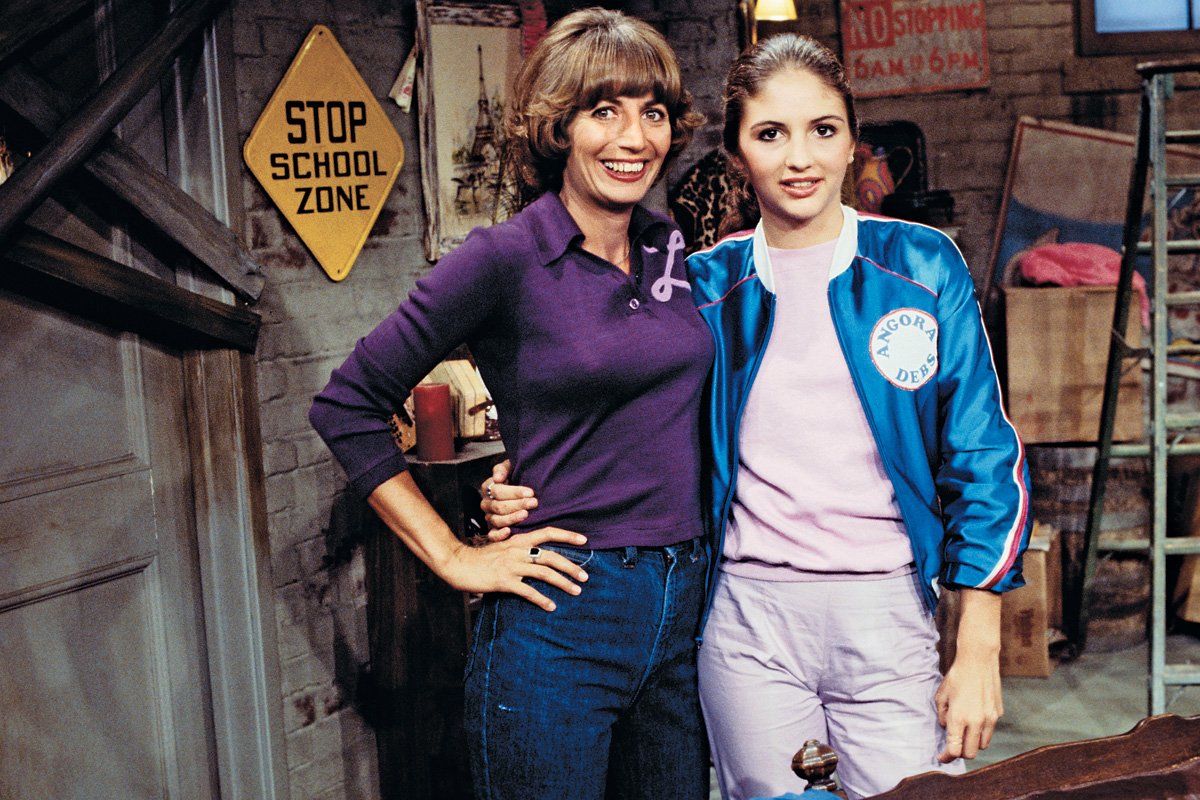 i moved from the Bronx to go to college. My mother thought New Mexico was near New York, New Jersey, New Hampshire, and New England. She had no idea about geography. So I ended up at college in New Mexico, and I was a city girl, thinking I had done everything. I thought I had had sex, but I hadn't. So I finally did do it after a guy had to explain what it was. A year later during my sophomore year, I met a very nice guy, Michael Henry, who was on a football scholarship. When Mickey (I called him Mickey) didn't make the travel team, he was depressed. I felt bad, and since I had already had sex once, we did it. I didn't think about anything beyond that I liked a football player—and being from the Bronx, I had never seen anyone over 5 feet 8 in my life. They're taller out West.
A month later, I missed my period. I went to the doctor and found out I was pregnant. I don't think they even talked about birth control back then. I had just turned 19 and he was a year younger. This was 1963—there were no legal abortions in the U.S., and I wasn't going to go to Juárez, you know? Girls then were going horseback riding to try to end their pregnancies. I didn't do that. I figured I made my bed, so I'm going to sleep in it. My third choice was moving to Amarillo. I'd never been there, but I was thinking I'd go and have the baby by myself. But instead Mickey said, Let's get married. He was a great guy. We ended up getting married the weekend John F. Kennedy got shot. All that was on the TV during our honeymoon in a motel was the funeral, which set the tone.
We were young and had no money. He got about $100 a month from his scholarship. I was in school, and after a while I quit college to get a secretary job. Finally, we had a beautiful baby girl that July, and named her Tracy. We didn't know what we were doing, but we did it. Luckily, Mickey was a doll. He would get up in the middle of the night and mornings with her, and then go to school.
Later on, Mickey and I got divorced, and he moved to Colorado and had another daughter with his new wife. And then I married Rob Reiner, so Tracy came to stay with us—she said we had more TV channels. I did have to send her off to college while wearing a Playboy Bunny suit, because it was during the shooting of that episode of Laverne & Shirley. Carrie Fisher was on the show, and said, "Work hard and one day you'll be as successful as your mother!" And there I was in a bunny suit with a tail, saying, "Bye-bye, honey, have a good time!"
What I thought was a major, life-changing mistake that could have given me a scarlet A ended up giving me a wonderful family. Tracy had a son, Spencer, who's going to be 20—I love him dearly—and she is now married again and has two little girls, Viva, who's 6, and Bella, who's 7. I have three grandkids whom I'm enjoying and love very much. My family is well, and that's what's important. In my opinion, life is more important than show business.
Interview By Kara Cutruzzula
Career Arc
1963
Gets pregnant at 19 during her junior year of college.
1971
Guest-stars on The Odd Couple, where she meets future husband Rob Reiner.
1976
Begins playing Laverne in the Happy Days spinoff Laverne & Shirley.
1988
Becomes first female director to break $100 million mark (with Big).
2012
Publishes her memoir titled My Mother Was Nuts (Sept. 18).