New Jersey Woman Who Saw Pennywise Doll Land in Her Yard Sets it on Fire, Sleeps with Knife
A New Jersey woman is afraid for her life after a doll version of the murderous clown Pennywise from It mysteriously landed in her yard.
Renee Jensen was relaxing with her boyfriend behind her Harrington Park apartment on Saturday when she spotted something moving out of the corner of her eye.
Crashing over the side gate of her property was a strange white-and-orange object that, at first, Jensen thought was a bird that had died in midair. When she walked over to investigate, though, she found something much creepier.
Laying in the dirt was a stuffed version of Pennywise, the antagonist from Stephen King's horror classic It. Fake blood rimmed the clown's mouth and cryptic lettering scrawled in black marker on its forehead.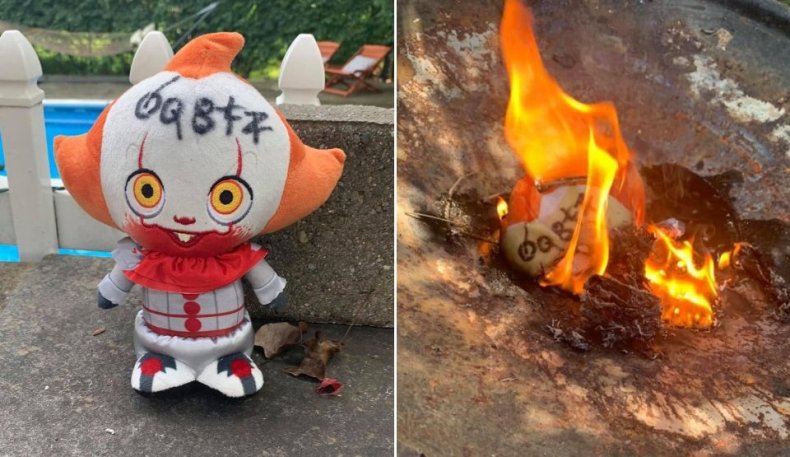 Jensen says she's not sure how the evil effigy wound up in her yard—she only has one adjoining neighbor and they weren't home on Saturday. "It came at an angle and I just watched this thing," Jensen told NJ.com. "It didn't hit a single tree and went straight over, just cleared the gate and hit the pine branches and hit the ground."
Freaked out, she considered calling the police until her boyfriend talked her out of it.
Instead, Jensen shared her story to a Bergen County Facebook group, where responders urged her reconsider involving authorities in case this was something more than a prank.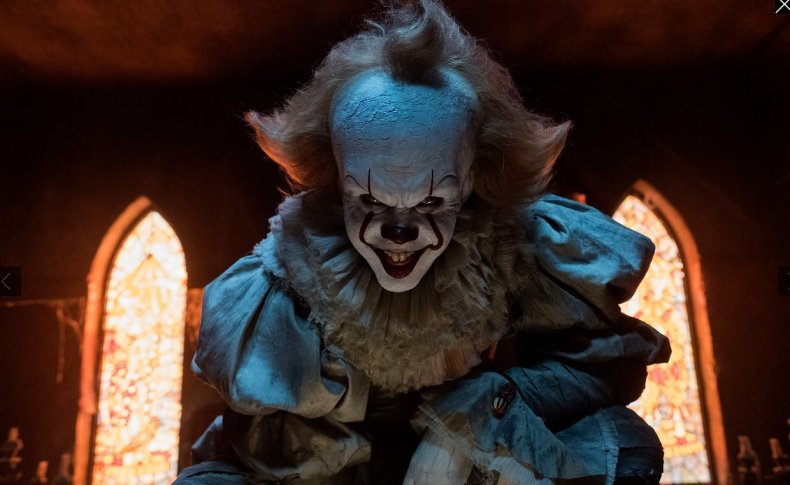 She did, and officers from the Harrington police came to investigate. When they got there, Jensen says, hey were also too spooked to touch the doll and urged her to get rid of it.
After they left, she tried to set the Pennywise plush on fire, but it wouldn't burn. After first dousing it with olive oil she then threw it in burning newspaper, which did the trick.
The doll was a mass-produced Funko "Super Cute" Pennywise plush—but it was the unusual writing on the forehead that really unnerved Jensen and her boyfriend: "It looked like weirdo occult satanic sh-t," she said.
Even with Pennywise disposed of, Jensen was still unnerved. That night, she locked her bedroom door and slept with a knife by her side. She also burned sage to cleanse her yard of malevolent forces.
Jensen says she's always been previously been a Stephen King fan—reading the novel It, and viewing the 1990 TV miniseries and first film. But she says she's having second thoughts about seeing the film's sequel, coming to theaters on September 6.
She's also happy her kids weren't home to experience the bizarre visitation.
A spate of creepy clown sightings in 2016 saw at least a dozen people arrested for either dressing up as homicidal Bozos or making false reports about them. It became such a crisis that multiple police departments issued bulletins to the community.
Last year, police in Pennsylvania investigated a man dressed as a clown who attacked a young boy with a baseball bat. The assailant struck the youth in the kneecap before disappearing into the woods.