Pensions Lose Millions After Bank Collapse
The collapse of Silicon Valley Bank has caused pension funds around the world to lose millions of dollars.
The California Public Employees Retirement Fund and the California State Teachers' Retirement System had invested in the bank, as did Korea's National Pension Service and Sweden's Alecta pension fund.
The Federal Reserve has promised depositors that their money is safe, but this has done little to ease concerns about the stability of the banking system.
Pensions across the globe have lost millions of dollars due to the collapse of Silicon Valley Bank (SVB).
In the wake of SVB's Friday closure, several pension funds in the U.S. and two overseas have confirmed that they had investments in SVB stock that will likely be at a loss now that the bank has been shut down by federal regulators.
Just before the weekend, a bank run sent the San Fransisco-based financial institution plunging into crisis as depositors made mass withdrawals. After it was handed over to the Federal Deposit Insurance Corporation (FDIC), another smaller bank in New York, Signature Bank, was closed down by regulators on Sunday. The collapses marked the second- and third-worst bank failures in U.S. history, trailing only Washington Mutual's 2008 crisis.
The closures are likely to bleed into the rest of the American banking system, despite federal authorities' plans to put a stop to the fallout. That includes into pension systems, whose investments in SVB may be small in comparison to their portfolios, but which will collectively total to millions of dollars.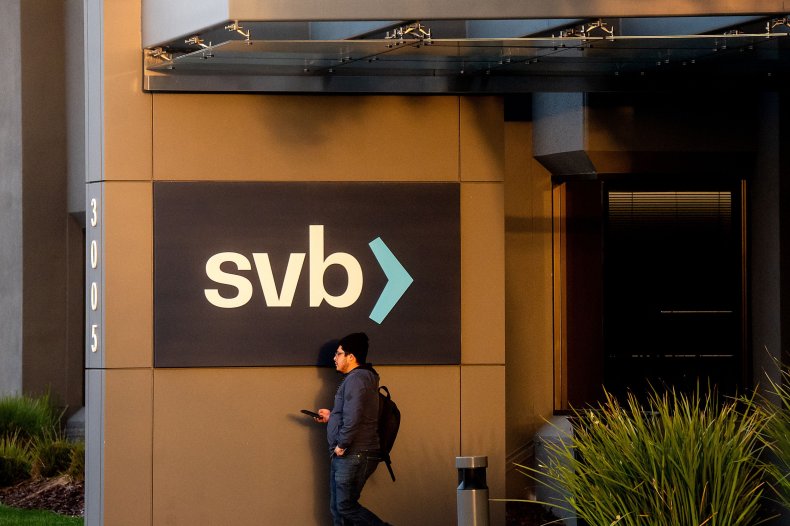 For example, the California Public Employees Retirement Fund (Cal PERS), which manages the largest public pension fund in the country with more than 1.5 million members, had $67 million invested into SVB and around $11 million into Signature at the time of their failures. With more than $440 billion in assets at the end of the last fiscal year, these investments make up a mere fraction of Cal PERS' portfolio.
"Those will be assets at risk, likely at a loss, but in the grand scheme of things a small percentage of our overall portfolio," spokesperson for Cal PERS told Newsweek. "We'll continue to monitor the situation in the upcoming days and weeks and continue to be strategic, agile and patient as a long-term investor."
The California State Teachers' Retirement System, which is the nation's largest teachers retirement fund, also told Newsweek that as of last Thursday, the pension held $11 million in SVB stock, with no bonds. As of January 31, its assets total $311.5 billion.
It also has banking and lending exposures through its partners and advisers, but the pension said it was "encouraged" by the Federal Reserve's promise that all depositors will be protected.
The Fed has vowed to bank customers that their money is "safe" and has reassured Americans that they should have confidence in the system, despite growing concerns among those in the financial sector. Many have speculated that other midsized banks could soon fall as depositors rush to withdraw more money.
There are also pensions in other states that have invested in SVB.
The Employee Retirement System of Rhode Island, which benefits thousands of retired state and municipal workers, had just over $2.6 million invested in SVB, Signature and two other banks at risk of collapse: First Republic and Silvergate Capital. Those investments represent a small percentage of the overall fund, which is valued at more than $10.3 billion.
Colorado Public Employees' Retirement Association (Colorado PERA), whose assets total $56.2 billion, told Newsweek the pension had $12.5 million in SVB stock as of March 9. State Teachers Retirement System of Ohio (STRS Ohio) had $27.2 million in SVB, which is 0.03 percent of the entire portfolio. The Arizona State Retirement System (ASRS), which has about $50 billion in assets, had $3.8 million in SVB, representing 0.008 percent of the total fund.
In the Indo-Pacific, Korea's National Pension Service (NPS)—which manages the world's third-largest public pension fund with $800 billion in assets—owns some 100,000 shares in SVB, which were valued at around $23.2 million as of late 2022. Local media reports that NPS is looking for ways to respond to the incident at this time.
Across the Atlantic, Sweden's largest pension fund Alecta, which oversees more than $104 billion in assets, has around $848.7 million invested in SVB, and $282.9 million in Signature.
However, the fund said in a statement, "For individual pension savers at Alecta, the impact of this investment on future occupational pension payments is very small."
Update 3/14/23, 9:08 a.m. ET: This story was updated to include Colorado PERA, STRS Ohio and ASRS.