Documents related to a recent Pentagon study about the future of the U.S. Navy have revealed the Department of Defense's desire to expand the naval force to a maximum of 534 ships by the year 2045, with many of those ships being designed for unmanned navigation.
U.S. Defense Secretary Mark Esper has commissioned a Future Navy Force Study from three groups—the Joint Staff, the Navy and a group from the Hudson Institute—to review how the nation's naval fleet should look in the coming decades, according to The Defense Times.
Documents related to the unreleased study suggest that the U.S. Navy should increase its fleet from its current number of 355 ships to anywhere between 480 and 534—a 35 percent increase.
The publication notes that last week, Esper publicly discussed increasing the Navy's shipbuilding funds to construct "a balanced force of over 350 ships, both manned and unmanned."
Esper told the publication in February, "One of the ways you get [to a larger fleet] quickly is moving toward lightly manned [ships], which over time can be unmanned."
"We can go with lightly manned ships, get them out there," he continued. "You can build them so they're optionally manned and then, depending on the scenario or the technology, at some point in time they can go unmanned."
The Pentagon will reportedly use the Future Navy Force Study to plan future shipbuilding and prepare the Defense Department's 2022 fiscal budget request.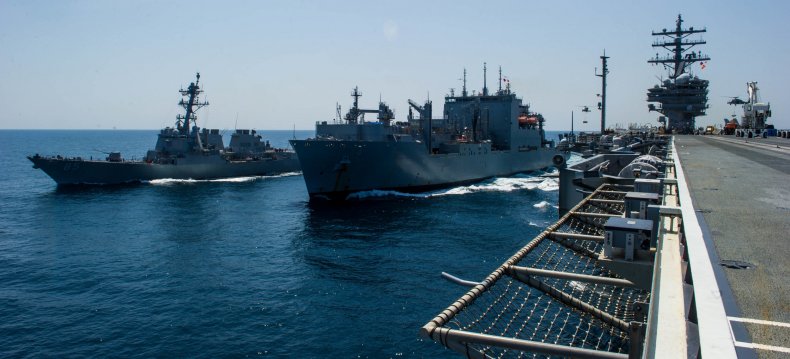 The goal for the unmanned U.S. ships is to allow the independently operational robot navigation systems to provide ammunition reloads to attacking vessels. That way, manned ships may continue fighting with fewer delays as ammunition runs out, Navy Vice Admiral James Kilby said in a fall 2019 conference.
For now, the unmanned ships largely remain in their research and development phase as the Navy determines how to deploy the automated systems, and the logistics needed for supporting and maintaining the vessels overseas. Continued testing will help ensure that the ships can remain operational in open waters for weeks or months at a time in hostile environments with limited communications networks at their disposal.
The U.S. Naval Institute said the move towards unmanned vessels is part of the Pentagon's national defense strategy to prepare for possible conflict with a "near-peer adversary" like Russia or China.
In August 2018, The New York Times reported that China had surpassed the U.S. as the world's largest naval force. A 2018 tally of Russia's Naval fleet by Popular Mechanics counted 323 vessels, including submarines and ships designed to locate and destroy water mines.