Pentagon Defends Milley: 'Full Trust and Confidence' Amid Backlash From China Calls
U.S. Secretary of Defense Lloyd Austin has "full trust and confidence" in U.S. Joint Chiefs of Staff Chairman General Mark Milley, who faces mounting criticism following reports on his calls with his Chinese counterpart during the final months of the Trump administration and a meeting he held with Pentagon leaders to discuss nuclear weapons protocols.
Pentagon spokesman John Kirby told reporters Wednesday that he couldn't speak to specific details of calls that took place or meetings that were held during the previous administration but that the Department of Defense hasn't discovered anything untoward about the revelations from the forthcoming book Peril.
Then-President Donald Trump picked Milley to serve as the top military officer in 2018. He has remained in the role since President Joe Biden took office in January.
"I'm not speaking to the validity of things that are in the book, but it is completely appropriate for the chairman of the Joint Chiefs of Staff as the senior military adviser to both the secretary [of defense] and the president to want to see those protocols reviewed," Kirby said. "I see nothing in what I've read that would that would cause any concern."
He said it's also common for the chairman to have conversations with counterparts in other countries, including adversaries like China.
"[Austin] has full trust and confidence in Chairman Milley and the job he's doing," Kirby said.
Biden told reporters Wednesday that he also has "great confidence" in Milley, and the White House sought to dismiss concerns as Republicans have called for Milley's ouster.
White House press secretary Jen Psaki told reporters that Biden's "has complete confidence in his leadership, his patriotism and his fidelity to our Constitution."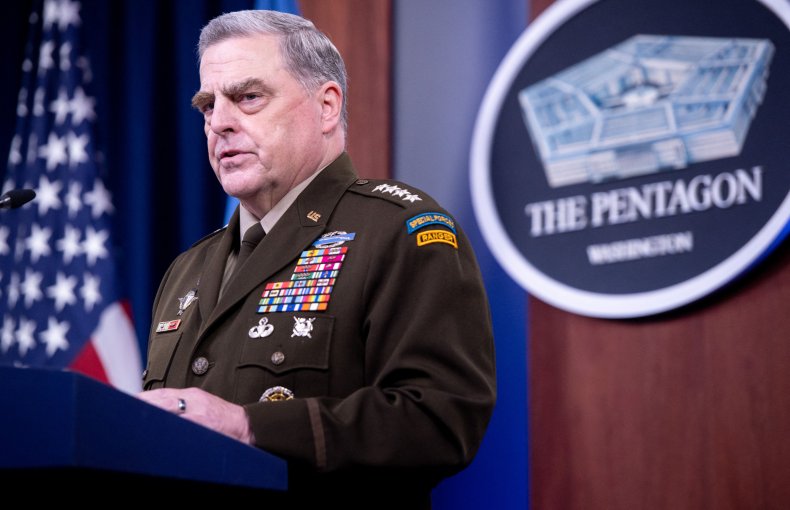 The book claims that one call to General Li Zuocheng of the People's Liberation Army took place in October, days before Biden defeated Trump in the 2020 presidential election. The other came in January after Trump supporters stormed the U.S. Capitol in an attempt to disrupt the certification of Biden's election.
Milley on Wednesday defended the calls in a statement from his spokesman, Colonel Dave Butler.
"The Chairman of the Joint Chiefs regularly communicates with Chiefs of Defense across the world, including with China and Russia," Butler said. "These conversations remain vital to improving mutual understanding of U.S. national security interests, reducing tensions, providing clarity and avoiding unintended consequences or conflict."
According to reports, the book also characterizes a meeting with top-level Pentagon officials as something Milley saw as necessary to prevent Trump from erratically launching nuclear weapons in his final days in office. Butler again described the event as routine.
"The meeting regarding nuclear weapons protocols was to remind uniformed leaders in the Pentagon of the long-established and robust procedures in light of media reporting on the subject," Butler said.