The Pentagon has denied an NBC News report purporting that Defense Secretary Mark Esper has prepared his resignation letter, a move that would leave the United States without its second most senior military official as a divisive presidential election stretched through a third day with no declared winner.
"The NBC story is inaccurate and misleading in many ways. To be clear, Secretary of Defense Esper has no plans to resign, nor has he been asked to submit a letter of resignation," Jonathan Hoffman, Esper's assistant secretary for public affairs, told Newsweek.
The news first appeared Thursday in a story by NBC News which cited three unnamed defense officials. The outlet said such letters were not uncommon in the wake of an election, a gesture giving the president an opportunity whether or not to approve a cabinet member's continued tenure.
But Hoffman said there was nothing to the rumors about Esper's departure.
"He continues to serve the nation as the Secretary of Defense at the pleasure of the President and is working on the irreversible implementation of the National Defense Strategy," Hoffman said. "The speculation about potential resignations of Cabinet officials is a tiresome, well-worn, DC-insider, post-election parlor game."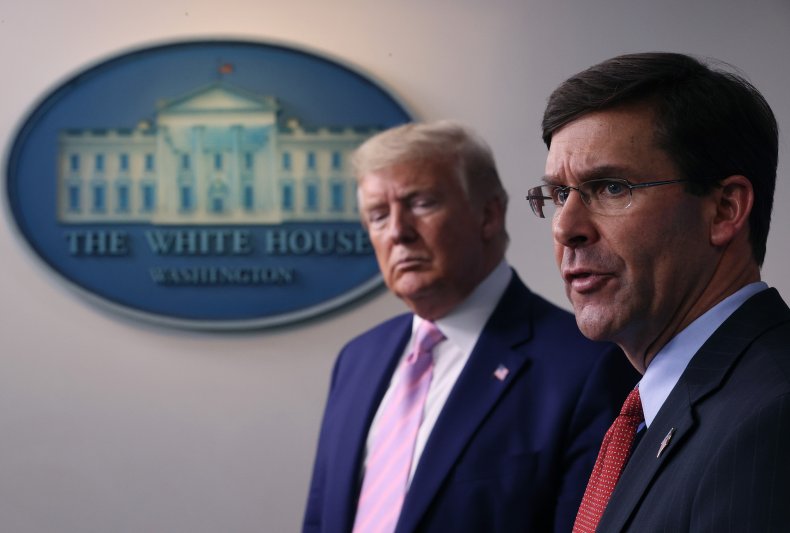 Esper, who was appointed last year following the resignation of his predecessor, James Mattis, is second only to commander-in-chief President Donald Trump himself when it comes to authority over the U.S. armed forces.
Trump is facing a tight electoral race with ballots in key battleground states still trickling in some three days after the race began. Despite losing an early lead to Democratic rival, former Vice President Joe Biden, Trump has declared victory and is alleging nationwide voter fraud as mail-in ballots turned the tide in key areas where momentum now favors his opponent.
Esper, a veteran and former defense contractor lobbyist before going on to serve as secretary of the U.S. Army and ascending to Trump's cabinet, has remained silent on the election itself. He recently returned from a series of Asia trips that brought him and Secretary of State Mike Pompeo last month to India and, later, saw Esper make a previously unannounced journey to Israel and Bahrain.
Like Mattis, Esper has been as increasingly at odds with the president, offering statements that at times contradicted the official line coming from the White House.
Among the most notable incidents occurred in June when Esper defied Trump's threats to call in U.S. troops to quell nationwide protests in the wake of civilian George Floyd's death under police custody in Minneapolis. Esper said he did not believe such a move would be necessary at the time.
White House spokesperson Kayleigh McEnany affirmed his continued employment to reporters but hedged by saying, "should the president lose faith, we will all learn about that in the future."
Another split appeared to emerge in August after Trump tweeted that he "totally rejected" a cost-saving Pentagon plan to slash military health care by $2.2 billion as reported by Politico. Esper later said he never approved such a cut in the first place.
In what would be the latest strike against Trump, NBC News reported that Esper was in the process of working with lawmakers to add language to the National Defense Authorization Act (NDAA) to rename bases named after Confederate leaders. Trump has strongly opposed such efforts and would ultimately have to sign off on the act for it to pass.
This is a developing news story. More information will be added as it becomes available.