Pentagon Deploying Nearly 4,000 Additional Troops to U.S.-Mexico Border
Hours before the Super Bowl on Sunday, the Pentagon announced it would deploy 3,750 more troops to the U.S.-Mexico border to provide support for Customs and Border Protection, help install another 150 miles of concertina wire and assist in mobile surveillance operations.
The additional troops will hike the total number of forces at the border to about 4,350, according to the Department of Defense. Approved by Acting Secretary of Defense Patrick Shanahan last month, the troop deployment will end after 90 days.
Shanahan mentioned at a news conference last week that the department would deploy "several thousands" more troops. Citing Shanahan's refusal to provide additional information, Representative Adam Smith, the House Armed Services Committee chairman and a Democrat, rebuked Shanahan over a lack of transparency in the number of troops sent to the border..
The act of deploying troops to the southern border was first approved in October by the Pentagon shortly after the midterm elections, during which President Donald Trump targeted a caravan of roughly 3,500 Central American migrants seeking asylum in America as an "invasion," using them as a way to attack Democrats, who he claimed supported open borders.
The allocation of thousands of troops at the border has been slammed as a political stunt to strengthen Trump's position after he promised to secure U.S. ports of entry with a physical wall during his campaign. Former Secretary of Defense James Mattis denied the allegations at the time, insisting that the decision was made so the Pentagon could provide "practical support based on the request from the commissioner of customs and border police."
"We don't do stunts in this department," Mattis added.
Today's announcement comes amid a stalemate between Trump and congressional Democrats over $5 billion worth of funding for a physical wall on the U.S.-Mexico border—one of the president's key campaign promises. When the Democrats refused Trump funding for the structure, the government went into a partial shutdown for 35 days, after Trump refused to sign a stop-gap measure to keep it running through early February.
The longest U.S. government shutdown in recorded history ended late last month after Trump signed legislation to temporarily reopen it until February 15. The stop-gap measure did not include provisions for the wall but allowed for bipartisan lawmakers to negotiate funding for various forms of border security.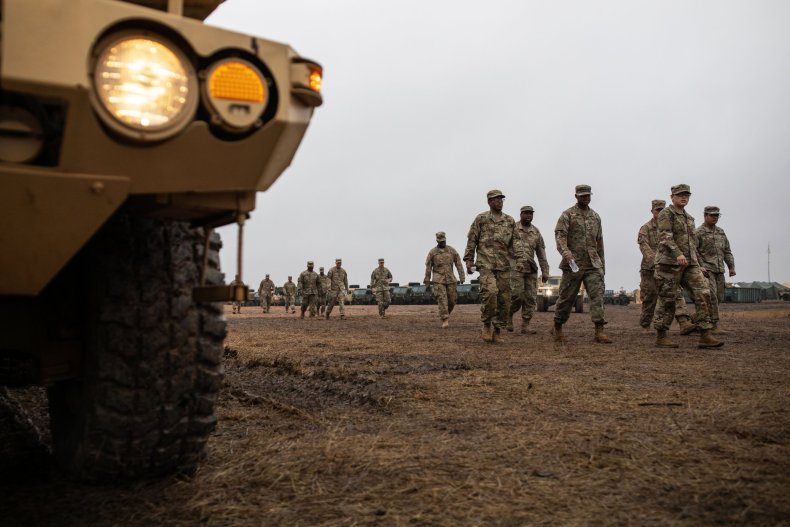 Pentagon Deploying Nearly 4,000 Additional Troops to U.S.-Mexico Border | U.S.