Pentagon Grounds All F-35 Fighter Jets After Crash
The U.S. military has grounded its entire global fleet of F-35 fighter jets to carry out inspections of potentially faulty fuel tubes, CNN reported on Thursday.
Initial data from a Marine Corps F-35B crash in Beaufort County, South Carolina, last month led investigators to think a fuel tube could have been responsible for the incident. Examinations of the military's 245-plane fleet are now taking place.
"The U.S. Services and international partners have temporarily suspended F-35 flight operations while the enterprise conducts a fleet-wide inspection of a fuel tube within the engine on all F-35 aircraft," the F-35 Joint Program office said in a statement on Thursday, according to The Military Times. "If suspect fuel tubes are installed, the part will be removed and replaced. If known good fuel tubes are already installed, then those aircraft will be returned to flight status. Inspections are expected to be completed within the next 24 to 48 hours."
Lockheed Martin, which makes the jets, said it was helping to solve the problem and limit disruption caused by the grounding, CNBC reported.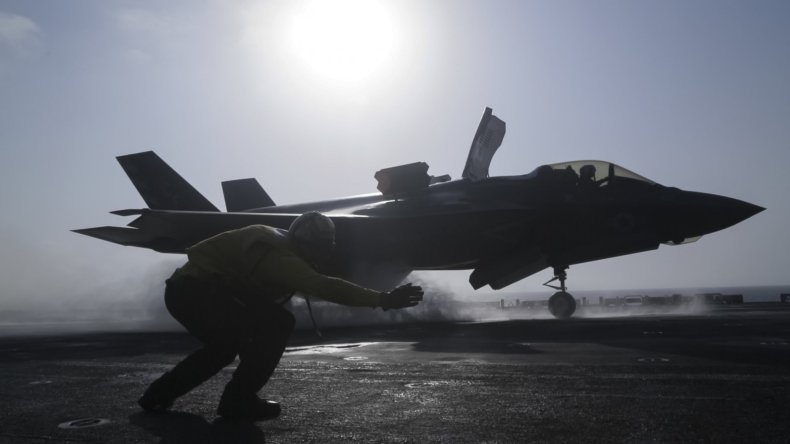 The F-35, which the U.S. used in combat for the first time last month during an airstrike in Afghanistan, has been purchased by a range of other countries. Israel carried out the first combat mission with the stealth fighter jet earlier this year, according to BBC News. The United Kingdom, Italy, the Netherlands, Turkey, Canada, Australia, Denmark and Norway have also signed agreements to join the F-35 program, CNN reported, citing the Pentagon.
The grounding is the latest issue to plague the high-tech plane. Software problems and malfunctioning ejection seats are among the other troubles the F-35s have encountered.
The F-35 program is expected to run until 2070, accruing a price tag of $1.5 trillion over its decades of operation. President Donald Trump criticized the lofty cost of the fighter jets before taking office, writing on Twitter "The F-35 program and cost is out of control. Billions of dollars can and will be saved on military (and other) purchases after January 20th" 2017.
Lockheed Martin CEO Marillyn Hewson responded by saying the company would cut the cost of the planes. Less than a month after Trump took office, the defense company agreed to sell the government 90 F-35s for $700 million less than it paid for the prior round of aircraft, according to CNN.
Pentagon Grounds All F-35 Fighter Jets After Crash | U.S.